2010 Vietti Roero Arneis
Tasting Notes:
Eyes: clear, pale lemon, watery rim
Nose: clean, youthful, med- intensity, lemon, minerality, touch of stone fruit
Mouth: dry, med bodied, med+ acidity, med+ intensity, med+ alcohol, med+ length, lemon, peach, minerality
All in all: Good quality; drink now.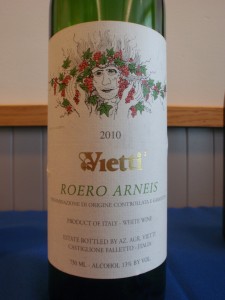 I'm currently really into reviewing my Italian wines and regions and I have no idea why I'm suddenly into this phase, since I haven't had some kind of weird Italian wine epiphany following some godly sip of something. Anyways, I love to delve really far into a region (book-wise only unfortunately), and revisit my tasting notes. Most of the time, I think "WOAH, I had the opportunity to taste THAT?" and get angry that my knowledge was more limited back then (despite the fact that it was only last June), and sometimes I doubt what I had rated these wines, since after reading about them, I have a greater appreciation of what they're supposed to be like. Who knows, perhaps I'll get rid of this star system or change it some time in the future.
It's really cool, having a greater understanding of what you tasted 9 months ago. I noted the fresh acidity of this wine, as well as its rather neutral characteristics. One of the biggest things I had and have a hard time being aware of is elegance and finesse. I can understand how this wine could bore some – this isn't a very aromatic wine. But this wine excels in terms of its elegance, and it's really cool once you can appreciate that. Neutral italian whites like these can be found at all price points, with varying quality levels. I need to not be afraid (as well as consumers) of exploring other Italian whites of lower price points: Vermentino, Verdicchio, and the like.
Producer: Vietti
Designation: N/A
Region: Italy
Sub-Region: Roero, Piedmont
Variety: Arneis
ABV: 13%
Vintage: 2010
Tasted: June 9, 2012
Price: $48