2011 Quintay "Clava" Sauvignon Blanc
Tasting Notes:
Eyes: clear, pale lemon, watery rim
Nose: clean, pronounced intensity, youthful, grapefruit, green bell pepper
Mouth: dry, med bodied, med+ acidity, med length, med+ to high intensity, citrus, grapefruit
All in all: Good quality; drink now.
Chilean Sauv Blancs, to me, are distinct such that they have a little more of that methoxypyrazine-ness (green bell pepper, green bean) along with a heavier and sometimes an almost stewed characteristic. I know some people who hate methoxypyrazines so much that they almost think it's a flaw and needlessly evangelize so to new wine drinkers (cue FNH 330 prof, here), but it's an interesting aroma to appreciate.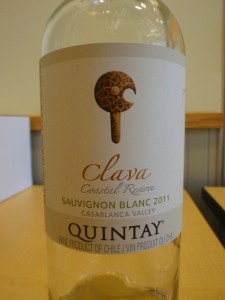 As said, there was a little bit more of that vegetal character and a little bit less of that floral aspect, but it was still noticeably our good old friend Sauv Blanc – the queen of the grassy; the mother of the Cab Sauv.
This wine for 14 bones was awesome. If you like your New World wines but want something a bit mellower, this is a great example of how a Chilean wine can suit that need.
This winery also produces a Pinot Noir under the same designation, which is just as awesome.
Producer: Quintay
Designation: "Clava"
Region: Chile
Sub-Region: Casablanca
Variety: Sauvignon Blanc
ABV: 12.5%
Vintage: 2011
Tasted: June 9, 2012
Price: $14 (BCLDB)