2009 Koyle Carmenère Reserva
Tasting Notes:
Eyes: clear, deep ruby
Nose: clean, med+ to high intensity, youthful, blackcurrant, green bell pepper, soy
Mouth: dry, med body, med- to med acid, med to med+ (but soft) tannin, med length, med+ intensity, med+ alcohol, a bit of tartness
All in all: Good quality, drink now.
Carmenère is an interesting one. Although it usually does have that methoxypyrazine character found in many Chilean wines plus that Chilean "funk", the hallmark of Carmenère (to me) are usually the said characteristics plus darker fruits and a soy sauce character that I can find in lots of aerobic winemaking-type wines like some Spanish Tempranillos, except a bit fleshier. It's tough explaining the "soy sauce" bit to customers sometimes without making it sound repulsive.
This wine was good, but was a bit edgy in places. There was a bit of bumpy tartness at one point. A fair amount of fruit, but I would have liked to see more secondary characteristics in the wine.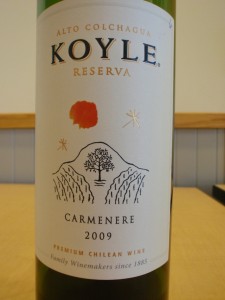 Producer: Koyle
Designation: Reserva
Region: Chile
Sub-Region: Alto Colchagua
Variety: Carmenère
ABV: 14%
Vintage: 2009
Tasted: June 9, 2012
Price: $20