2011 Susana Balbo "Crios" Torrontes
Tasting Notes:
Eyes: clear, pale lemon, watery rim
Nose: clean, med+ to high intensity, youthful, tropical fruits, spice, ginger, soapy
Mouth: dry (but ripe), med bodied, med- to med acidity, med alcohol, med length, med intensity
All in all: Good quality; drink now.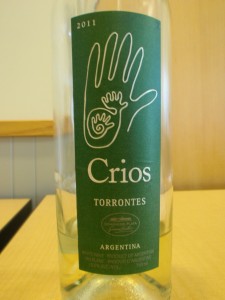 At its worst, Torrontes can be too floral in the soapy sense, not unlike that old lady perfume smell that Viognier can easily morph into. Then again, I'm personally not a big fan of floral things, and some of my co-workers love things like jasmine-flavoured beers where I would rather be having a red ale.
Wines like this are great for the new wine drinkers – once the newbies get bored of off-dry Riesling and Moscato, this generally inexpensive grape variety carries tropical fruit characteristics with floral tones which are just as pronounced. I haven't met a Torrontes that reaches amazing complexity, but it's almost so hard to care with the matching inexpensive price tags. I'm guessing that its easy for this grape to descend into plonk territory. From what I've seen, at least. This city needs more of this grape, and more people to buy it.
Acidity in Torrontes can be quite variable. This wine has a lower acidity which gives it a bit of a lazier quality and more of a Summer evening sipping kind of status.
Producer: Susana Balbo
Designation: "Crios"
Region: Argentina
Sub-Region: Mendoza
Variety: Torrontes
ABV: 13.5%
Vintage: 2011
Tasted: June 9, 2012
Price: $17 (BCLDB)