2010 Tolloy Pinot Grigio
Tasting Notes:
Eyes: clear, pale lemon, watery rim
Nose: clean, med intensity, youthful to developing, almond, floral, neutral + vague fruit
Mouth: dry, med+ to high acidity, med body, med+ intensity, med to med+ alcohol, med length, citrus, minterality
All in all: Good quality; drink now.
Pinot Grigio. Who'd've thunk it?
I'm not a big fan of Pinot Grigio, and even recently, one of my newer co-workers and I excitedly burst into complete excitement into how we both disliked this particular variety. "Oh my God, you hate Pinot Grigio, too?!"
It's very middle-of-the-road and generally crowd-pleasing: its characteristics don't seem to reach many extremes very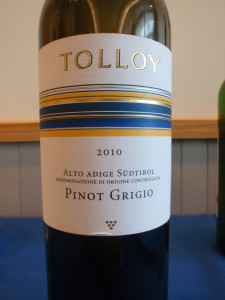 often. Acidity, body, intensity, and so on, are usually kept in check, which perhaps gives the quaffable and enjoyable quality – unfortunately, this varietal seems to lack character at the same time, which I find happens in many Italian whites. On the other hand, there is a large crowd that this caters to, and that neutral, crisp, medium-everything characteristic wins over consumers who don't like their wines to be dominated with fruit. These are the customers who firstly state that they don't want a "sweet" wine, but half of the time I'm confident that they really mean "fruity".
That being said, I always like to suggest alternatives to people, just to broaden horizons. I'll suggest a heavier Alsace Pinot Gris, for example, or perhaps a Portuguese Vinho Verde or Spanish Albariño. But there's no doubt that Pinot Grigio is a very fashionable grape.
My impressions of Pinot Grigio were probably muddled with over-negativity, because I was surprised that this wine in particular was of this grape. Although my mind wasn't blown, I was slightly impressed by the nutty and floral complexity that this wine displayed, and this has been my go-to Pinot Grigio ever since even though that's somewhat of a personal oxymoron (ha).
Producer: Tolloy
Designation: N/A
Region: Italy
Sub-Region: Alto Adige Südtirol
Variety: Pinot Grigio
ABV: 12.5%
Vintage: 2010
Tasted: June 9, 2012
Price: $22 (Liberty)