2011 Yalumba "Y Series" Viognier
Tasting Notes:
Eyes: clear, pale lemon, watery rim
Nose: clean, pronounced, youthful, apricot, canned peaches, spice, honey, FRUIT LOOPS
Mouth: dry, med+ bodied, med- acid, med+ length, med intensity, med+ alcohol, apricot, canned peaches
All in all: Good quality; drink now.
This was a wine I featured in one of the articles that I wrote for the Ubyssey.
I had the exact same wine for my WSET Intermediate class, and even now, I still get that distinct note of Froot Loops – that slightly spicy canned stone fruit sort of smell. I have no idea what cardamom smells like, but I blind-tasted this wine again with my co-workers and apparently that's a legitimate scent that you might get from both this wine and in actual Fruit Loops cereal. It's intriguing.
But seriously – Froot Loops.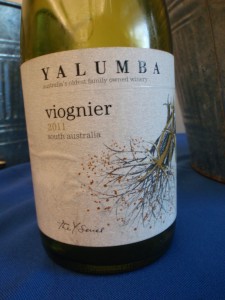 This is a weighty and friendly Viognier that definitely excels in terms of its character, but loses some points for being a little bit imbalanced in terms of its alcohol. That being said, I would still wholeheartedly recommend this as a Viognier – there are way too many bad examples of Viogniers out there, and way too few amazing examples.
Producer: Yalumba
Designation: Y Series
Region: Australia
Sub-Region: South Australia
Variety: Viognier
ABV: 13.5%
Vintage: 2011
Tasted: May 28, 2012
Price: $18 (BCL)