Filipino cuisine and wine: adobo
If you don't want to read paragraphs upon paragraphs of my thought processes, here are my straight-up recommendations:
– Rioja (Spain)
– Chianti or Sangiovese (Italy)
– Chardonnay (heavier and nutty versions – California, New Zealand, Australia)
I find it both odd and understandable that there isn't as much information on Filipino food wine pairings out there. From what I've experienced, Filipino culture is all about the beer – and if it is wine, it's off-dry plonk. I find traditional cuisine from traditional wine-producing regions much more focussed in terms of the food and flavours – or perhaps it's just more figured out and precise, which is why it might be easier to pair with; on the other hand, a couple of Filipino dishes I can think of are littered with unique spices or strange ingredients with an influential cultural flair (Spanish, Chinese, etc.). Occasionally, there is an offbeat amount of sugar in our food, which is difficult to pair with (but can explain the off-dry plonk). Sweet spaghetti sauce with cut-up hotdogs: it's mentioned on Wikipedia for a reason.
I often dislike ultra specific wine pairings found in quick newspaper reviews or the backs of wine bottles ("pair this wine with braised beef, dill, and pickled onions harvested at 5AM during a full moon"), and I hope I don't veer into that style, but we'll see what happens. I guess years and years of being served these foods at family gatherings has finally given me weird fusion-bound insight, even though I've refused to eat things like pig's blood stew (dinuguan) which seems to show up at every family party. Our family parties involve karaoke and jovial everything else. Beer is just easier.
Adobo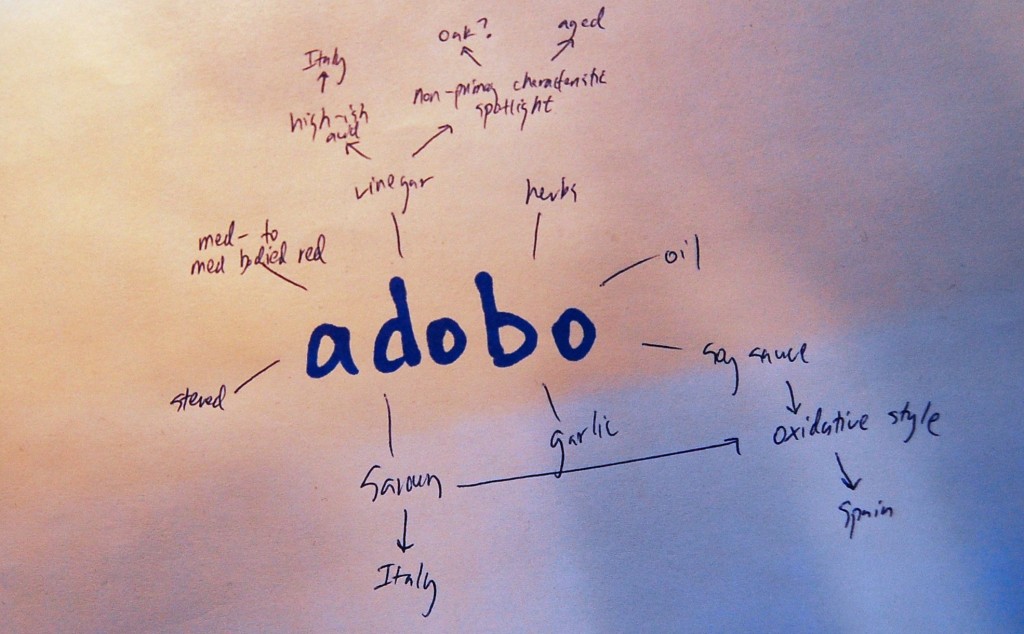 I'm pretty sure this is the one dish I take for granted because I used to find it so boring. I now realize how hard it is to pair wines with. (Filipino) Adobo, at the typical level, is pork or chicken that's braised in garlic, soy sauce, oil, vinegar, and other possible herbs until dry. You then get these chunks of (moist) meat that are usually eaten with rice. So easy, yet so culturally iconic: it has been stated as the country's unofficial national dish. All the flavouring comes from the garlic, soy sauce, and vinegar, which are all notoriously difficult things to pair with. You really have to hit it on this one, because there's no confetti of flavouring to hide from: this is one of the more focussed dishes. Although not overwhelmingly present in this dish, vinegar still often mutes fruit, so I would veer onto either side of the fruit spectrum – a fruity wine that still has flavour after being blanketed by the vinegar, or a wine that has a secondary or tertiary characteristic focus (production and ageing processes, respectively) that can be placed in the spotlight instead of fruit. I would probably heavily suggest the latter. If you went with the former, try something like an Italian Dolcetto or a New World Merlot.
When virgin to Spanish wines, I once remembered smelling soy sauce which I later learned can be an indicator of an Old World oxidative style of wine, especially in Spain. I also often find that Spanish grapes (especially aged) like Tempranillo have this savoury meaty character that sticks to the back of your tongue. For this reason, I say pair Rioja (the more aged the better) or Garnacha, which is a heavier, gamier, and sometimes spicier, grape. Aged Rioja is one of the favourites with my co-workers. Leathery and slight tobacco notes are supported by ripe strawberry aromas followed by a stewed, loose, and soft texture on the palate. Typically lower in acid (as per Tempranillo) but the savoury character should be a good enough match.
The savoury and acidic Italian Sangiovese may also pair well, but I have a feeling that Barbera might be a bit smoother and fruit-forward. The possible Slavonian oak (a secondary characteristic) used in some Barbera might also add an interesting component of smoky complexity. It's a bit difficult because the Spanish wines have the stewed savoury quality to pair with the soy sauce but the Italian wines have the acidity to match the vinegar. Look for aged Italian reds as well (perhaps Chianti) – the Dei 2005 Rosso di Montepulciano comes to mind – full of stewed red fruit character with a smooth and loose texture. Also consider rosé made from heavier grapes in that Old World savoury style for something a bit brighter and fresher, providing contrast rather than accordance: Tavel for savoury notes, and Spanish (Bobal-based for earthy and heavier versions).
You can very well pair a versatile off-dry or sweet wine like Riesling to gracefully combat with the acidic flavours, but that's boring. Doable and almost failsafe, but boring.
Not that I'd personally pair wines with adobo on a normal day, anyways. This would be a weekday night arriving home at 10PM wanting nothing but a non-school warm meal followed by wrapping myself up in blankets and being a burrito. My dad inventively shreds the leftover adobo to create some kind of filipino pulled pork that's further flavoured. By that time it's already the next day or so and I'm probably eating my almost-noon non-ruined-with-milk cereal and all I want to do is pair German Auslese (Gary Vaynerchuk style) or beer just to numb boring classes. Classes which are changing next term, though.
Edit (June 29th, 2013): I'm also thinking a nice (oaked) fat Chardonnay might do it.