2010 Greywacke Sauvignon Blanc
Tasting Notes:
Eyes: clear, pale lemon
Nose: clean, med+ to pronounced intensity, youthful, floral, green fruit, citrus, grassy, grapefruit, green bell peppers, vegetal, asparagus, dill
Mouth: dry (to off-dry?), high acidity, med length, med+ to pronounced intensity, med- alcohol, vegetal, green apple citrus, tangy
All in all: Good quality; drink now, not intended for ageing.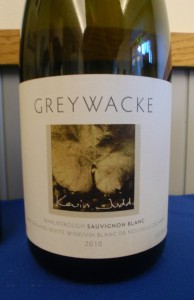 I don't remember this entirely, but I think it's quite interesting to note that that there was either some amount of residge on the palate from that riper New World style of Sauvignon Blanc, which might put off some, but I would argue that it's quite interesting and adds complexity. Quite a decently complex wine with a punch of aromas. Pair that with some great balance and intensity, and you have a winner. Lacks in length, but that's a small thing.
New World Sauv Blanc (especially New Zealand) are one of those wines that I think I'm not into until I rekindle that joy. In theory I don't think I'll like them, but it's interesting to see how much you enjoy something after putting it in your mouth. Oops. Not intended, but I don't want to delete it.
Producer: Greywacke
Designation: N/A
Region: New Zealand
Sub-Region: Marlborough
Variety: Sauvignon Blanc
ABV: 13.5%
Vintage: 2010
Tasted: May 26, 2012
Price: $33