2009 Schloss Lieser Riesling Kabinett
Tasting Notes:
Eyes: clear, pale lemon-green, bit of a spritz
Nose: clean, med+ intensity, developing, petrol, green apple, lime, peach, sulfur
Mouth: medium-dry, med- body, med+ acid, med- length, low alcohol, med intensity
All in all: Good quality; can drink now, but has potential for ageing.
One of the common things I come across is a weak understanding of what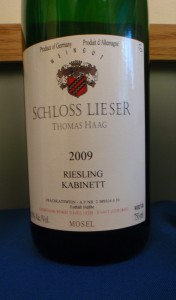 sulphites are. A common argument is that "they make you feel sick and therefore people don't want a red", but a surprisingly large amount of people don't know that white and sweet wines actually have a higher proportion of sulphites. Sulphites act as both a yeast-supresser and as antioxidants, which is important when you don't want your wine fermented a second time, especially if you have a fair amount of residge in your wine. (And other reasons which I am unfit to describe which is a shame since I'm currently reading through the wine technology book that explains it all)
And this was a good example of such a wine: unfortunately, despite its light petrol and green fruit deliciousness, much of the wine was dominated by this smokey matchstick-like character, which was predicted to be due to the sulphites. It's hard to say whether or not all of it would've been blown off after some time.
Producer: Schloss Lieser
Designation: Thomas Haag Kabinett
Region: Germany
Sub-Region: Mosel
Variety: Riesling
ABV: 11.5%?
Vintage: 2009
Tasted: May 26, 2012
Price: $35