2008 Schloss Lieser Riesling Auslese Niederberg Helden
Tasting Notes:
Eyes: clear, med lemon
Nose: clean, med intensity, petrol, riper fruit than Kabinett, peach, sulfur
Mouth: medium sweetness, med- body, med+ acid, med length, low alcohol, med intensity
All in all: Good quality; drink now, but has potential for ageing.
Such a shame, and it's the same story as the Kabinett in the same family that we compared it to. Nose had a nice proportion of fruit but was also dominated by the matchstick-y quality.
Although I detected the body to be med- and almost med, it turns out that this wine is a weirdly light 7 percent when it comes to the ABV. Guess I need more practice, or it's just harder to taste in the morning.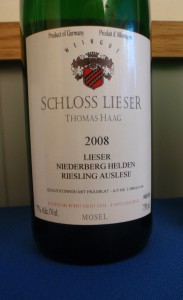 Producer: Schloss Lieser
Designation: Thomas Haag Lieser Niederberg Helden Auslese
Region: Germany
Sub-Region: Mosel
Variety: Riesling
ABV: 7%
Vintage: 2008
Tasted: May 26, 2012
Price: $61