2008 Miner Chardonnay
Tasting Notes:
Eyes: clear, med lemon
Nose: clean, med+ to pronounced intensity, developing, butter, toast, oak, floral (camomile)
Mouth: dry with a slightly off-dry impression, full body, med+ to long length, med- acidity, high alcohol, pronounced intensity, nutty, toasty, oak, buttery
All in all: Very good quality. The rather impressive quality immediately gave me the impression that it had the potential to age, but apparently this wine shouldn't. It sounds easy to determine: lower acidity – sure, don't age it – but it's sometimes too good to be true.
Definitely my favourite of the day. Of the many Chards I've had, this one is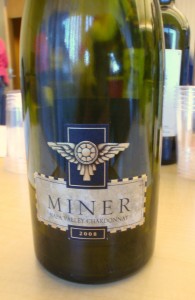 definitely in the top. Such a nice example of a dense and viscous Chardonnay with just a light to medium dusting of oak. Especially from places like California, Chardonnay personally becomes all about the texture to me. Especially when the oak isn't overdone, a wine like this definitely deserves comfort wine status, and can be comparable to the plushness of a Merlot without the tannins. Instead it's almost like you're actually consuming alcoholic and complex butter.
It still bugs me that you'd probably find this at half the price in the US.
Producer: Miner
Designation: N/A
Region: California
Sub-Region: Napa Valley
Variety: Chardonnay
ABV: ?
Vintage: 2008
Tasted: May 27, 2012
Price: $45