Hidalgo "Faraon" Oloroso Sherry
Tasting Notes:
Eyes: clear, med amber
Nose: clean, med to med+ intensity, developed, meaty, nutty, touch of soy, raisin, light yeastiness, LIKE A BAKERY
Mouth: dry, med+ bodied to full, I got a med acidity but the instructor got low to med- acid, long length, high alcohol, med+ intensity, meaty, brine, nuts
All in all: Very good quality; drink now.
Oh my. I'm not sure if I'm just more partial to Oloroso Sherry, but DAMN this was good,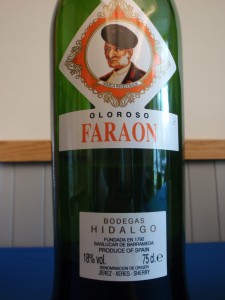 and it was the favourite for everyone at my table. Such delicious aromas on the nose and flavours on the palate. Although we picked out some individual notes on the nose like raisins and an oxidized soy quality, I couldn't help but go back to the whole bakery thing since it seemed like all the oxidized, yeasty, and nutty notes added up to that. I would most definitely buy this again, and this would make for such a nice autumn or winter gift/share. It's times like these where I'm glad not many of my friends like wine, because I can sip on this shit all night even though I'll look like a pretentious grandma while everyone else does tequila shots.
This is quite delicate for an Oloroso according to our instructor. I think the price point is well-justified, and I'm definitely keeping my eyes peeled for this fellow. It's quite unfortunate that Sherry is relatively unpopular in the BC market. This is great stuff.
Producer: Hildago
Designation: "Faraon"
Region: Spain
Sub-Region: Jerez
Variety: Palomino
ABV: 18%
Vintage: NV
Tasted: June 11, 2012
Price: $40