NV Mionetto Treviso Brut Prosecco
Tasting Notes:
Eyes: clear, pale lemon, large bubbles
Nose: clean, med intensity, youthful, bubble gum, cotton candy, pear drops
Mouth: dry with a sweet impression, med bodied, low to med- acid, med length, low alcohol
All in all: Good quality; drink now.
Prosecco is one of those bubblys that I feel has a bad reputation. More than often people assume that it'll be sweet – which isn't entirely false, but its unpopularity might be due to the fact that it has that less serious personality – especially if it has fun packaging like this (but that being said, it's not so hard to find more serious Prosecchi. Usually.).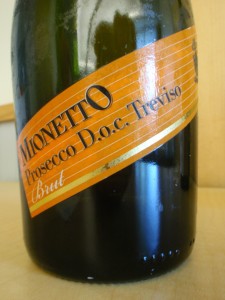 And ironically enough, this was like sparkling white Beaujolais Nouveau and happened to get a solid 2.5 stars. It was like an alcoholic theme park, with aromas of things like bubble gum, cotton candy, and pear drops, and immediately I think of how dangerous gateway wines like these are. This shit goes down like pop (or, is spit out because I'm in WSET class, *ahem*) – the low acidity has carbonation for its uplifting saving grace, and the sweet impression gives a bit of a crowd-pleasing charm. This lacked in balance and length, but it had more character than a lot of boring Prosecchi I've gotten to know. That may as well be a horrible excuse, because a fruit bomb of a Californian Cabernet doesn't make it any better than a more elegant wine of the same variety. Decent ratings for this wine from Wine Enthusiast and the New York Times will help me sleep at night, although it makes me cringe to even say that.
I'm bringing this shit to my next party because I'm bitter when no one wants to drink Barolo with me.
Producer: Mionetto
Designation: Brut
Region: Italy
Sub-Region: Treviso
Variety: Glera
ABV: 11%
Vintage: NV
Tasted: June 11, 2012
Price: $23