NV Henkell Trocken
Tasting Notes:
Eyes: clear, pale lemon-green
Nose: clean, med+ intensity, youthful, fruit (peachy), mineral, sweet, light notes of tropical fruit
Mouth: dry, more aggressive bubbles, med- bodied, med- to med acidity, med length, med intensity, med- alcohol
All in all: Good quality; drink now; not intended for ageing.
Compared alongside 1999 Lanson Gold Label Champagne.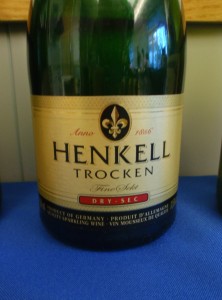 I have used Henkell Trocken as a wine for a wine tasting I held once, because it's a cheap and fun almost-all-purpose bubbly. Personally, I find it boring, but for the price, it's a great and cheap bubbly. The intensity and "tropical fruit" you see in my tasting notes were really more of the class consensus – I wrote down that I found it had a light to med- intensity with a predominant mineral and green fruit nose. Decent stuff for an inexpensive wine.
Producer: Henkell
Designation: Trocken
Region: Germany
Sub-Region: N/A
Variety: Chardonnay, Sauvignon Blanc, Pinot Noir, Chenin Blanc (lol what)
ABV: 11%
Vintage: N/V
Tasted: May 26, 2012
Price: $15 (BC LDB)