On Tokyo, Central Italy, and Miss Vanjie
I wish I could insert a montage of video clips here, combining all the clusterfucks and thrills of the past few months, but written description will have to do. Also, apologizing for a lack of posts is a tired cliché of the peak LiveJournal era, so I won't do it. Oh, to be 13 again.
Imagine leading a tasting on Japanese whiskies – in Tokyo!
But also, imagine being so disorganized that you plan your Tokyo activities while waiting to board the plane, get lost from hopping on the wrong train from the airport, and have the police yell at your conference's group in Japanese as we wrestled and tackled each other in Ginza. At some point in the week, you meet up with a Frenchman who tells you a story about the Japanese boyfriend that he keeps secret from his wife and kids, but is still lonely enough to crave your company: he doesn't say it, but even as we overlook the city, he feels a claustrophobia about Tokyo that's temporarily soothed by our sashimi and Bordeaux barrel-aged Japanese whisky. With what felt like the same breath, a colleague raps a Black Eyed Peas song in front of two of the group's members.
Imagine diving into the second half of a comprehensive course on Italian wines, only to skip the last 3 weeks, despite the fact that you nefariously barely ever miss a tasting note. And then immediately craving more after the exam. What's the gayest wine to study? It's gotta be Champagne, right? Provence?
Finally, imagine a man around your arm who, after a few tries, ends up getting connected to you through a meme from gay culture. I'm sure there's a wine pairing for this, but I haven't thought of it yet.
I can't fucking believe it was Miss Vanjie.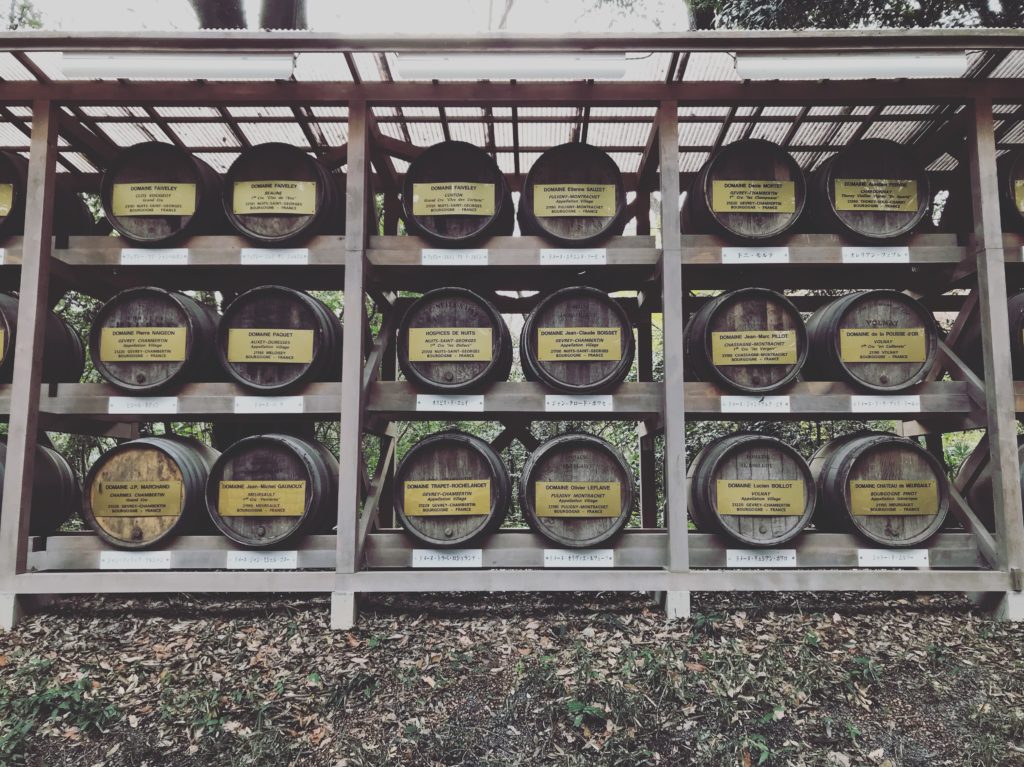 Argillae 2015 Orvieto (Umbria, Italy) Apr 2018. $15 USD.
I've never really truly been impressed by much Orvieto that's run into my lips by chance, to be honest. The nose opens up with a mélange of flowers and lychee, though, that falls into a hint of grapefruit and earth. Solid if not slightly unmemorable. A blend of Trebbiano, Grechetto, Chardonnay, and Viognier.
Salviano 2015 Orvieto Classico Superiore (Umbria, Italy) Apr 2018. $16 USD.
A bit of a step up with more yellow flowers and yellow plum. The palate is where the wine shines with its intensity of fruit, grapefruit zest, and steely ending. Trebbiano Toscano (30%), Grechetto (30%), Chardonnay (20%), and Sauvignon Blanc ($20).
Tavignano 2015 "Misco" Castelli di Jesi Verdicchio Classico Riserva (Marche, Italy) Apr 2018. $24 USD.
Youthful and steely with lime and white flowers, but a white peach character is dominant. This with a hint of honey almost brings dry Riesling to mind. The palate brings mouthwatering yellow plums – as crunchy as the nose might have alluded to. Slightly more finessed for the style, but the palate serves some texture. Aged on the lees for 12 months.
Ciù Ciù 2015 "Merlettaie" Offida Pecorino (Marche, Italy) Apr 2018. $18 USD.
Never without Pecorino's slightly nutty and bruised apple, along with baking spice and cinnamon – maybe a sweet hint of a citrusy caramelized something you'd find in cola. Crunchy Asian pear and lemon curd on the palate with bracing acidity and a hint of minerality at the end. Grittiness? A hint of it. Fermented in oak and aged on the lees in oak for 6 months.
Cesani 2015 "Pancole" Vernaccia di San Gimignano (Toscana, Italy) May 2018. $15 USD.
A mouthwatering combination of mineral, apple, citrus, sweet hay, and lemon curd almost bring to mind Piedmonte's Gavi, though it's less precise and tense than said comparison on the palate. Mineral-laden, though a hint short. Aged a few months on the lees. Someone mentioned that, in a blind tasting, they guessed a wine was a Puligny-Montrachet but it turned out to be a Vernaccia di San Gimignano. Not this one, but damn: show me the receipts on that one.
Villa di Zapezzana 2010 Carmignano (Toscana, Italy) Apr 2018. $29 USD.
Mostly ruby with a hint of garnet. Black cherries and Cherry Nibs with a counterbalance of balsam, dried mushroom, and a sprinkle of decaying leaves. The fine tannins slip away quickly to reveal surprisingly fresh juice for an 8-year-old wine. The combination of large oak and small French oak for around 15 months is well-integrated and hardly sticks out. Sangiovese (80%) and Cabernet Sauvignon (20%).
Poliziano 2014 Vino Nobile di Montepulciano (Toscana, Italy) Apr 2018. $30 USD.
Honestly, a hint muted. Some dried red fruit joins the oak and some kind of floral-themed cologne and leather. Tight, snatched, and well-balanced. Prugnolo Gentile (85%) and the rest made up of Colorino, Canaiolo, and Merlot; aged around 14-16 months in wood, with two-thirds aged in barriques and tonneaux of French oak.
Querciabella 2012 Chianti Classico (Toscana, Italy) Apr 2018. $30 USD.
More delicate compared to the previous Tuscan reds, though it's made up of more intoxicating black cherry fruit with a whisper of pomegranate that oddly enough reminds me of a certain note of a whisky aged in Bordeaux barrels. This sweet-and-sour dusty moment on the nose becomes more bracing on the palate, though the wine still keeps its pretty delicacy. Huckleberry tea. Aged 12 months in neutral French oak. Biodynamic.
Le Chiuse 2011 Brunello di Montalcino (Toscana, Italy) Apr 2018. $60 USD.
Developing. Dried rose petals, perfume, and sour black cherry – the most latter so evocative that my teeth hurt just smelling the wine. Replace the jovial flavours of the first three Tuscan reds with a concentrated and complex combination of aromas that add chocolate during the palate moment. Tense but rich and seamless. Fully Sangiovese Grosso. Aged 3 years in Slavonian botte.
Le Macchiole 2015 Bolgheri Rosso (Toscana, Italy) Apr 2018. $32 USD.
Deep ruby with hints of purple. Attention-grabbing swirl of sweet plums, cologne, fruitcake, coffee, and roasted red peppers. The most hedonistic of this bunch, though luckily the chalky texture and juiciness reign in the wine's flamboyance. The bit of oak – 80% in oak barriques ranging from 2-to-4 years old – softens up the wine nicely. Made of up of Merlot (60%), Cabernet Franc (20%), Cabernet Sauvignon (10%), and Syrah (10%).
La Mozza 2016 "I Perazzi" Maremma Toscana (Toscana, Italy) Apr 2018. $32 USD.
Purplish, though not the deepest. Pronounced. Hints of bergamot-dusted plum later reveal plum, vanilla, candied violets, and hints of white pepper. On the fuller side, with lasting flavours of plum and blood orange, while the odd note of bergamot pokes its head through again. I'm not sure where I'd place this in a blind tasting! Morellino (85%), Syrah (5%), Alicante (5%), Colorino (2%), and Ciliegiolo (3%). Aged in used French barriques for 6 months.
Poggio al Tessoro 2012 "Sondraia" Bolgheri Superiore (Toscana, Italy) Apr 2018. $45 USD.
Deep purple colour. Intense and youthful. An undeniable green pepper note from Cab Sauv (65%) and Cab Franc (10%) plays the guitar solo, while the rest of the music is filled out by soil, flowers, and black fruit, no doubt the very latter amped up by the blend's remainder of Merlot. Almost all superlatives: dry, full, and mouth-coating; chalky tannin, zingy brightness. I'm glad the greenness overrides the 18 months of French oak (225L and 50% new), adding a crisp edge to an otherwise gigantic wine.
Castello di Volpaia 2012 Vin Santo del Chianti Classico (Toscana, Italy) 375mL. Apr 2018. $37 USD.
Orange-amber. A developed mix of brine, blanched almonds, orange peel, and citrus – maybe a hint of caramel. Medium-sweet and expressive; a hint of flan appears on the palate. Almost a citrus-infused snapshot between fino sherry and Madiera. Trebbiano (60%) and Malvasia del Chianti (40%). 14.5% ABV; 110g/L residual sugar.
Fontana Candida 2013 Frascati (Lazio, Italy) May 2018. $14 USD.
Medium lemon colour. Steely. Crisp hints of greenness and bitter flower join the nectarine and unripe peach. Creamy. Does the job; just satisfies. Malvasia Bianca di Candia (60%), Trebbiano Toscano (30%), and Malvasia del Lazio (10%).
Masciarelli 2016 Trebbiano d'Abruzzo (Abruzzo, Italy) May 2018. $21 USD.
Fully Trebbiano. A bit timid, showing hints of citrus, white flowers, and fresh herbs. Bracing and crisp with green apple on the palate. Basic but satisfying, and surprisingly expressive on the palate.
Botter-Carlo 2013 "La Fiera" Montepulciano d'Abruzzo (Abruzzo, Italy) May 2018. $12 USD.
Deepish ruby. Mostly dried black fruit with whispers of raspberry, and then a detail of earth and balsam, displaying the fruit purity without any oak embellishment. Slightly bitter flowers and dusty tannin frame the modestly round expression of black fruit and earth. Great value. 100% Montepulciano.
Corte del Papi 2015 Cesanese del Piglio, Colle Tecchio (Lazio, Italy) May 2018. $19 USD.
Deep purple. Youthful and pleasantly expressive with dried violets and a grapiness reigned back by a bitter and metallic edge reminiscent of almonds or cherry pits. In the mouth, it's all of bright, savoury, and meaty. The tannin doesn't stick out but it's pleasantly fine and dusty-textured, and there's a soft bitterness that resonates throughout. Long-lasting. Super cool juice. Cesanese di Affile (85%) and Cesanese Comune (15%); fermented and aged in stainless steel.