Collio Me by Your Name
Real talk: Call Me by Your Name was one of the only few new films I watched in 2017 and it was beautifully made and acted and needed in this world and deserved all its accolades, but I thought it was slightly overhyped? Bye! We can argue about this offline over an actual glass of Collio something. I mean, part of the film took place near Lake Garda so we could hypothetically sip Soave Classico or Lugana instead, but they also travel to Bergamo so I wouldn't mind tossing out drunken thoughts over Franciacorta. Or all the above.
I can't believe I already fly out to Japan in less than a week for a conference, and I'm severely underprepared in so many ways. Now that my course is over (for now), I need to actually sit my ass down and get shit done. Jesus. Hilarious is the nonstop Drag Race we're getting, with one season immediately followed by a new season in the following week. The Gay Gods have been generous with the Gay Olympics, but damn – I defs need to pack my shit and do taxes.
Speaking of seemingly godly timing, both the annual Tre Bicchieri tasting and an Italy-themed wine tasting (curated by James Suckling) were both held in the same week after the exam. I've previously bragged about my ability to slip past people to quickly get through crowds, but lately my enthusiasm to dart around the room like a maniac has waned. Petition to have fucking spit troughs in the middle of every fucking tasting room ever? They have one in like every Castro bathroom, so why not? I feel like I'm hyperaware at wine tastings, looking over both shoulders every 30 seconds to make sure I'm not blocking anyone from the front of the table. Meanwhile, Betty and Eric are firmly planted in front of every spit bucket like it's their fetish. Come through, troughs!
Here are the last few tasting notes of the first half of the Italian Wine Scholar course. Exploring the elegant and precise wines of Friuli-Venezia Giulia seemed like a nice ending from the (very) delicious Piedmontese clusterfuck of a previous week.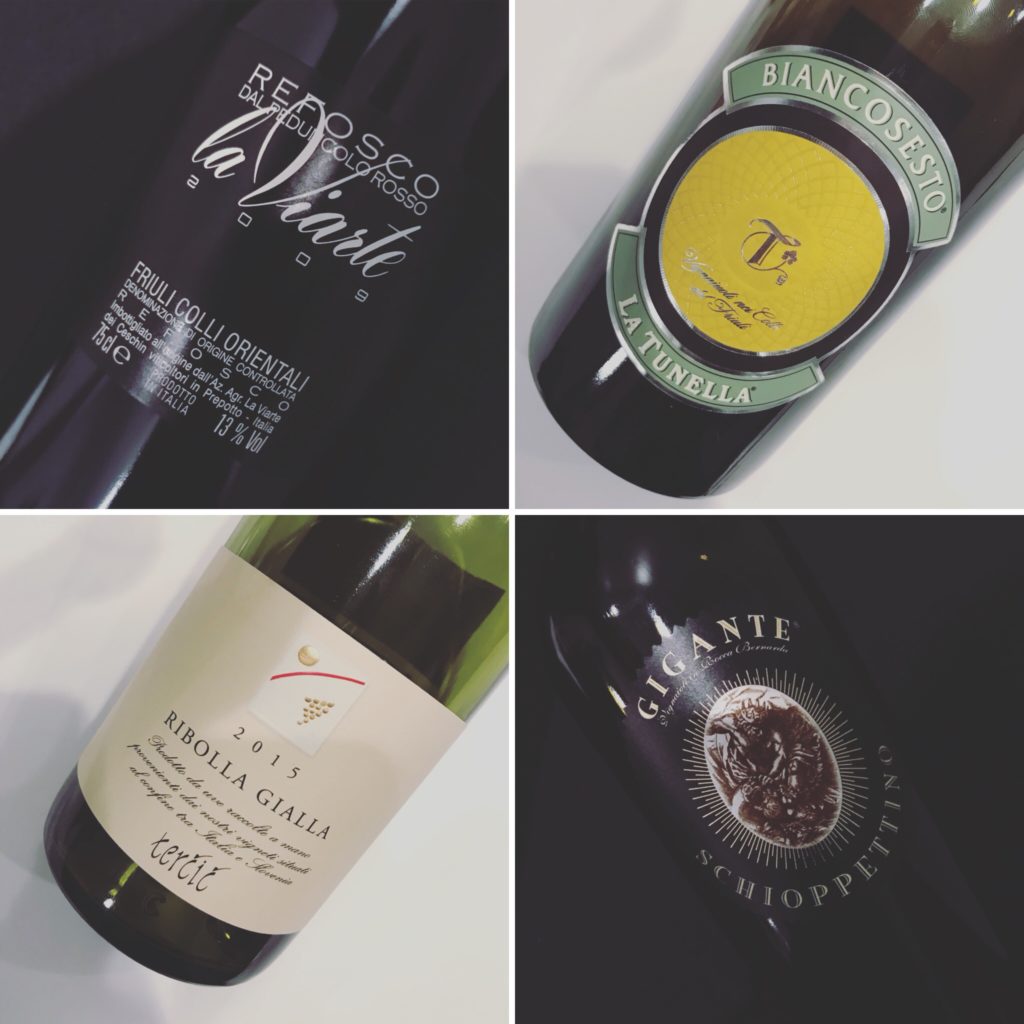 Torre Rosazza 2014 Friulano (Friuli Colli Orientali, Friuli-Venezia Giulia, Italy) Feb 2018. $20 USD.
Hints of gold on this medium lemon. A textured combination of dried flowers, lemon oil, herbs, and hay; the hint of honey balances out the bitter almond finish. 4 months of ageing on the lees really lures out the savouriness.
Matijaž Terčič 2015 Ribolla Gialla (Collio, Friuli-Venezia Giulia, Italy) Feb 2018. $30 USD.
This bottling served me white flowers, lemon zest, white pepper, and a pure burst of white grapefruit on the palate – very loosely reminiscent of a certain other white grape, without the drama and conflama of a certain green pepper note. Aged 6 months sur lie. Ian d'Agata says that Ribolla Gialla is "a victim of its own versatility." That's right, y'all: Ribolla Gialla is northern Italy's true vers.
Gradis'Ciutta 2016 Pinot Grigio (Collio, Friuli-Venezia Giulia, Italy) Feb 2018. $22 USD.
Comparisons to Alsace or other Italian styles are easy, but this *hella* immediately reminded me of BC Pinot Gris; a pale onion skin colour almost brings some Vin Gris to mind. Aromas of yellow plum, peach pith, and tangerine dominate, which then gives an evolution of a fullness of fruit with vibrating acid that finishes with an earthy minerality.
La Tunella 2012 "Biancosesto" (Friuli Colli Orientali, Friuli-Venezia Giulia, Italy) Feb 2018. $28 USD.
Half Friulano and half Ribolla Gialla. Dried grass, citrus zest, and hay open up with a certain textured meatiness on the palate from frequent battonage. Vaguely reminiscent of some rounder and aged versions of Sauvignon Blanc I've enjoyed in the past. Pour this in me.
La Viarte 2009 Refosco dal Peduncolo Rosso (Friuli Colli Orientali, Friuli-Venezia Giulia, Italy) Feb 2018. $32 USD.
Black fruit, leather, bacon, cedar, and notably: fresh mushroom. Revealing on the nose but the structured palate has the tongue in a slight headlock; ends with a meaty almond finish. Aged in new and used French oak for 1 year.
Gigante 2010 Schioppettino (Colli Orientali del Friuli, Friuli-Venezia Giulia, Italy) Feb 2018. $25 USD.
Like opening up the back of a slightly dusty upright piano to discover that this nook was where someone squirrelled away the spices they bought in Chinatown and the black cherries they bought from the farmers market. Finessed but not without a slight tannic bite. Aged for 12 months in oak.