Gay wine culture is pairing Lagrein with La Grindr
Y'all, I was doing so well with these blog posts and then suddenly I'm behind by like all of them. It's possible that the wines this particular week foreshadowed this climb in terrifying to-do lists and feigned self-hair-pulls, whose bottles of detailed intensities and precise flavours were just as spirited as the flawed bottles of oxidized Müller-Thurgau and corked Schiava. Which – by the way – picking up even just the slightest bit of cork taint is a weird way to edge your confidence back up after insisting that your nose is broken in some way.
Do pray tell, who decided that a queer dance event lasting from 2PM until 8PM was a good idea? (This is me trying to project my own bad decisions on other people.) Luckily, it was the first weekend I've had proper furniture installed in my bedroom, because the nap that ensued was a long one. Needless to say, I shouldn't have tried to go back to sleep, and the attempts at doing so until 4AM would have been better spent poring over flash cards or editing spreadsheets. An extension cord now exists in my room, so now my lamps can help see these things during the wee hours of the night!
I was feeling my oats so much during this event that I managed to get phone numbers, though I'm missing the next one due to a work retreat. Considering the latter half of that night, it is, perhaps, for the best.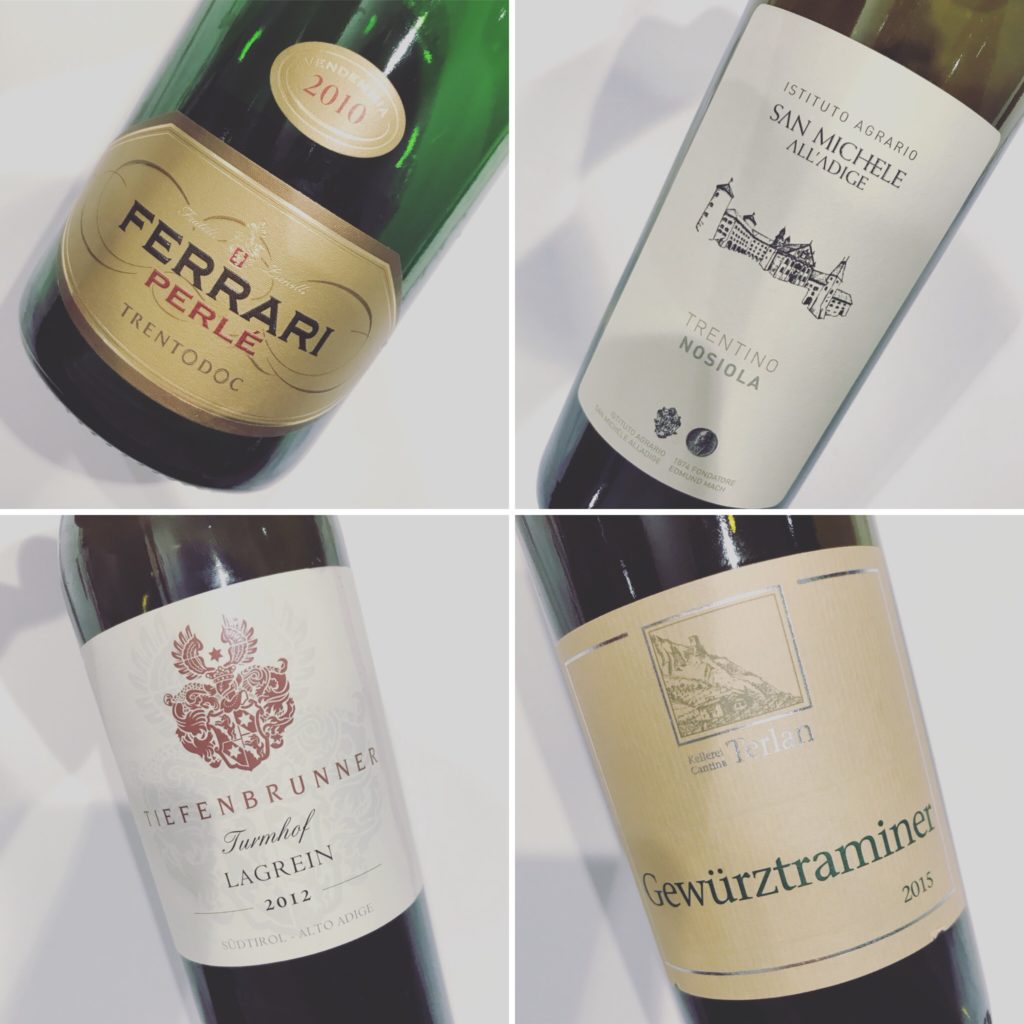 Ferrari 2010 "Perlé" (Trento DOC, Trentino-Alto Adige, Italy) Feb 2018. $40 USD.
Woo. I must be thirsty, because I can smell the aromatics of this wine from meters away. Minerality, green apple, yeast, and just a light hint of pastry; then maybe something a bit smoky. It's dry and creamy, with a distinct core of lemon seed and mineral on the mid-palate. Intense and savoury, finishing with the hints of flaky pastry we got on the nose. So so so satisfying. 100% Chardonnay; 5 years on the lees.
J. Hofstätter 2016 Weißburgunder (Alto Adige DOC, Trentino-Alto Adige, Italy) Feb 2018. $23 USD.
A combination of nectarine, white flowers, and ripe red apple dominates the nose, with as much impressive impact on the palate. Round, earthy, and surprisingly long. One of the most distinct Pinot Bianco/Weißburgunder wines I've ever had. If you're gonna be a bottom, be a power bottom, and this wine does exactly that. Bravo.
San Michele all'Adige 2016 Nosiola (Trentino DOC, Trentino-Alto Adige, Italy) Feb 2018. $18 USD.
The glass of pale lemon greets us with red apple, lemon, and a touch of honey that becomes more distinctive as the wine warms up. Remarkably intense on the palate, with bright citrus and red apple skin followed by the nose's hint of honey. I'm not often a fan of wines made nothing of piercing brightness, but this wine has enough extract and fruit to carry through. Delicious. Fermented and aged in stainless steel with some lees contact.
Cantina Terlan 2015 Gewürztraminer (Alto Adige DOC, Trentino-Alto Adige, Italy) Feb 2018. $27 USD.
Medium lemon. Has Gew's typical guise of ginger and lychee, but the nose shows some graceful restraint, joined by some dried mango and dirty laundry (and as usual: in a good way!). Familiarly off-dry and fairly loud upon a sip, the roundly-textured Gew serving more exotic spice and lychee on the palate. A detailed and intricate version, finishing with a satisfying bitterness. Aged on the lees from 5-7 months.
Tiefenbruner 2012 "Turmhof" Lagrein (Alto Adige DOC, Trentino-Alto Adige, Italy) Feb 2018. $18 USD.
Deep ruby with hints of purple. Right away, the vibe is gritty yet polished, a combination of black fruit and ripe herbs balancing wet soil and roasted coffee bean. Pleasantly intense and concentrated on the palate, and not at all overly demanding. Matured in small and large oak casks for 8 months.
Lechthaler 2015 Teroldego (Teroldego Rotaliano DOC, Trentino-Alto Adige, Italy) Feb 2018. $14 USD.
Another deep ruby with hints of purple. The black and blue fruit share the stage with white pepper and game, and there doesn't seem to be a shortage of earth. Beautiful and showy on the palate, displaying juicy intensity with great force, with chalky tannins not too far behind. 10% aged in barriques and tonneaux for 8 months.