My favourite position is Dogliani style
Real talk: installing six pieces of IKEA furniture on a Sunday with subsequent plans to write, study, and plug away at a work report is a stupidly ambitious goal, but I knew plans wouldn't work out as soon as I woke up hungover to see the delivery truck arrive just outside the window. Who says yesterday's steamed golden lava bun-stained shirt isn't fashionable? Cue scenes with nails that won't screw and Viognier to quell such frustrations, and then Googling how many calories are spent putting furniture together for eight hours. And then, do you ever have fucking fantastic conversations with an AIDS physician on a Saturday night and 5-more-minutes yourself way too many times? Jesus Christmas.
Piedmont week is the thicc daddy of the Northern Italian portion of the Italian Wine Scholar, so you might imagine such panic coinciding with work and moving. I'm doing my best not to lose my mind, but I feel terrible for canceling plans with a particular friend out of slight panic. Stepping out of work for a bit to tend to your internet installation to find out that they don't do anything after their third visit made me wonder why I didn't decide to move the vacuum cleaner to our new place yet, because there were tendencies to throw glass. Trust and believe. It's also the night before the next week's class, themed Trentino and Alto-Adige, and I still haven't finished making my Piemonte flash cards. Party.
Who has two thumbs and needs to calm down? (Barolo helps. So does Dogliani… style.)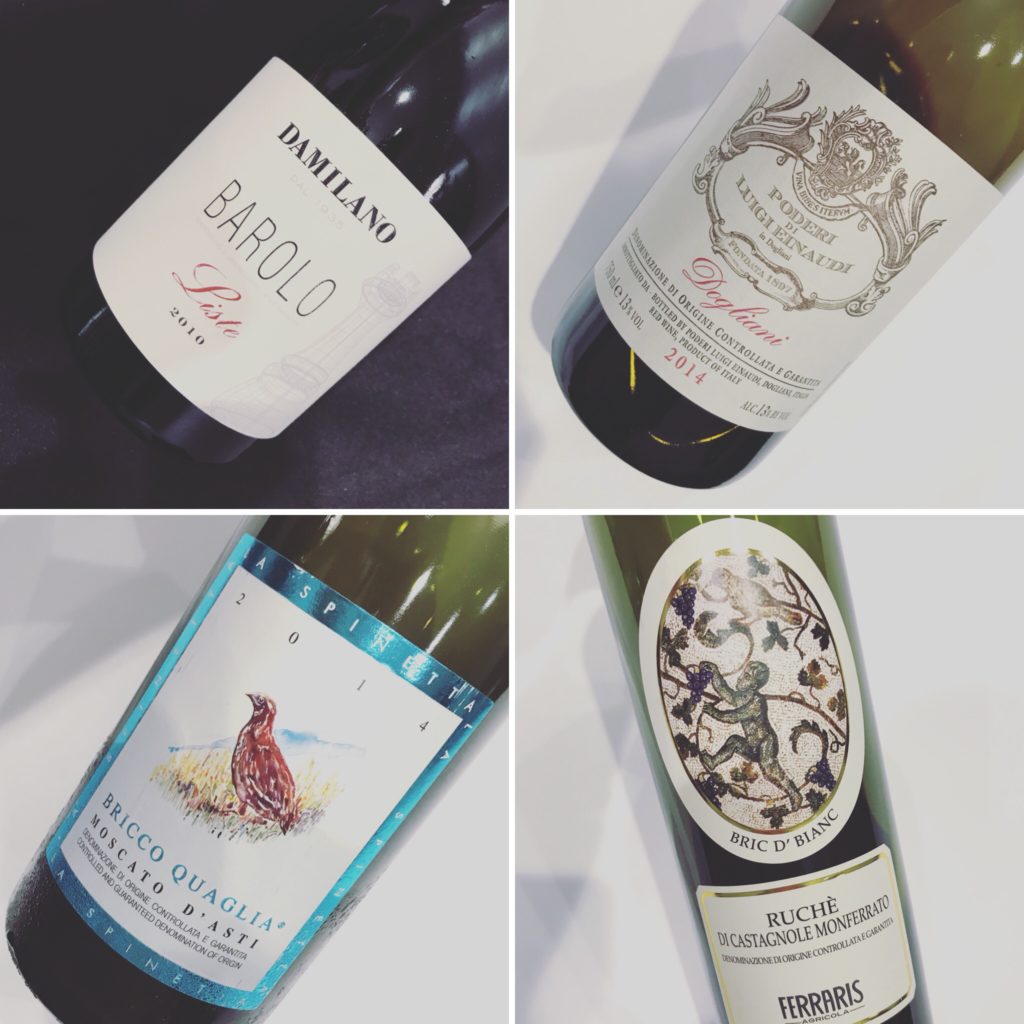 La Spinetta 2014 Moscato d'Asti, Bricco Quaglia (Piemonte, Italy) Feb 2018. $19 USD.
A frothy pale lemon, as Moscato d'Asti does, with its age revealing mostly rosy floral notes in front of the delicate banana and peach. Delicately sweet, soft, and elegant. Quietly charming. 120 g/L RS.
Battaglio 2016 Roero Arneis (Piemonte, Italy) Feb 2018. $22 USD.
Pear, peach pith, and white flowers, with a slightly textured palate rounding out an otherwise bright wine. On the slightly riper side for the style.
Broglia 2014 "La Meirana" Gavi di Gavi (Piemonte, Italy) Feb 2018. $20 USD.
100% Cortese. The steely lemony notes are definitely enough to make the mouth start watering, the hint of lees (6 months ageing) and chalk adding complexity to an otherwise piercingly direct wine. Behind the velocity there's something like lemon oil or lemon preserves on the palate, but you've got to pay attention to it or you might pass you by. If Arneis is the tensely curved bow, Cortese is the arrow.
Bersano 2015 "Costalunga" Barbera d'Asti (Piemonte, Italy) Feb 2018. $15 USD.
Medium ruby. Dried and sour black cherries, Twizzlers, and earth come alive on the palate. Solid, bright, juicy, and pretty uncomplicated. Aged 1 year in large Slavonian botti.
Luigi Einaudi 2014 Dogliani (Piemonte, Italy) Feb 2018. $15 USD.
100% Dolcetto. Deep ruby with hints of purple. Black fruit – almost veering into a grapey cassis category – and a lightly balsamic background. It's not a shy one on the palate, with exuberant fruit leaving a trail of chalky tannins and steely earth. It disappears quite quickly, but maybe it checks out that the offbeat rebel of Piemonte's red grapes does so.
Luca Ferraris 2014 "Bric d'Bianc" Ruché di Castagnole Monferrato (Piemonte, Italy) Feb 2018. $18 USD.
Leaning on the paler side of ruby with hints of garnet. Deliciously perfumed with white pepper, decaying leaves, and sweet red fruit. Already serving me value at $18, and I'm hoping it doesn't disappoint on the palate, but it doesn't: much more white pepper reveals itself with a lighter, finessed body, the earth also combining with cherry-plum jam. Superb. Fermented and aged in stainless steel tanks.
Matteo Correggia 2012 "Ròche d'Ampsèj" Roero Riserva (Piemonte, Italy) Feb 2018. $45 USD.
Also on the paler side of ruby with hints of garnet. The first of our three Nebbiolo wines has juicy red fruit paired with the earth and cola: perhaps a combination of sweet florals, a hint of tomato leaf, and a single overripe strawberry. Pretty intense on the palate with bright acid and chalky tannins. Delicious. Ethyl acetate comes to mind: not in a bad way, just in a way. 45-day maceration. Aged 2 years in tonneaux oak barrels, with two years of ageing in bottle before release.
Torraccia del Piantavigna 2010 Gattinara (Piemonte, Italy) Feb 2018. $35 USD.
Palish garnet. A slightly more sultry atmosphere. A hint of licorice, meat, and burn rose petals. More tar than roses for Nebbiolo's tar-and-roses catchphrase, and then there's a hint of nuts. Decidedly more closed compared to the previous, the dollop of chalky structure blurring the palate's intensity. Aged 3 years in medium-sized Allier oak casks with 6 months of ageing in bottle.
Damilano 2010 "Liste" Barolo (Piemonte, Italy) Feb 2018. $63 USD.
Also a slightly pale garnet. On the nose: slightly closed aromas of dusty ground-up rose petal with bits of dark chocolate and meat. Full, chalk, and long, but still a grippy baby at this age. Concentrated. Finishes with a hint of hickory. Aged 24 months in 40% new oak of 500L capacity.