Valtellina, this is a lip sync for your life we need to see your lips
As a west coast Canadian native, it slightly hurt to miss the GuildSomm seminar on Ontario wines after having snagged a ticket to slightly make up for missing last year's Canada-themed Vancouver International Wine Festival. I also missed the first half of the Lombardia and Emilia-Romagna seminar for this week's Italian Wine Scholar class because of things. I'm missing some marks, y'all. I didn't get to cry my tears of Canadian Riesling, but I did get to cry tears of Lambrusco. I'm also not afraid of disrupting the middle of class to pour myself a glass of Franciacorta. Bitch, I paid for this course. Give me that fuckin' yeast.
The week also involved a day of packing and moving to a new apartment. Huzzah! Come through, gaybourhood. I don't know how I snagged a cheaper place that's closer to work and that's in a neighbourhood I already spend most of my time in, but here I am. I basically live next to tacos, for crying out loud. I can't wait to walk to the local Whole Foods and grimace. Nota bene: don't get three shots at the doctor's office just a day before moving, because you will feel iffy. But, pro tip: right after the nurse asks you what your dominant hand is, distract yourself by reciting the sub-zones of Valtellina.
Anyways, what I feared came true: I walked home yesterday with the intention to study Italy's Piemonte after grabbing a bottle of Viognier from a local wine shop and then bumped into some friends who were on the way to a certain bar's musical night; another set of friends were at a drag show just a block or so away from the new place. The temptation to join anyone last night was real – and the constant booming neighbourhood buzzing both soothes and persuades. Fuuuuck. C'mon, willpower!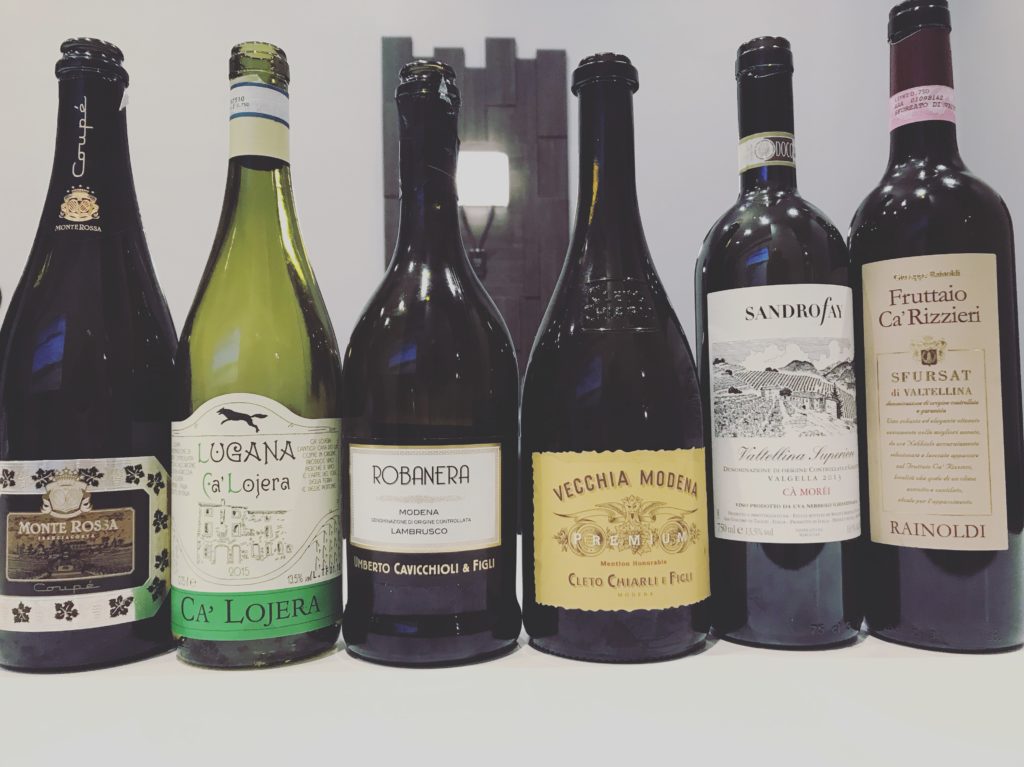 Monte Rossa "Coupé" Franciacorta (Franciacorta, Lombardia, Italy) Jan 2018. $34 USD.
Medium lemon. Developing aromas of yeast, baked green apple, and cream. Energetic, structured, but with a creamy core of mousse. Predominantly Chardonnay.
Cleto Chiarli e Figli "Vecchia Modena" Lambrusco di Sorbara Secco (Lambrusco di Sorbara, Emilia-Romagna, Italy) Jan 2018. $15 USD.
11% ABV; 100% Lambrusco di Sorbara, showing a deep pink and a flowery citrus base with strawberries in the forefront. Much more piercingly tactile and demandingly energetic compared to the next Lambrusco. It's so thunderous on the palate that you almost miss the fruit.
Umberto Cavicchioli & Figli "Robanera" Modena (Modena, Emilia-Romagna) Jan 2018. $14 USD.
9.5% ABV. 100% Lambrusco Graparossa (though not from the Lambrusco Grasparossa di Castelvetro DOC), leading to a deeper ruby colour and deep grapey fruit that has hints of something chocolate or coffee-like: maybe tootsie rolls. The bright acid and hint of acid seem to smother the barely off-dry guise, but a hint of dried fruit sweetness comes through. Bittersweet sparkling reds? Toast to my life with Lambrusco Grasparossa di Castelvetro DOC at my funeral.
Ca' Lojera 2015 Lugana (Lugana, Lombardia, Italy) Jan 2018. $19 USD.
Pale lemon with hits of onion skin. Hint of bruised apple and orange; something like almond cream and orange zest. A ripe entry, creamy middle, and zesty ending. Turbiana's the grape, which is also called Trebbiano di Soave… which is also technically Verdicchio.
Sandro Fay 2013 "Ca' Moréi" Valtellina Superiore, Valgella (Valtellina Superiore, Lombardia, Italy) Jan 2018. $35 USD.
100% Nebbiolo, aged for 12 months in barriques. A slightly pale ruby. Developing aromas of leather, red fruit, meat, black pepper, and hints of soy sauce. Very revealing on the nose, but slightly grippy and nervous on the palate.
Rainoldi 2009 "Fruttaio Ca'Rizzieri" Sfursat di Valtellina (Sforzato di Valtellina, Lombardia, Italy) Jan 2018. $45 USD.
100% Nebbiolo but the grapes were left to dry until January after harvest, and then they were aged in new French oak barrels for 16-18 months with an extra 2 years of ageing in bottle. 15% ABV. Firmly in a development stage, with vanilla, leather, baking spice, joining sweet fig and bitter vermouth. Full and intense with ripe fruit, but a subtle herbal and coffee-like bitterness slowly takes over the palate along with a slightly stalky structure.