Fumin Behaviour
Friends who've taken the challenging WSET diploma have even told me to prepare for the difficult buffoonery of the two-part Italian Wine Scholar course. I was making flash cards on two of Italy's smallest regions and my hand quickly cramped up in a painful taco-eating position. I've got the Valle d'Aosta and Liguria mostly down – two sub-regions which are mere footnotes in most wine reference books – and I fear for study time when it comes to Piedmont and the Veneto. I'm TREMBLING.
Speaking of shitty timing, the two-edged sword of moving homes is happening again! I'm moving closer to the city with, somehow, much cheaper rent and a better location. But that also probably means I have to study flashcards and take apart a bed at the same time? Like excuse me??? Is there a Black Mirror episode where people have glasses that help them study their flash cards and the episode has a happy ending because they were able to pack their saucepans without any trouble???
The next session is Lombardy and Emilia-Romagna, but I'll be extremely late because of an important work event. I'm also attending a seminar on wines from Ontario earlier that day, so basically I'm going to be manically running around the city crying tears of Canadian Riesling and Italian Franciacorta while wondering how I'm going to fit a thicc couch through the door of our new place. How is it that it's still the weekend and I'm already craving the next one?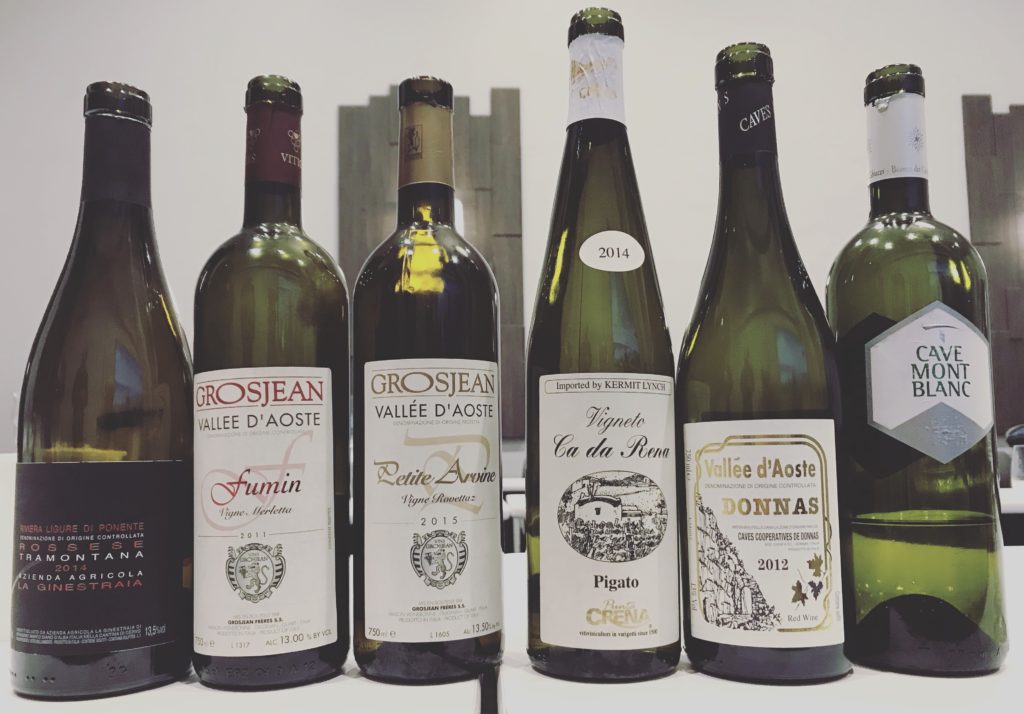 Cave di Mont Blanc 2016 Blanc de Morgex et de la Salle (Blanc de Morgex et de la Salle, Vallée d'Aoste, Italy) Jan 2018. $17 USD.
An almost crystalline water-white appearance. The first thing that comes to mind is still Prosecco, with youthful aromas of white flowers and pear dominating the nose. If the Vallée d'Aoste is a blast of cold air, so is the zippy, steely, mineral-laden palate. Grown at 4000ft elevation.
Grosjean 2015 Petit Arvine, Vigne Rovettaz (Vallée d'Aoste, Italy) Jan 2018. $27 USD.
Peachy and perfumed; honeyed and melon-like. Is it a coincidence that a grape from a French-influenced part of Italy gives me vibes from a German-influenced part of France? This is serving me the brightness and purity of Alsace's Muscat with the perfume and extract of Condrieu. On the palate there's a fleshy fruitiness balanced with minerality and acid. If the previous Blanc de Morgex was giving me frigid top-of-the-mountain alpine realness, Petit Arvine is giving me foot-of-the-mountain après-ski. Or something.
Punta Crena 2014 Pigato, Vigneto Ca da Rena (Riviera Ligure di Ponente, Liguria, Italy) Jan 2018. $27 USD.
Down to Liguria with a deeper shade of lemon. Too cold at first, but then it reminds me of a moment when you're waling through Vancouver after a torrential spell, with wet wood, sage, and roses – maybe also something like yellow plum and orange zest. White pepper joins sage on the palate, and the wine is notably tactile and almost seems to stick to your tongue.
Grosjean 2011 Fumin, Vigne Merletta (Vallée d'Aoste, Italy) Jan 2018. $38 USD.
Last time I had this exact wine was in December 2016 so it's cool to see its evolution. Deep ruby with hints of purple even despite the age, and a mouthwatering balsamic notes, tomato paste, blackberries, and meat. Gives me body, intensity, and bright acidity without any rough texture. Would buy again, especially because I'm in this phase where I evangelize the tasty underrated idea of raw tomatoes as a snack. I mean, COME ON YOU GUYS
Caves Coopératives de Donnas 2012 Donnas (Donnas, Vallée d'Aoste, Italy) Jan 2018. $25 USD.
90% Picotendro (Nebbiolo); 10% Freisa and Neyret. A pale ruby bordering on garnet. Not what I would call a classic expression of Nebbiolo, but there's a combination of dried red fruit, earth, and something like a burning candle. Elegant and aloof, showing the grape's finely impactful tannins and bright acidity without the time-demanding authority. Fermented and aged for 24 months in large Slavonian botti.
La Ginestraia 2014 "Tramontana" Rossese (Riviera Ligure di Ponente, Liguria, Italy) Jan 2018. $24 USD.
Back down to Liguria. Another pale-ish ruby deems a bit closed and cool at first. Dried violets and dark fruits open up more amply on the palate and balance out the chalky tannin. A hint of an artificial fruit character, but not in an unpleasant way.