Putting the Rain in Monterey's Thermal Rainbow
It's a partial shame that I was in the USA for Canadian Thanksgiving and in Canada for American Thanksgiving. I didn't get my fill of holiday food – and I'm not headed back to Canada for the big holiday extravaganza (much to the discontent of my colleagues and family) – so I'll have to make do, and I'm not mad at that. Huzzah! Maybe my mind will change (it won't), but nothing sounds better than eating take-out, drinking an entire bottle of Champagne, and binge-watching feel-good movies.
But yes, Canada: I'm perpetually unafraid of rocking my combination of short overalls and thick plaid jacket, but I was greeted with all of Vancouver's rain: I realized my mistake during my ride-share to the San Francisco airport. But how does no one in my family not have a fucking umbrella? I guess they drive everywhere? The perils of a coinciding early and serious interest in alcohol during a time when all my friends were learning how to drive.
It's always a gamble before leaving the house with a scramble to find an umbrella – and more often than not, there's the false hope of finding one, only for it to crumble into a sad and barely pyramid-shaped mess on the front porch, trying to open it, followed by a grimace from a realization that I might have to buy better shoes. I'm way too optimistic for Vancouver weather. Contrast this with San Franciscans who seem to cower under every visible awning during any hint of drizzle as they call their ride-shares to locations only 5 blocks away.
A loose link to Monterey's "Thermal Rainbow", referring to the gradient of temperatures from one end of its region to the end, due to varying proximities to the Pacific Ocean breezes. These seemingly less-explored regions of California are offering me so much intrigue. It's such a shame that so many wine textbooks seem to reduce certain places to footnotes while emphasizing others. This seems to be changing, though!
Speaking of rainbows and varying proximities: damn. I forget how prevalent craft beer is the closer you are to the Pacific Northwest. Picking out beers to open from my Vancouver cellar was difficult, but I managed to talk myself into opening a Green Flash Rayon Vert (bottled July '12; purchased April '14) and a Westvleteren 12 (best before May '17; purchased Feb '15).
Also a highlight: buying butt plug pins from a local Vancouver artist for friends back in San Francisco 🙌🏽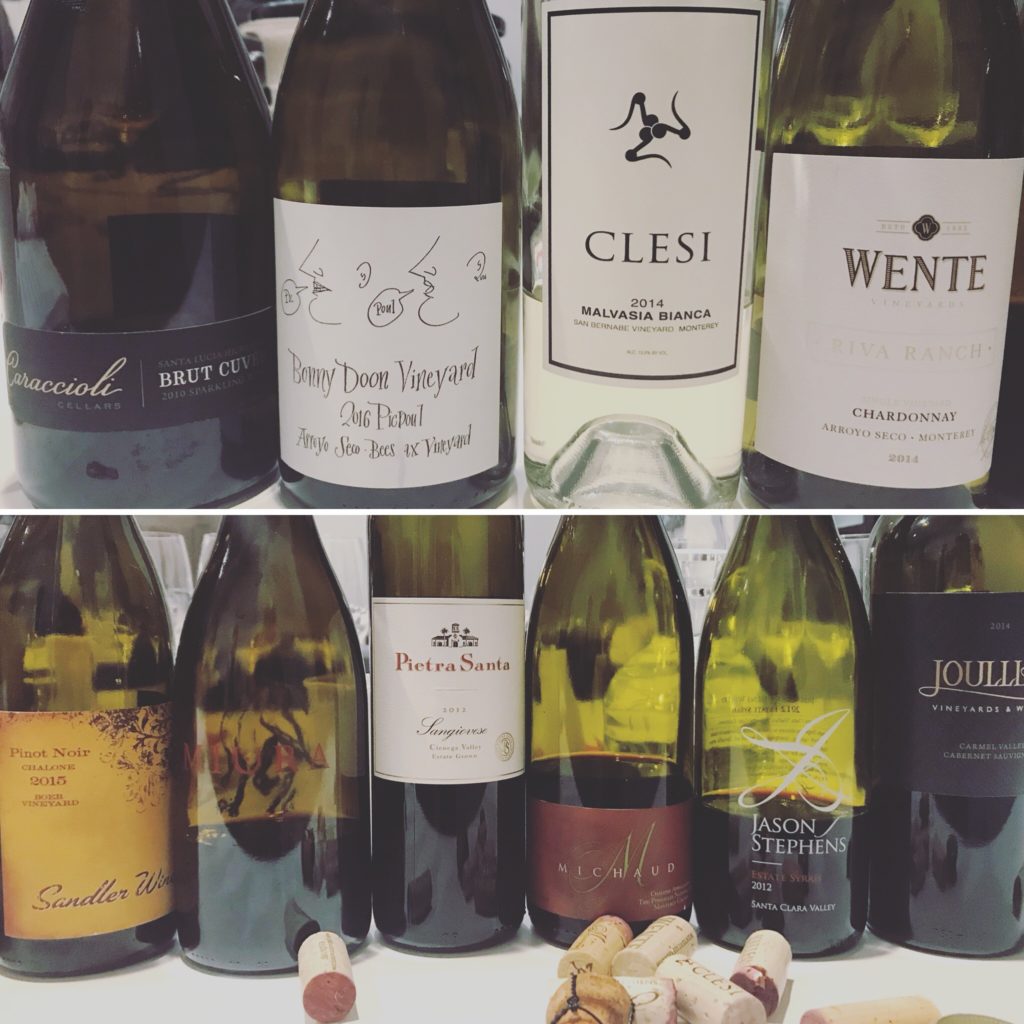 Caracciolo 2010 Brut Cuvée (Santa Lucia Highlands, Monterey County, Central Coast, California) Nov 2017. $52 USD.
Intriguing onion skin colour. There's a whiff of brioche and stone fruit, but the wine on the palate is immensely puckering, akin to biting right into a lemon. It's really balanced and satisfying, though, even despite the creamy mousse, the unripe raspberry fruit, and sour candy finish: think lambic beers and bright lights. 60% Chardonnay, 40% Pinot Noir; fermented in both stainless steel and oak barrels; aged sur lie for 4 years.
Bonny Doon 2016 Picpoul, Beeswax Vineyard (Arroyo Secco, Monterey County, Central Coast, California) Nov 2017. $19 USD.
Ripe red apple and nectarine, but someone else's note of dried banana seemed right. Restrained and light on the palate, but not bracing.
Clesi 2014 Malvasia Bianca, San Bernabe Vineyard (Monterey, Monterey County, Central Coast, California) Nov 2017. $24 USD.
Imagine the bride is throwing the bouquet of flowers, and you're not paying attention, so that bouquet hits you straight in the face. And the bride is actually a guava. Girl, I thought this was an overstretched Sauvignon Blanc: there's a pronounced combination of floral scents and tropical fruit, expressing itself as soap candy on the palate. Thankfully there's enough acid to keep things fresh. Odd but delicious.
Wente 2014 Chardonnay, Riva Ranch (Arroyo Secco, Monterey County, Central Coast, California) Nov 2017. $19 USD.
A slightly deeper lemon doesn't show anything too mystic: it's all oak and butter, with hints of char, yellow apple, and poached pear to keep things interesting. Vanilla, oak, and pineapple take the forefront on the palate, but it's fresh enough to keep my tongue on its taste bud toes. Only $19? I'm in.
Sandler 2015 Pinot Noir, Boer Vineyard (Chalone, Central Coast, California) Nov 2017. $36 USD.
Oddly silent on the nose, with oak, black cherry, and sour blueberry, but there's a freshness to it. There's more volume on the palate, with a very light layer of tannin and a bitter tea-like edge to frame the flavours. More nuanced and finely etched compared to the next one.
Miura 2013 Pinot Noir (Santa Lucia Highlands, Monterey County, Central Coast, California) Nov 2017. $30 USD.
Just as timid on the nose as the previous Pinot, but along with the oak, there's more red fruit jam compared to the first. The tannin is still rather light, but there's more tannin roughness here, which matches the higher fruit impact, with a soil-like earthy blunt edge that surrounds the fruit. Very very very well-balanced.
Pietra Santa 2012 Sangiovese (Cienega Valley, San Benito, San Benito County, Central Coast, California) Nov 2017. $18 USD.
Beautifully ruby colour with a slightly garnet rim. A combination of leather, dried cherries, and decaying leaves, yet there's also a hint of an herbal tone and no shortage of toasted wood. It's not elegant, but it's not elegant in a non-apologetically pleasant way, with its gritty tannin and leathery fruit. I don't know if it's because it's the week right after I've visited Canada, but I could swear that the oak and slight age makes itself present in the form of maple.
Michaud 2014 "The Pinnacles National Monument" Syrah (Chalone, Central Coast, California) Nov 2017. $40 USD.
Deep purple. Blackberries. A lambic-reminiscent Brettanomyces earthiness is no subtlety here. White pepper, game, and garrigue also make an appearance. It's full-bodied with good structure, and black pepper also comes through. It's really finessed, to be honest – I thought it would be thicker and chewier on the palate than it was. It's pleasant! Sometimes I can only take so much girth: talk about a national monument.
Jason Stephens 2012 Syrah (Santa Clara Valley, Central Coast, California) Nov 2017. $25 USD.
I swear that the scents of something gently smoky and green here – which I interpreted as weed butts – were pleasant among the spicy black fruit and vanilla. The fruit shows a little more in the mouth. Really solid stuff. A bit warm – again with the lighter imagery – but very solid and well-balanced.
Jouillan 2014 Cabernet Sauvignon (Carmel Valley, Monterey County, Central Coast, California) Nov 2017. $30 USD.
Hints of purple to the deep ruby. The jammy purple fruit, black cherry, coffee, and oak give a chewy and intense nose. Soft and relatively simple but substantially impactful. There's a fair amount of fine roughness to the mouthfeel to scoop up the slightly syrupy fruit.