My Chablis drag name is Kimmeridgian Kardashian
The last memorable time I had Chablis was a premier cru during a first date at an oyster bar. The lusher version of the wine seemed right for what I remember was slightly chilly weather, and what tensity that remained in the wine matched the nervousness of said date. To skip to the last chapter: the same day I received a text from him wanting to end things was the same day I found out I had an opportunity to move out of the city. I'll save the gritty middle details for never, but maybe I'll reveal them one day in that pipe dream of a book involving people I've dated and the wines that accompanied said adventures.
Anyway, that's one of my Chablis stories. The following wines I've tasted here are from GuildSomm's Chablis masterclass, which was pleasantly in-depth and fun. I've decided that coming up with drag wine personas are a great way to memorize soil types, like Kimmeridgian limestone. Kimmeridgian Kardashian who?
Chablis, Chardonnay expressed from the northernmost region of France's Burgundy, is that pure embodiment of the class of wines that are simultaneously piercing and gentle, like your mom screaming for your teenaged self to wake up on a Saturday morning. You can imagine what tasting these wines was like on a Monday morning while hungover.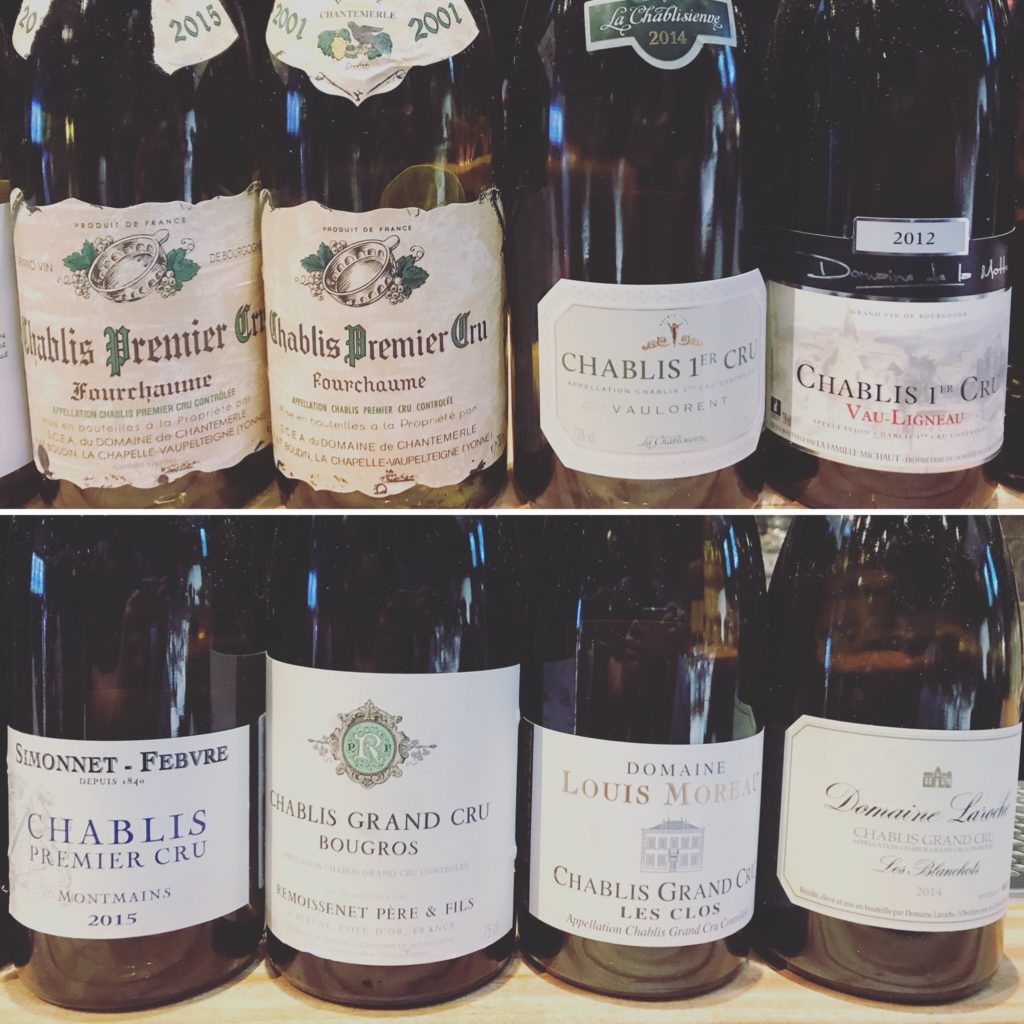 Domaine Christophe et Fils 2015 Petit Chablis (Chablis, Burgundy, France) Nov 2017.
Good fucking morning. Razor-like precision on the nose; the stones, blast of green apples, and lemons has my mouth watering from the get-go. Light, structured, and precise. It's Petit Chablis, so it's not the most interesting, but it's true to the both Chardonnay and the cool-climate region, almost making my tongue vibrate after every sip.
Domaine Jean-Claude Courtault 2015 Petit Chablis (Chablis, Burgundy, France) Nov 2017.
In the same vein as the previous wine, but with a little more pear, mushroom, and cream: all which proved to show variations on our theme for the rest of the flight. Slightly more body than the other Petit Chablis but slightly less brisk.
Domaine Hamelin 2014 Chablis (Chablis, Burgundy, France) Nov 2017.
More concentration, as we veer out of Petit territory and into the proper namesake of the region. There's a slight woolly herbal note, and then the palate reveals more peachy fruit and a leesy finish.
William Fèvre 2015 Chablis (Chablis, Burgundy, France) Nov 2017.
Some white peach shows that this is the ripest so far. Fuzzy Peach candy even seems a bit of a stretch, but that's exactly what I get on the palate, though it's balanced with the notes of cream and super savouriness.
Domaine de Chantemerle 2015 Chablis Premier Cru, Fourchaume (Chablis, Burgundy, France) Nov 2017.
Something here that reminds me of the outdoors – maybe it's the briskness of Chablis in general, giving me visions of the cold, but something herbal joins the flint, mineral, and green apple skin. Concentrated juice, with slow intensity and a hint of a meaty salinity.
Domaine de Chantemerle 2001 Chablis Premier Cru, Fourchaume (Chablis, Burgundy, France) Nov 2017.
Holy shit – and I literally said that out loud. I know this isn't Grand Cru Chablis from the Les Clos climat, but the scents coming from this wine make me understand Jancis Robinson's description that "fine vintages of Les Clos can develop an almost Sauternes-like perfume in time." The glass of gold almost honeyed to the point of sweetness, opening up with Savennières-like cream of mushroom as it warms up. And despite that, it's still lithe on the palate. If this is what all great Chablis is like when it's finally woken up, then damn: Chablis might be that bitch y'all slept on.
La Chablisienne 2014 Chablis Premier Cru, Vaulorent (Chablis, Burgundy, France) Nov 2017.
The woolliest so far, and with a white floral note that the Vaulorent climat is apparently known to exude. It almost veers into that spicy wasabi character Savennières can have, and the palate is intense and zesty. I'm also feeling a slightly more Côte d'Or-reminiscent ripeness on the palate.
Domaine de la Motte 2012 Chablis Premier Cru, Vau Ligneau (Chablis, Burgundy, France) Nov 2017.
Chosen as an example of a premier cru on the left bank of the river, compared to Vaulorent, which is located on the right. The slightly deeper lemon colour is muted at first, but hints of pear and bruised apple join the cream and citrus. It feels more broad and less precise, with more peach and hints of honey showing a more hedonistic and chewy side of Chablis.
Maison Simonnet-Febvre 2015 Chablis Premier Cru, Montmains (Chablis, Burgundy, France) Nov 2017.
Also on the left bank of the Serein river. Where Domaine de la Motte was all peaches and cream, this was more flowers and pears. Textured, with almost a bit of grape tannin, but it retains its silky body. Bit of mushroom here and there.
Remoissenet Père et Fils 2014 Chablis Grand Cru, Bougros (Chablis, Burgundy, France) Nov 2017.
Great to see Remoissenet again: I used to sell a lot back in Vancouver! So far, the most evident oak usage in the flight. It's all red apples, hazelnuts, and gentle oxidation. The vanilla and extravagance on the palate are balanced by this piercing acidity. It's a mouthful of elegant uproar.
Domaine Louis Moreau 2014 Chablis Grand Cru, Les Clos (Chablis, Burgundy, France) Nov 2017.
Steely and closed, though stones and earth poke through its sleeping shell. It's subtle, and the intensity of it all creeps up on you slowly with something saline, but there's a dormant core of something textured and glowing. It's zesty and energetic and waiting to hatch, but it's still too young. It's odd that I would have called this boring five years ago, but now I can taste that there's something great to be developed here.
Domaine Laroche 2014 Chablis Grand Cru, Blanchot (Chablis, Burgundy, France) Nov 2017.
Much like the Domaine Louis Moreau, this is pretty closed and sleeping. The scents are a bit of a fuzzy image, with swathes of something a bit herbal, a bit floral, and a bit ripe, but the palate has mouth-watering density to it. C'mon, youth.