Napa's 2017
Napa. Its seemingly daunting wine is made up of relatively simply shaped sub-regions. The clean-cut sixteen seem well-fit into a geographical puzzle compared to the overlapping Russian nesting doll appellations of every other region in California, and I am 100% here for that.
I finally ended last week's mental tug-of-war on whether or not to attend the Wine Bloggers Conference in neighbouring Santa Rosa, and I've decided to go but with as much cost-cutting as possible. Though it was super fun, one of the most interesting sessions was the discussion on the recent wine country fires: the panel included George Rose, photographer; Patsy McGaughy, of Napa Valley Vintners; and Pierre Bierbent, winemaker of Signorello Estates.
The descriptions and statistics of the damage were heartbreaking, including 75,000 total acres burned and 652 homes lost. These statistics don't even cover other counties outside Napa, including Sonoma, Lake, Mendocino, Butte, and Solano.
An inevitable challenge of the vintage is its reputation, but there's optimism along with camaraderie: 90% of the fruit was harvested before fires began, and the fruit that remained was mainly the thick-skinned and resilient Cabernet Sauvignon; lots of lab testing is happening to make sure that only the highest quality wines are produced from this vintage.
How do we support Napa, according to the panel? Go to wine country, enjoy Napa wines, and donate where you can, all which are part of the reason I decided to come visit last-minute.
Along with the wines I tasted during Napa week for the California Wine Appellation Specialist course, I've also included notes on Napa wines from 2015 and 2016 – I've never had an opportunity to put any posts together, but this seemed like the right time.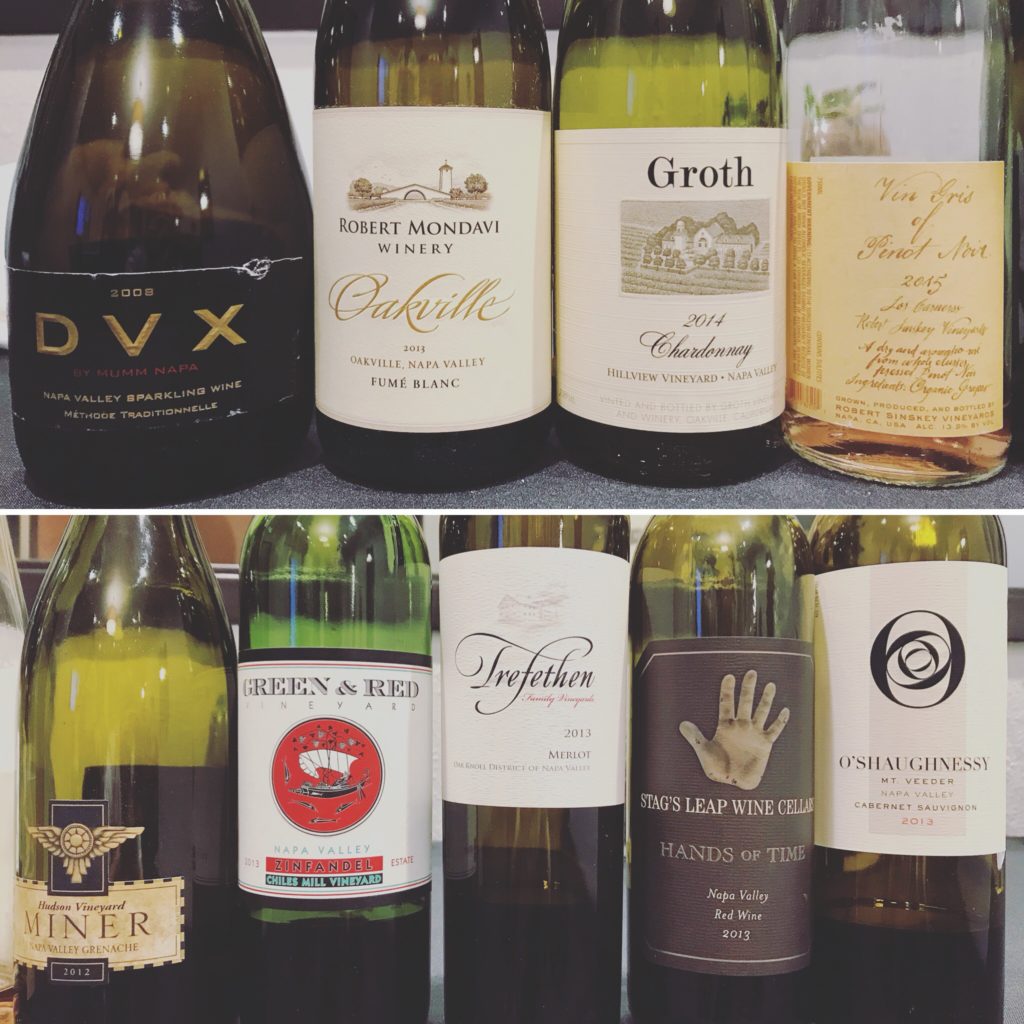 Mumm Napa 2008 "DVX" Brut Sparkling Wine (Napa Valley, North Coast, California) Oct 2017. $55 USD.
Clear, pale lemon. Another cool start to class! Jumpy aromas – for lack of a better term – of green apple, white peach, and no shortage of yeastiness. Hints of peach pith make their way in there as well. Time of lees seems to override oak treatment on the palate, with similar fruit flavours framed by creamy mousse and juicy acidity. It almost seems too clean, afterwards, but the savoury lees creeps up on you.
Robert Mondavi 2014 Fumé Blanc (Oakville, Napa Valley, North Coast, California) Oct 2017. $30 USD.
You know – I'm still trying to fall in love with this warmer climate style that doesn't fit the almost yappy green zEsTiNeSs of New Zealand and instead heads to baked grapefruit, gooseberry, passionfruit, and starfruit. A hint of something flinty or smoky supports the fruit, and the sturdy citrus seems to match the creamy body. The ageing on the lees at least shows commitment to the style.
Groth 2014 Chardonnay, Hillview Vineyard (Napa Valley, North Coast, California) Oct 2017. $30 USD.
We're only served two whites in this class and the first one's a Sauvignon Blanc, so I pull a Raven-Symoné and call this a Chardonnay before even lifting the glass. I'm surprised by this distinct note of black tea and cream, which gently shoves itself in front of the charred yellow apple and mushroom. It's so well-woven that it's hard to tell what the dominant melody is. It's creamy and textured with a savoury middle. Excellent. Great landing. 10/10. Applause. No malo. Shy, expressive, quietly unexpected.
Robert Sinskey 2015 Vin Gris de Pinot Noir (Los Carneros, Napa Valley, North Coast, California) Oct 2017. $24 USD.
Medium pink. Youthful and offering lots of ripe strawberries and cream on the nose. Dry but ripe with nice intensity and a slight twinkle of acidity to keep it fresh. Pretty savoury and zesty, too, but the intensity of the fruit firmly keeps it in the New World. It's showy but doesn't take everything off.
Miner 2012 Grenache, Hudson Vineyard (Los Carneros, Napa Valley, North Coast, California) Oct 2017. $32 USD.
Pale ruby. Since this comes from the cooler Carneros of Napa, it's fascinating to find this restrained version where I otherwise would have expected a heady glass reminiscent of a humid raspberry-scented room in the middle of sex. It's more dusty than heady with hints of earth: more forests than bedrooms. The tannins are even more subtle and finessed. Still undeniably Grenache.
Green & Red 2013 Zinfandel, Chiles Mill Vineyard (Chiles Valley, Napa Valley, North Coast, California) Oct 2017. $38 USD.
That mix of aromatic fruit, typical of the variety: bramble, plum, and dried blueberries. Violets, chocolate, and a hint of greenness tame the fruit. It's playful but burly, like a frat boy. Ripe but finessed on the palate with medium levels of tannin and a decent amount of acid, finishing with a distinct grasp of berry skin at the end.
Trefethen 2013 Merlot (Oak Knoll District, Napa Valley, North Coast, California) Oct 2017. $25 USD.
Okay – here's where we're veering into broodier territory. I really wish I could have included this wine in that "10 leathery wines to pair with Folsom Street Fair" which never came to be, because along with that, there's this earthy roasted red pepper, plum, and the barest hint of something meaty, like hickory or barbecue sauce. The palate's a bit more iron-clad and young, with sandy tannins closing off the flavours in the slightest. C'mon Merlot – flex those muscles.
Stag's Leap Wine Cellars 2013 "Hands of Time" (Napa Valley, North Coast, California) Oct 2017. $29 USD.
If the last wine was Stannis Baratheon, this wine is Robert Baratheon: still in the same vein of being full and robust, but with a distinct move from plums, leather and iron, to cassis, blackberry compote, oak, and dark chocolate. The ripeness on the palate pushes through the pronounced tannins. It's got a playfulness to it. 54% Cabernet Sauvignon and 46% Merlot.
O'Shaughnessy 2013 Cabernet Sauvignon (Mt. Veeder, Napa Valley, North Coast, California) Oct 2017. $100 USD.
A glass-staining inky ruby. I've had the 2005 vintage from Howell Mountain and it's in a style that I remember. Rarely do I say a wine has tension on the nose, but here it's undeniable: there's an intermediate between fruity and meaty, as if the flavours are uncommitted to either side and you're expecting the tug-of-war to change the glass in front of your nose. Can a pie – whose crust has cacao powder and coffee – have both blackberries, meat, and garnished with a green pepper? That's what this is. Lots of flavour on the palate supported by a backbone of blackberry skin. Long finish. We all thought this one girl called this "terrible", but she actually called it "incredible" and we all sighed with relief.
---
Karl Lawrence 2010 Cabernet Sauvignon (Napa Valley AVA, California) Aug 2015.
Tasted blind. Deep purple. Lots of dried violets, plums, and earth. No shortage of fruit; dense in its grapeyness. Lots of texture but the fruit is still in the process of emerging at this age. Medium-bodied; very fine tannins. Definitely part if not all Cab.
Dominus Estate 2011 (Napa Valley AVA, California) Aug 2015.
Tasted blind. Not as deep in colour as the previous, but with a lot of more aromatic and overt green pepper and black fruit. Also quite velvet-textured with medium acid. Gently restricting: tannins slightly shroud the fruit but the texture is fine enough to be enjoyable, like wearing earplugs and listening to a trumpet solo with a mute in the bell. 86% Cabernet Sauvignon, 7% Petit Verdot, and 6% Cabernet Franc.
O'Shaughnessy 2005 Cabernet Sauvignon (Howell Mountain AVA, Napa Valley, California) Apr 2016.
Deep ruby. Cassis, blackberry wine gums, bittersweet chocolate, bourbon, and just a touch of green pepper. Dry though there's a bit of oak sweetness on the attack, which grades into black fruit and oak, finishing with roasted green pepper and a hint of a boozy bourbon-like ghost at the end. On the fuller side of things not without some briskness and chalky structure. Missing just a touch more freshness than I'd like, though I think we opened this at the perfect time.
Stony Hill 2013 Riesling (Napa Valley AVA, California) Mar 2016.
Quite aromatic and lime-driven with some peach. Moderately intense on the palate and barely off-dry, with jutting acid carrying minerality, white flowers, and citrus.
Matthiasson 2013 White (Napa Valley AVA, California) Mar 2016.
55% Sauvignon Blanc, 25% Ribolla Gialla, 15% Semillon, and 5% Friulano. Medium intense on the nose, with cream, a hint of vanilla, and something a bit floral and flinty. Definitively about the texture and not the flavour on this one, with a creamy lighter-footed body and cleansing lemony acid. Very well made, and widely well-received in the room, but not my thing. Aged in 20% new French oak.
Robert Mondavi 2012 "To Kalon Vineyard Reserve" Fumé Blanc (Oakville AVA, California) Mar 2016. $53.
98% Sauvignon Blanc, 2% Semillon. Very fragrant and juicy nose with guava, passionfruit, vanilla, and starfruit. It's creamy and intense on the palate with similar flavours joining grapefruit and flowers. Full and tense. I'm not surprised that Master Sommelier candidates confuse this with Grand Cru white Bordeaux from Graves! Aged for 9 months in one-third new French oak.
White Rock 2013 Chardonnay (Napa Valley AVA, California) Mar 2016.
Not so loud, at first glance: maybe some light citrus, a hint of smoke, peaches, and cream. The acidity really brings out the piercing mineral-laden lemon on the palate. Quite mouth-filling. Aged 11 months in neutral French oak.
Kongsgaard 2013 Chardonnay (Napa Valley AVA, California) Mar 2016.
Napa Valley AVA, but I believe (most of?) the grapes come from the southern, cooler region in Carneros. Wow. The oak is in the forefront with the ripe pomaceous fruit and peach as backup singers, while a bit of salted caramel sheen glides over the top. It's full and creamy with moderate acid, but the tension and backbone are impeccably balanced. Lots of definition with a slightly minerally end.
Frog's Leap 2013 Merlot (Rutherford AVA, California) Mar 2016.
82% Merlot, 17% Cabernet Sauvignon, and 1% Cabernet Franc: an exception for their typically varietally-built wines. There's a small wave of greenness and ashiness over the grapey plums on the nose, delicious evidence of restraint which is apparently a theme for their wines. The palate is medium-bodied with a fair amount of chalky structure and mirrored flavours from the nose, including a savoury mid-palate. There's 19 months of new to 5-year-old oak on here, but it's definitely not obvious. My oak-dar must be off.
Farella 2012 Merlot (Coombsville AVA, California) Mar 2016.
93% Merlot, 7% Cabernet Sauvignon; aged for 22 months in 10% new French oak. The newest Napa AVA in the SE of the region. Much more of a brooding vibe on the nose compared to the Frog's Leap, with chocolate, baking spice, plum, and cassis. The full body is well-contained by the pronounced ripe tannin. It's really intense and hedonistic on the palate with its savoury end and medium acid. Long AF.
Hourglass 2013 "Blueline Estate" Merlot (Calistoga AVA, California) Mar 2016.
84% Merlot, 12% Cabernet Sauvignon, 4% Malbec. Certainly the most intense in this flight, with a bit of prune, vanilla, oak, dark chocolate, and some blue fruit. Definitely full and ripe, the fruit standing in the shadow of the oaky sweetness. The tannins are quite pronounced and powdery, which balances both the soft acid and big flavours, and there's this interesting iodine edge which prevents this feeling of doing lines of ground-up two-thirds new French oak.
Inglenook 2012 "Cask" Cabernet Sauvignon (Rutherford AVA, California) Mar 2016.
85% Cabernet Sauvignon, 12% Cabernet Franc, 3% Merlot. Unswerving cassis, here, that verges on the good side of cough syrup. It's the grapiest in this flight, but there's also a hint of smoky vanilla from 18 months in 35% new mostly American oak. It's not super full but there's a fair amount of body with a dash of mouthwatering acid. It's mostly dark chocolate and cassis on the tongue, but the palate is also slightly wound.
Corison 2012 "Kronos" Cabernet Sauvignon (Napa Valley AVA, California) Mar 2016.
Fully Cab Sauv. Among the dark fruit and vanilla, there's an alluring combination of cola, root beer, and interestingly enough, a floral citrus. The 21 months of ageing in 50% new French oak contributes a well-balanced spicy chocolate-covered flavour, and there's lots of finesse here: nothing too grippy nor gloppy. It's certainly concentrated, though, and Corison's style – famed for grapes that are picked early – will show well in years to come.
Spottswoode 2012 "Estate" Cabernet Sauvignon (St. Helena AVA, California) Mar 2016.
85% Cabernet Sauvignon, 10% Cabernet Franc, 5% Petit Verdot. Pronounced aromas of cassis, black pepper, oak, and a confident helping of vanilla from 20 months in 60% new French oak. It's full with a powdery tannic texture that hits you at the front, and the marked intensity goes on and on, cleansed with a nice amount of brightness.
Snowden 2012 "The Ranch" Cabernet Sauvignon (Napa Valley AVA, California) Mar 2016.
75% Cabernet Sauvignon, 14% Merlot, 8% Cabernet Franc, 3% Petit Verdot. Definitely a presence of oak here, from 18 months of ageing in 50% new French oak, but also a note of dried fruit, cassis, spice, fruitcake, and roasted red pepper. It's full with no shortage of ripe tannin, a great frame to contain the intense flavours, and a comparatively round texture compared to the other wines in this flight. Good value at the SRP of $50 USD, and my favourite in this flight.
Ovid 2012 Red Blend (Napa Valley AVA, California) Mar 2016.
75% Cabernet Sauvignon, 15% Cabernet Franc, 7% Merlot, 3% Petit Verdot. This is from the Pritchard Hill sub-region, whose name is under trademark, and thus it lacks an official AVA designation – though it's apparently located to the south of Howell Mountain and Chiles Valley, and then to the north of Rutherford, Oakville, and Stag's Leap. The wine is fragrantly oak-charged with spice, vanilla, cassis, plum, and a hint of ash. Other tasting notes include "UGH YASSS". It's full, ripe, and round, with fine tannin and acid that border on being pronounced, and well-balanced high alcohol. It's quite expressive, with a hint of an irony finish.
Mayacamas 2010 Cabernet Sauvignon (Mt. Veeder AVA, California) Mar 2016.
All Cab Sauv bar 5% Merlot. On the opposite end of Napa Cab compared to the previous with a little more restraint and a lot more green pepper, earth, berry skin, a bit of olive, and then someone said they picked up sriracha. It's still broad and mouth-coating, but it emphasizes the herbaceous qualities of Cabernet on the palate, along with pronounced chalky tannins that lay themselves down right to the back of the tongue. The high acid really intertwines well with the intense flavours, here, and there's a good chance I would call this Old World in a blind tasting. Aged 36 months in foudre and barrique; 15% new.
Lokoya 2006 Cabernet Sauvignon (Howell Mountain AVA, California) Mar 2016.
I would absolutely not guess this was 10 years old in a blind tasting. A pronounced note of cassis jam, cola, ripe green pepper, and a bit of mahjong tile which we'll call minerality. Well-contained 22 months in 100% new French oak! Full and with lots of structure, the tannic chalkiness not blocking any of the intensity. Same delicious flavours on the palate, but with a bit more sweet tobacco on the tongue.