Sake it to me
…and other overused puns.
Look, you guys: after a brief ("brief") dip, I've worked out that I actually fucking love school. Along with these queer history books a friend has inspired me to read, I haven't been this excited to learn about a subject in such a long time. Thusly, the spirit of Hermione Granger consumed most of my soul as I made more flash cards than necessary in preparation for this one-day class that had an exam tacked on the end. I'm talking about the WSET Sake level 1 course; for reference, I've passed the years-long WSET Wine & Spirits level 4 diploma, so the thought of diving into a fun beginner course was thrilling. Plus, I don't get to drink a lot of sake: it's always seemed vastly more subtle than wine to me (which is true), to the point where the differences between its designations were beyond me.
Marina Giordano, sake expert, was the instructor of our small group. Come the new year, I'll have to decide whether to save money to take the highest level 3 course or to buy a piano. Honestly, y'guys, I'm not sure which'll win.
Contrast sake's subtlety to the intensity of the day's later Castro Street Fair. I'll spare you the details and leave you the fun ones: getting one of the buttons torn from one of my new favourite shirts before sundown by a drunkard who you convinced that your friend designed the Apple Watch; inadvertently almost getting into an intense bar fight at another club; and meeting Manila Luzon. You can give me your "this is why I hate going out" mantra all you want: I mostly prefer to consume my calmness in the form of sake and cuddles.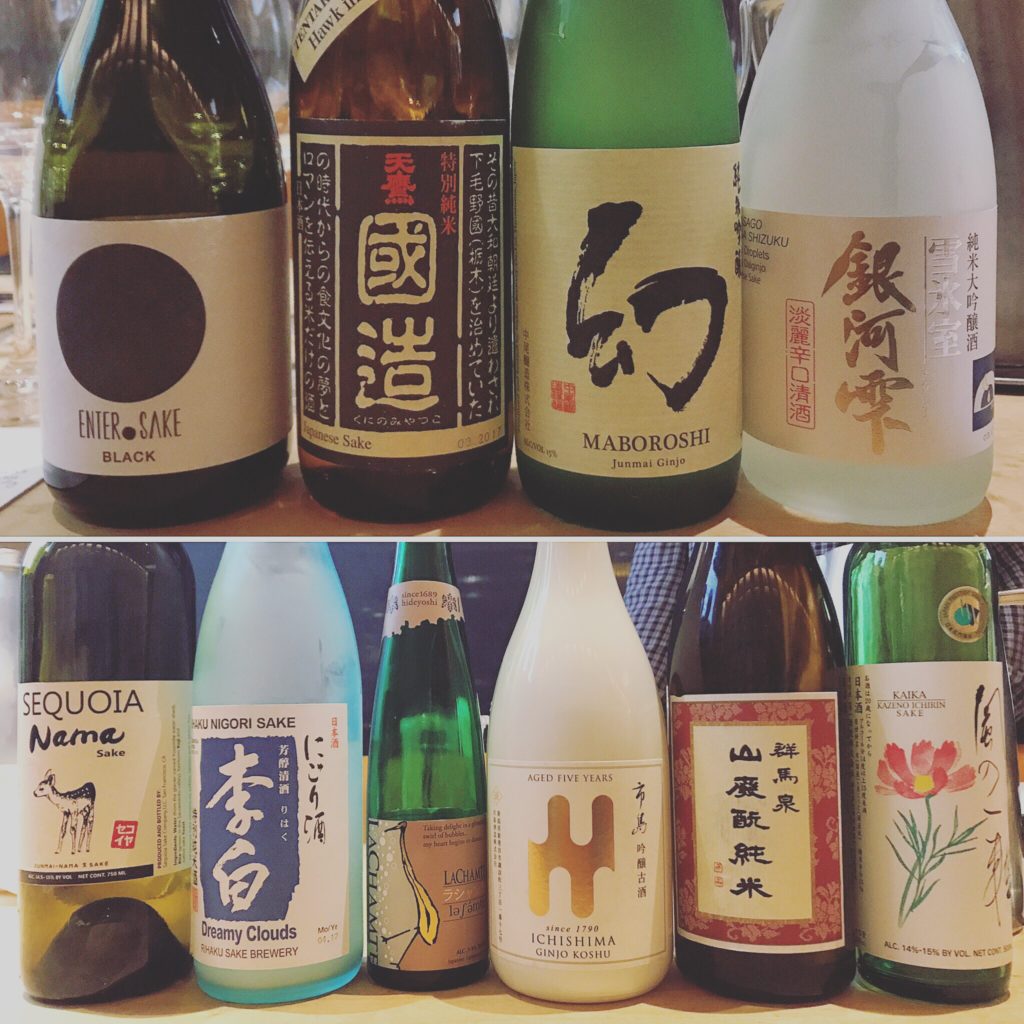 Sekiya Enter.Sake "Black Dot" Honjozo (Aichi, Japan)
A gentle melange of something cereal-y or grainy, with a hint of banana bread and caramel. Off-dry with similar notes that join oat and yeast on the palate. Simple and straightforward: a good start.
Tentaka "Hawk in Heaven" Junmai (Tochigi, Japan)
In the same cereal and lactic neighbourhood as the previous but with much more intensity. A little more vivid notes of soy sauce and banana. Richer with notes of umami and a slight pleasurable bitterness that balances the fruitiness on the palate.
Maboroshi Junmai Ginjo (Hiroshima, Japan)
In contrast to the earthiness of the previous two, there's a beautifully elegant nose of fruit here: green apple, pear, cantaloupe, melon, and hint fresh green notes which others perceived as black liquorice. Really expressive and tasty. One of today's favourites.
Takasago "Devine Droplets" Junmai Daiginjo (Hokkaido, Japan)
I'm wondering here if a higher polishing rate sometimes means purity and delicacy to the point of a fault, here. The nose is super delicate – almost nothing but perhaps a hint of kiwi and melon on the nose. It's just as tranquil on the palate, but it's off-dry and textured with precise bits of flowers, anise, and white pepper. If you've gotta be a subtle person to taste subtle sake, then this is probably bad news.
Sequoia Nama Junmai (California, USA)
Woah. An intense burst of nuts and malt, characteristic for the unpasteurized designation that is "nama". An amalgam of blanched almond, sweet mushroom, earth, and tree fruit bring to mind a fortified lovechild of Chablis, Savennières, and Fino Sherry. Off-dry and pronounced on the palate, with mushrooms joining saline-kissed black liquorice and a hint of something vegetal. Very fresh.
Shuzo "Rihaku Dreamy Clouds" Tokubetsu Junmai Nigori (Shimane, Japan)
Cloudy, as one might note from the "nigori" designation. Earth and a hint of cereal combine with pineapple, melon, and unripe banana. Not super complex, though Marina gets a bit of coconut water. Drier than I'm used to for Nigori, with expressive but slow-forming flavours of cereal that finishes with bitter citrus.
Suzuki Shuzo "La Chamte" Happo (Akita, Japan)
Fine bubbles and a hint of a pale lemon colour on this one. I'm getting some yeasty and mango nectar on the nose, which explodes with honey, peach yogurt, and Yakult. Holy shit! Unexpected and supremely balanced. Another favourite of today.
Ichishima Junmai Ginjo Koshu (Niigata, Japan)
"Koshu" refers to an aged sake. It's odd and expressive with earth, dried mango, candied walnuts, and meat. This is to onion soup, what Bloody Mary is to tomato soup. Dried banana peel joins soil on the palate. If peaty whisky and aged German Riesling represent campfires and petrol that you can't actually consume in their real forms, then this falls into that camp with its bits of soil and decay.
Shimaoka Shuzo "Gunma Izumi Famous Fountain" Honjozo (Gunma, Japan)
The first sake tasted during a heating exercise. Earthy with hints of banana and bran. Blunt footing on the palate, with cereal, grain, and a hint of lactic character. The warmth emphasized the earthiness and mushroom flavour.
Daiichi "Kaika Flower in the Wind" Junmai Ginjo (Rochigi, Japan)
The second sake tasted during a heating exercise. Subtle ripe apple and pineapple characteristics! A specific molecule comes to mind. Elegant with a nice body whose delicate flavours disappeared upon heating.