Sissy That Wine: Trixie Mattel and Katya
My current journey has led me to San Francisco's tech world, where the constant and profuse flow of genius rarely wanes. This city has drilled its tech life into me so viciously that I regretfully find myself trying to turn every non-work situation into a slightly more productive one. Did I buy a bottle of Dolcetto to enjoy before going to see Trixie Mattel's drag show, only to force myself to write a detailed draft blog post on the grape? Possibly. Did I hand out two sets of business cards to four people I met in line for Katya's drag show? Maybe. Did I use the 60 seconds I had, meeting Trixie and Katya, to ask what their favourite wines were? A strong and unabashed "perhaps".
Thusly, enter: drag queens and wine pairings. Or an attempt.
After an amazing show including a guitar cover of RuPaul's Sissy That Walk and a Tyra Banks monologue inserted in the middle of Read U Wrote U, I met the perpetually pink-clad Trixie who said her favourite wines were rosés and Moscatos – and nothing dry or red. Alas – what better wine to pair with Trixie than a Tavel, a wine region that only produces rosé? I thought that the French rosé pétillant was a two-stone pick as well, as a Moscato alternative with a name that might resemble some sort of mating call. And the last one? C'mon: definitely on my potential list of drag names.
Weeks later, after Katya lost it over my Silence of the Lambs shirt, I excitedly asked what her favourite wines were only to embarrassingly forget that she doesn't drink. I excitedly agreed when she asked if Moscato was a wine only for her to quickly respond – mid my excited gasp – that she hates that too. She thanked me for being easy on the eyes, though, so I'm putting that on my LinkedIn at some point.
Also, 10-month-old tasting notes: sup? (I have longer!)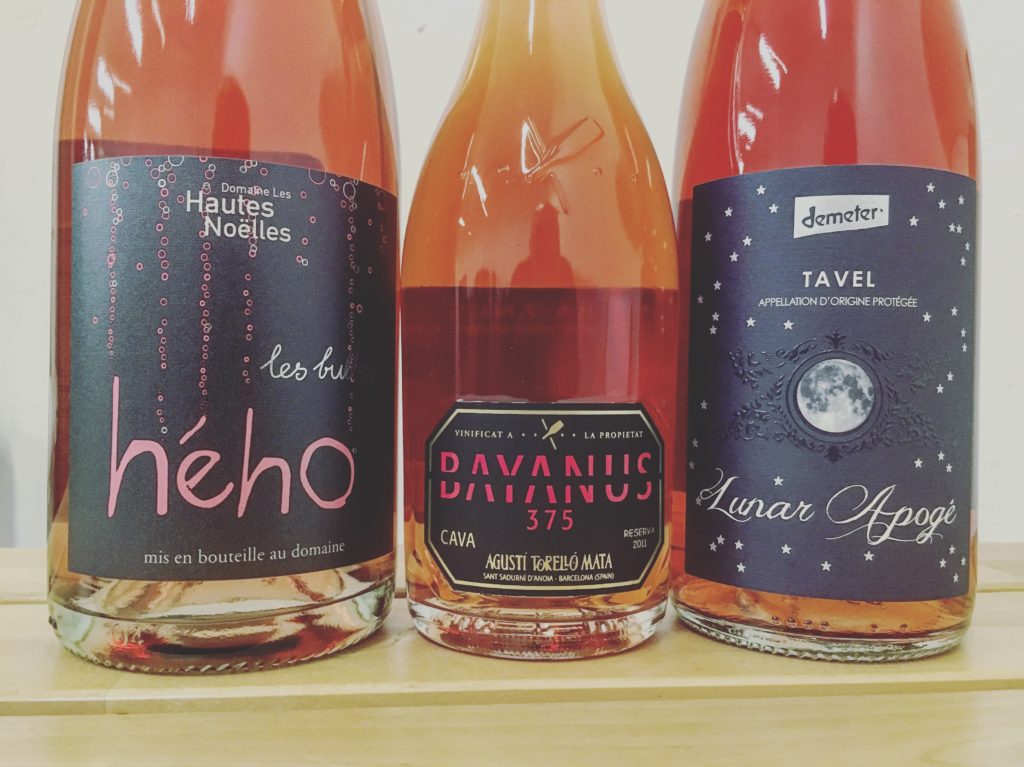 Domaine des Carabiniers 2015 "Lunar Apogé" Tavel (Tavel, Rhône Valley, France) Jan 2017. $22 USD.
Grenache (50%), Cinsault (20%), Clairette (15%), and Syrah (15%). Elegantly intense nose of rose, dried strawberry, a bit of lemon zest, and hints to darker berries. Palate is full and dry but with a dense balance of both road-trodden petrichor-kissed citrus and jellied red fruit, and then a satisfying savoury ending. Grenache spirit in a Pinot's body.
Domaine Les Hautes Noëlles "hého les bulles" Pétillant Naturel Vin de Pays du Val de Loire (France) Jan 2017. $17 USD.
Grolleau Noir (80%) and Grolleau Gris (20%). So bae. Watermelon and strawberry candies on the nose: almost strawberries and cream territory. Gentle bubbles lazily make their way in and out, integrating with the sugar, while a tiny bit of almond bitterness balances out the soft saccharinity – which for 30g/L, is deftly balanced, here. A pretty cool diversion, considering that the winery focuses on Muscadet.
Agusti Torello Mata 2011 "Bayanus" Cava Brut Reserva Rosat Trepat (Cava, Spain) 375mL. Jan 2017. $14 USD.
100% Trepat! The slightest bit of oxidative crushed almond on yeasty brioche is more dominant than the raspberry fruit, which I find shows a little better on the palate. The bubbles have a soft persistence that grade away to reveal more nuts and stones with a sour grapefruit twist at the end. Impressive, and certainly at its peak.