On Vinebox and vials
What entices me about wine startup Vinebox is their potential solution to my half-concerns on purchasing full bottles of wine.
(I get that you might be scoffing – not at the their idea, but at the notion that I have genuine concerns about sipping every last drop out of a bottle like a greedy sink drain.)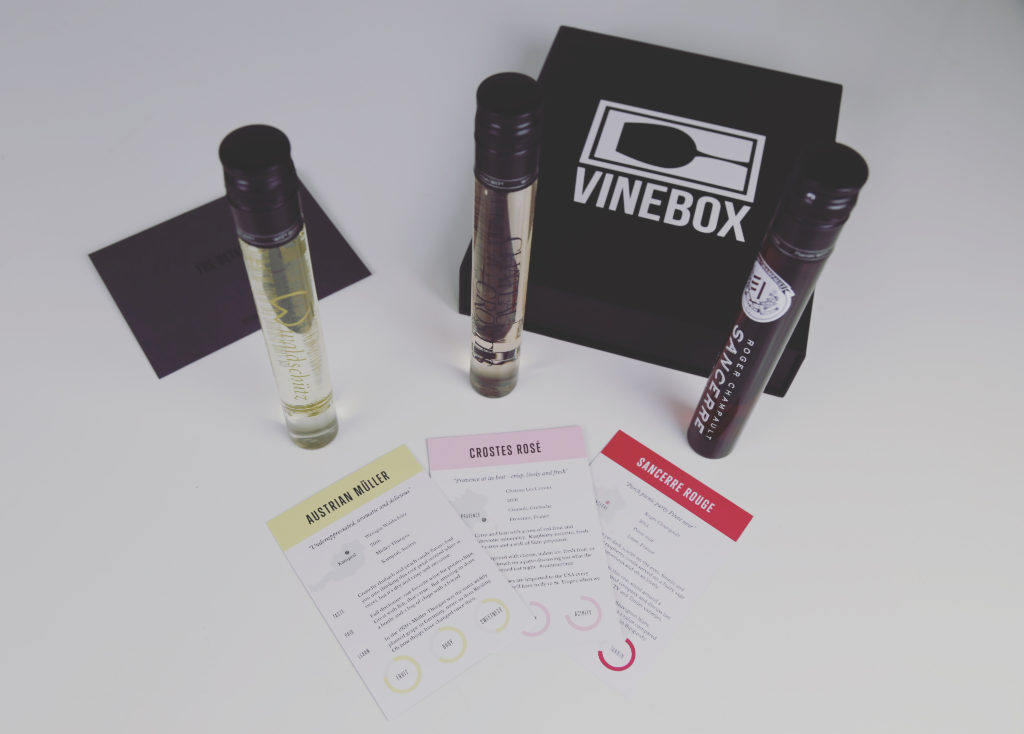 The concept is simple: Vinebox sends you a flight of three wines they've sourced from different producers, catered to the wine colour of your preference and the kind of wine drinker you are – "adventurous", "classic", or "newcomer" – that way, you can have your own alcoholic Dating Game experience and possibly re-order the ones that tickled your fancy in all of their tubular glory, since the leading facet appears in the form of a patented bottling system that re-packages the wines in 100mL glass cylinders. The box also includes cards describing their profiles and pairings. It's not cheap, with the price hovering around $30 USD for three vials, but the idea is intriguing enough and the packaging is enticing, making me feel like Daenerys receiving three dragon eggs in Season 1 (albeit I paid for these and they're obviously much more ephemeral).
They claim to have tasted over 11,000 wines, of which less than 1% "make the cut". Wine education is always a fiscal commitment – which is why bottle shares and wine classes exist – but if they can package different appellations in a general region, bottle verticals of the same wine, or collect different wines made from differing vineyards of the same producer to display individualities, then damn. My body and mouth are completely ready.
I chose the "adventurous" path, and this is what I got:
Weingut Waldschütz 2016 Müller-Thurgau (Niederösterreich, Austria) Jul 2017.
On the nose, there's a juicy combination of nectarine, flowers, cream, and ripe pear. Refreshing but weighty, with a skein of minerality and peach kernel on the finish. Solid and refreshing for a filler queen. (Listed as being from Kamptal, but I believe the Kamptal DAC only allows Grüner Veltliner and Riesling.)
Château Les Crostes 2016 Rosé (Provence, France) Jul 2017.
Primarily Cinsault and Grenache. The palest pink, bordering on onion skin. A light brushing of herbs, lemon zest, and petrichor grace the subtle nose, and the palate whispers in a similar decibel. There's a bare hint of vague red fruit throughout. Textured and savoury. Too elegant for my tastes. Solid, but not a lot of excitement for my mouth.
Roger Champault 2015 Sancerre Rouge (Sancerre, Centre, Loire Valley, France) Jul 2017.
A welcoming wave of white pepper, strawberry, and plum immediately hug the nose. Their description of sage is poignantly en pointe, reminding me of a recent date who was scented with the herb. The palate reverberates a similar peppery profile with lightly sandy tannin – and, like that relationship – a slightly ashy finish. Surprisingly concentrated compared to the Sancerre Rouge I've had in my time.