If Austrian wines could soothe sunburns
When you plan a brunch date that unexpectedly turns into a day at the beach and a breathtakingly kaleidoscopic art show. If there were a handful of wines that could pair with the sun and simultaneously be soothing enough to cure slow-forming sunburns on one's bald head, Austria's take on Sauvignon Blanc would be one of them. C'mon, sunscreen!
I forgot Austria did Sauvignon Blanc. Master Sommelier Matt Stamp describes the style of having a mint-like character throughout; the Wine Grapes tome states that the best producers "typically combine the refreshment of Sancerre with the creaminess of a rich white burgundy"; Oz Clarke's Grapes & Wines describe the style as having "classic nettly, blackcurrant-leaves fruit, while from the Sudsteiermark region come Sauvignon Blanc wines that are "restrained, understated, often excellent". Polz is a recommended producer in both of these books, but I must admit I am not yet charmed by the general expression – though said producer has recently received accolades in a competition dedicated to the grape in question.
"Gemischter Satz" is essentially a field blend of at least 3 grape varieties from around Vienna – whose rules you wish you had during high school group projects – since no grape here is able to constitute too much (>50%) or too little (<10%) of the blend. These wines, thus far, have always seemed to surprise me with how subtle yet distinctive they can be, never smothering any flamboyant grape into amorphousness. In a similar sense, my date was particularly interested in this set of array of paintings whose surface was not canvas but aluminum: the glimmer of water and sky from the beach scenes had a different effect, depending on the angle, direction of metallic graze, or available light – but never outshone the detailing of the seagulls, clouds or sand.
I unintentionally explored one of Austria's oddities, the nutty Zierfandler (old and drunken tasting notes here: proceed with caution), around 4 years ago, when I was but a wine neophyte who wanted to bring a unique wine to a bottle share. Rotgipfler, another one of Austria's native grapes, is often blended with Zierfandler in Austria's Thermenregion, and tends to be full and powerful: almost Viognier-like, here. And then there's Neuberger, the full and more modest white grown in Niederösterreich, Thermenregion, and Neusiedlersee.
Anyways, the night ended with grilled cheese.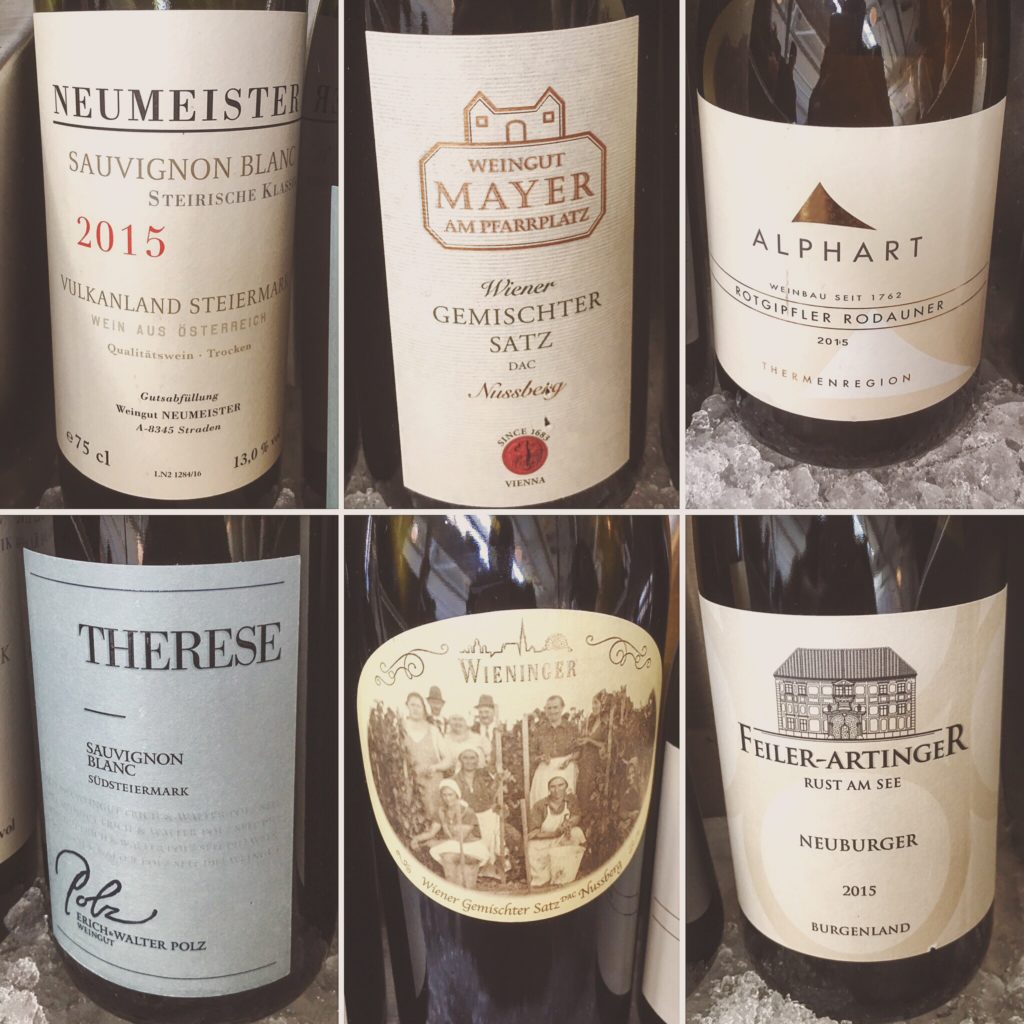 Neumeister 2015 "Klassik" Sauvignon Blanc (Vulkanland Steiermark, Steiermark, Austria) Mar 2017. $22 USD.
Mostly white peach, mineral, and a mere hint of green in the form of asparagus. Feathery and modestly intense, while its liveliness makes up for its shortness.
Polz 2015 Sauvignon Blanc, Ried Therese (Südsteiermark, Steiermark, Austria) Mar 2017. SRP $24 USD.
More delicate on the nose than the Neumeister, with less fruit and more chalky minerality and a faint edge of peach kernel. There's much more weight, zest, and character on the palate, and a faint refreshing memory of something rocket popsicle-esque on the finish.
Mayer am Pfarrplatz 2015 Wiener Gemischter Satz, Ried Nussberg (Wiener Gemischter Satz DAC, Wien, Austria) Mar 2017. SRP $24 USD.
A blend by definition (five, to be exact), but undeniably touched by Riesling with some spice joined by the elegant florals, hint of petrol, and lime skin. Juicy and electric as expected, with a citrus bitterness. There's a density to the mid-palate that really makes this feel complete.
Wieninger 2013 Wiener Gemischter Satz, Ried Nussberg (Wiener Gemischter Satz DAC, Wien, Austria) Mar 2017. SRP $40 USD.
Four grapes to this blend: Grüner Veltliner, Weissburgunder, Welschriesling, and Chardonnay. Bit of a deeper lemon hue on this one. A scent of honey hints to its age, and then there are flowers, yellow plums, and spices. Something floral and comforting, reminding me of an apartment belonging to someone that once gave me a hickey. Alas: the acid is there but instead of darting unrestrained velocity, we have lots of creamy, super-chewy density with a distinct pepperiness on the finish. Reminds me of a specific Trebbiano d'Abruzzo I've had. I've also had the same wine (and the same vintage!) three years prior.
Alphart 2015 Rotgipfler, Ried Rodaunder (Thermenregion, Niederösterreich, Austria) Mar 2017. SRP $33.75 USD.
Apparently the leading producer of the region, also being mentioned in Wine Grapes by Jancis Robinson. Lots of Viognier-reminiscent florals and creamy nectarine. Much like the character that Viognier can take upon, this is dry but with a sweet impression, giving more nectarine, orange blossom, and something like pumpkin spice with a hint of a phenolic ending. A little more relaxed in its acid, which is contradictorily refreshing in this flight.
Feiler-Artinger 2015 Neuberger (Burgenland, Austria) Mar 2017. SRP $28.50 USD.
An old-school Austrian grape – apparently structurally similar to Germany's Silvaner – that doesn't see much popularity due to its propensity for disease and growing problems. Open-knit white flowers, pear, and apple on the nose, with a certain ripeness on the nose barely veering into Viognier territory. Almost off-dry on the palate, grading from this bright voluptuousness to a hint of bitterness at the end. Low in acid, but not too particularly flabby.