A swooner for Grüner
Picture a terrible ear infection, whose arduous journey towards remedy and eventual demise is almost immediately followed by a fucked up ankle on the same side of the body, condensing some of the worst parts of childhood and the least sexy parts of 2015's Europe trip in one go. God damn it, body. If this is biology's way of saying calm down, I refuse to listen. These are the thoughts I have after dripping two sets of medicine in my right ear and heading to work early so that I can comically hobble my way to The Progress, where an Austria-themed masterclass hosted by GuildSomm and Master Sommelier Matt Stamp awaits. Of course, one half of my head can't hear anything, but we're doing fine as long as my nose and mouth aren't fucked up.
(Shout out to the person who offered to lend me his mom's crutches, but I refused because that ability is not available to me without looking stupid, and because he gifted me a plant and I don't have three arms. Its name is Kevin Dur-plant, obviously.)
Besides a very cool intra-regional comparison of Austria's star grape Grüner Veltliner, a big takeaway was a general consensus that the white pepper note of the grape, its long-known flavour identifier, should be treated as a heavy suggestion to the grape's identity in a blind tasting rather than a flavour that is ubiquitous in its wines. This is analogous to Riesling and its petrol notes, which may indicate that a wine may be made from Riesling, even though not all Riesling wines exhibit that particular note.
Anyways: Grüner Veltliner. Yes. I've honestly never been too drawn to the fashionable grape, which itself has often been mistaken for Italian Pinot Grigio and Spanish Albariño in blind tastings – and because of these Light and Fresh™ similarities, another theoretical lightweight and cutting white wine with nothing but an apparent note of vegetal white pepper to show for its distinctiveness never seemed outstandingly appealing to me. Of course, I am constantly proven wrong.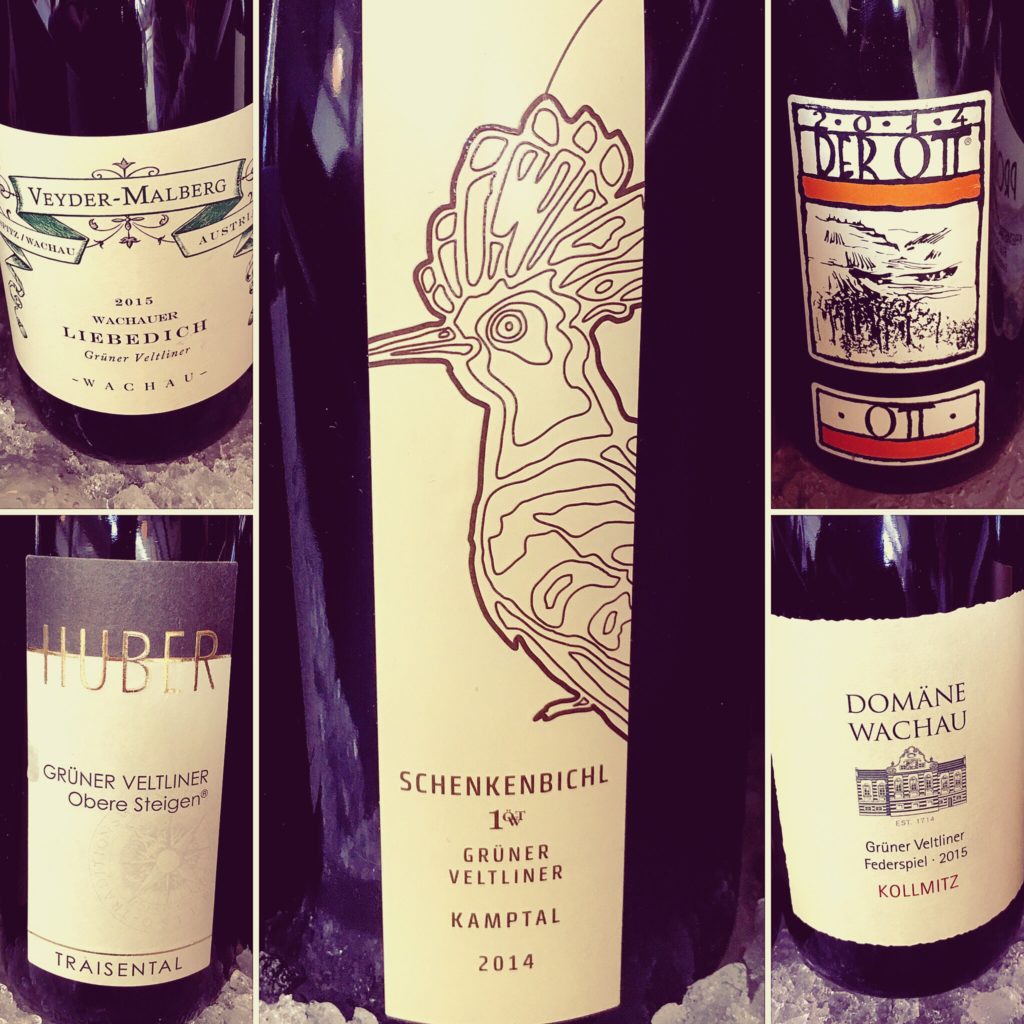 Markus Huber 2015 Grüner Veltliner, Ried Obere Steigen (Traisental DAC, Niederösterreich, Austria) Mar 2017. $22 USD.
Moderately intense nose of slightly charred apple and minerals. The satisfying brisk energy and density perhaps make up for its icy and closed personality.
Weszeli 2014 "Reserve" Grüner Veltliner, Ried Schenkenbichl (Kamptal DAC, Niederösterreich, Austria) Mar 2017. SRP $43 USD.
A pinch more of Grüner's spicy green pigeonhole that surrounds green apple and comfort-inducing woody tea-like florals, like certain pieces of wooden furniture: more fresh IKEA than church pew. Fantastic intensity of flavours and savouriness on the palate matches its brightness. Outstanding.
Bernhard Ott 2014 "Der Ott" Grüner Veltliner (Wagram, Niederösterreich, Austria) Mar 2017. SRP $19 USD.
Citrus and white pepper on the nose with some waxiness. Seemingly disappointing at this point, but beneath the aromatic and physically lightweight character there's a contradictorily and supremely expressive profile on the palate that reveals some red apple and a hint of brininess.
Veyder-Malberg 2015 "Libedich" Grüner Veltliner (Wachau, Niederösterreich, Austria) Mar 2017. SRP $38 USD.
Tea-like florals on the nose with a vegetal character like an iota of wasabi, but any spicy greenness is rounded out by this creamy nectarine note and a mere touch of something sweaty. An intensely lemony and dry attack that leaves the barest impression of spritz on the tongue, and there's a nice density despite relatively low alcohol at 11.5%.
Domäne Wachau 2015 "Federspiel" Grüner Veltliner, Ried Kollmitz (Wachau, Niederösterreich, Austria) Mar 2017. SRP $26 USD.
Several daggers on the nose: first it's lemon and white peach, then there's some pineapple, and then there's pear. Really sets off the taste buds like a brightly multicoloured row of slots in a casino.