28 bottles of Nebbiolo to warm your lonely frigid heart on Valentine's Day
For 2013's Valentine's Day, my 20-year-old collegiate self suggested Gewurztraminer to pair with Chinese takeout and Adele; Muscadet to pair with tears and oysters; French rosé to pair with loneliness; and Asti for guilty pleasures. I might be suggesting Nebbiolo this time around, but let it be known that I'm still as happily unkempt as the last of those 2013 pairings. Good job, past self. My university persona regrets almost nothing: maybe one moment involving that necklace MacGyvered from a nondescript sabred sparkling wine cork, some wire, and two mismatching chains. I wore this everywhere for a good chunk of time. Alas.
Amongst what I would expect are the inevitable and seasonal release of tedious yet informative wine-and-chocolate-pairing articles (We get it! Port! Zinfandel! Go away!), here's a loose attempt to relate That Day™️ to Nebbiolo, a Piedmontese grape whose namesake refers to the fog-resembling bloom that might cover the grapes, and a grape I personally love, due to its intrinsic opposites. Move over, wine-and-candy pairings. All the way over, into the trash (also sometimes known as my mouth).
Upon pour, you might notice Nebbiolo's relatively pale garnet appearance which, after a sip or two, will absolutely remind you that the intensity of the first impression may not necessarily match the intense gripping texture, acid, and heat, as the grape is more than often wont to display. Though cherries are oft a theme for Nebbiolo, scoffs are expressed and grimaces sometimes appear upon a description that the grape's earthy one-liner might be "tar and roses", a seemingly irregular yet completely delicious conflict of hard and soft, with its truest character showing after years and years of waiting. I'm not completing this metaphor for you because I'm tired.
Anyways, just fucking drink Nebbiolo. (With me, because I can't afford it.)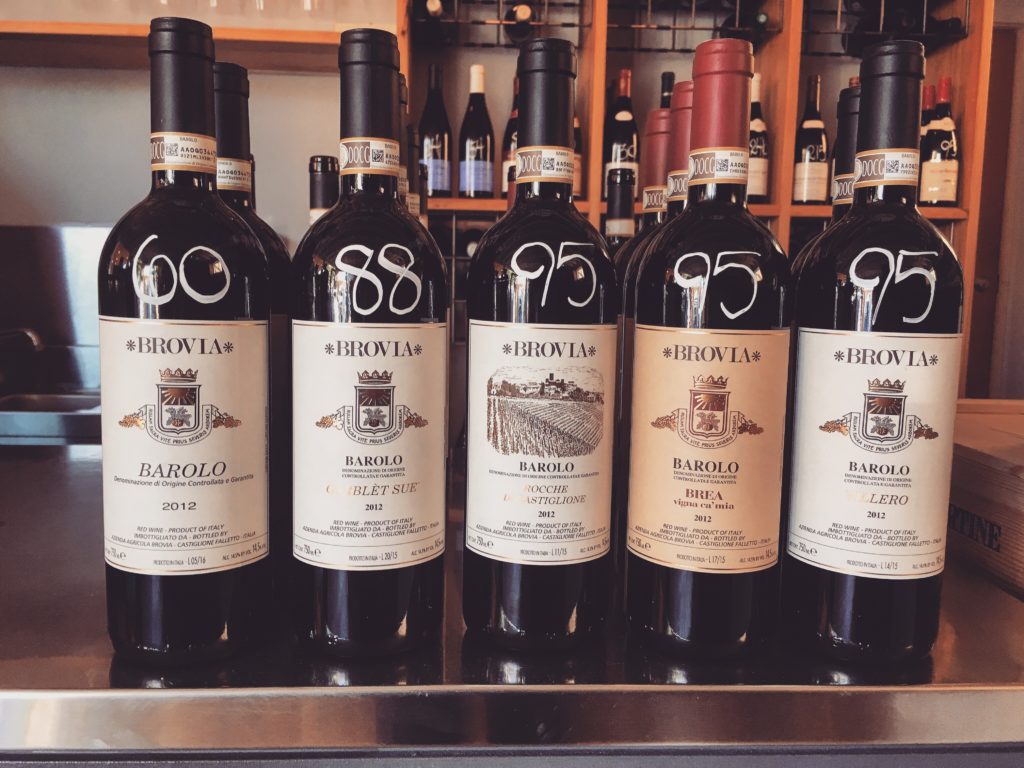 Brovia 2012 Barolo Dec 2016. $65 USD.
This blend consists of grapes from younger vines of Brovia, from four different vineyards. Floral, ethereal, and rosy; not super intense but with a young nervy eager earthiness to the nose. Immediate dried flowers on the palate with just a sheet of soft red fruit and elevated finely netted tannin. Well-woven structure that reveals a bit of cloves and bruised fruit on the palate. Long.
Brovia 2012 "Garblèt Sue'" Barolo Dec 2016. $95.50 USD.
Limestone-rich soils with a bit of clay in the mix. Similar to the normale, but with a slightly more mysterious and spicy cherry-centred nose with hints of green pepper and decaying leaves to accompany the rose petals. Where the nose was a sibling, the palate is more of a Stranger Thing, with notably more of a saline palate that really adds interest. Black pepper shows through the pronounced tannins. Still a bit tight, at this point, but it's almost if that's what its personality calls for.
Brovia 2012 "Rocche di Castiglione" Barolo Dec 2016. $103 USD.
Sandier soils. The most intense of the Brovia so far, with slightly more cherry compote character to the nose. There's also some spice and more marked tar and fresh undergrowth. Slightly denser in weight than the first two, with more kisses of vanilla and chalk tannins that hug the tongue.
Brovia 2012 "Brea vigna ca' mia" Barolo Dec 2016. $103 USD.
Moving towards a more rose-dominated profile, with mineral and hints of strawberry jam. Much more delicate on the palate, not without a chalky nudge of tannins and earth. It's not as gripping as the others, but it's definitely the most round.
Brovia 2012 "Villero" Barolo Dec 2016. $103 USD.
Spiciest after the Garblèt Sue' with a bit of sour cherry, tomato leaf, flowers, vinaigrette, and fleeting red fruit. As ethereal and elegant as the last, but with slightly more cutting tannin. Brooding, with some cherry fruit on the palate, but also a touch tight and aloof. There's a light blanket of sour red fruit that shows through the tannin. Immaculately balanced.
Batasiolo 2011 Barolo Feb 2016. $39 CAD.
Very fragrant on the nose. Obvious gummy red fruit is in the forefront, balanced with some tarry florals and a dollop of oak. Still quite brawny on the palate with slippery tannin, but it's still showing lots of openness at this age.
Batasiolo 2009 "Boscareto" Barolo Feb 2016.
The grapes are from Serralunga d'Alba, a subregion of more intense and structured Nebbiolo. This bottle is very sumptuous and open. Some dried cranberry fruit that jumps out of the glass, and the palate is rather soft, charming, and finessed. Pronounced tannins and lots of stuffing. Batasiolo essentially owns the higher part of the Boscareto cru, while the lower is owned by Principiano.
Batasiolo 2007 Barolo Riserva Feb 2016.
Really jumps out of the glass: cola, sweet red cherry, dried rose petals, some oak, and earth. Full with lots of balanced ripe fruit with a gently ascending bitterness and a big backbone with slow-forming acid. The tannins are there but they creep in on you rather than immediately attack.
Casetta 2011 "Case Nere" Barolo Feb 2016.
Immediately hedonistic on the nose with ripe red fruit, tar, oak, and dark chocolate. There's a similar swathe of flavours on the palate: an easy style that might be too much for the traditionalists. It might make sense that the grapes are from La Morra, a softer and more accessibly expressed commune of Barolo.
Damilano 2011 "Lecinquevigne" Barolo Feb 2016. $51 CAD.
A blend of Nebbiolo from five different vineyards on calcareous-clay soils. Lightest so far: more wispy ribbons of floral perfume on the nose and structured cranberry fruit on the palate. A bit on the fruit-forward anodyne style, but rustles of the skeleton are there.
Damilano 2011 "Cannubi" Barolo Feb 2016. $105 CAD.
The flagship wine of Damilano, with grapes grown in calcareous-clay soil along with a large proportion of sand found on the hill of the prestigious Cannubi cru, whose vines face in all directions. More oak and spice over dried red fruit on this one. Really mouth-coating, slutty, and bracing, with its ripe red fruit, dried red fruit, and rough tannin: like being tied with twizzlers during sex.
Damilano 2011 "Cerequio" Barolo Feb 2016.
From the commune of La Morra, though the reputed Cerequio cru is also part of the Barolo commune. The spiciest and leafiest of all the '11 Damilano Barolo, I think. Floral, piercing, quite tannic, and lots of potential for things to unravel.
Damilano 2011 "Brunate" Barolo Feb 2016.
La Morra, again, though like Cerequio, the Brunate cru is also part of the Barolo commune. Seems quite closed at the moment, though there's a dusty dried sage quality amongst the black cherry. Much more expressive on the palate, but it's still quite mean and firm, shrouding its proper soul.
Fontanafredda 2010 Barolo Feb 2016.
Tar and dried herbs take centre stage, while dried red fruits mingle in the background. Very solid. Moderately intense with chalky tannin, but maybe slightly steady and regular compared to some other Nebbiolo in this flight.
Fontanafredda 2010 Barolo di Serralunga d'Alba Feb 2016. $48 CAD.
Much more aromatic and perfumed. There's a distinct stony mineral component that joins strawberries and cranberries: the whole thing is a combination of sweet, savoury, and sour. Pleasantly accessible at this point in its lifetime.
Fontanafredda 2008 "Vigna La Rosa" Barolo Feb 2016.
From the specific La Rosa vineyard in Serralunga d'Alba. Moderately intense but I feel like there's lots of potential for more fragrance. A mix of earth, spice, and black fruit, along with hints of meat and leather. Much more open on the chalky palate; tannins are definitely pronounced but are beginning to soften. Grown on a specific hill.
Ricossa 2011 Barolo Feb 2016.
Any dominant scents that sneak past the muted nose consist of red fruit. The palate is relatively soft and elegant for Barolo. The texture is there, but the concentration isn't.
Ricossa 2011 Barbaresco Feb 2016. $21 CAD.
The cranberry on the nose is so distant that you'd have to jump and wildly wave your hands just to get its attention, but there's ripe sour cherry on the palate with a fine blanket of moderate structure. I would admittedly not get this in a blind tasting.
Ricossa 2009 Barolo Riserva Feb 2016.
Overt oak and red fruit, and the Nebbiolo in Ricossa's lineup that's seems the most like Nebbiolo. Simultaneously tannic but somehow light and elegant. Meh. Their Barbera is honestly pretty bomb, though.
Paolo Conterno 2013 Langhe Nebbiolo a Mont Feb 2016.
Monforte d'Alba. All of strawberry, tar, and herbs on the nose. Quite open at first, on the palate, before being taken over but bracing sandy tannins. Not designated "Barolo" because it doesn't meet the full ageing requirements, instead emphasizing its youth and varietal character.
Paolo Conterno 2009 "Ginestra" Barolo Feb 2016.
Perfumed and fragrant with lots of leathery red fruit. Elegant and charming at its best; perhaps a bit too light (or not mean enough) for my taste. Or, just perfect and I'm not used to politely aged Barolo.
Paolo Conterno 2005 "Ginestra" Barolo Riserva Feb 2016.
Quite open, showing a little more nuttiness, here. Bits of compote, but the sweet and spicy oak character is really coming through on the nose. Some leather on the palate and savoury flavours coming through; still quite structured despite the age.
Pio Cesare 2011 Barbaresco Feb 2016.
Oddly light throughout; perhaps the tannic structure is hiding everything in the shadows. Hopefully I get to try this some time in the future and see how it develops.
Pio Cesare 2011 "Ornato" Barolo Feb 2016.
A small cru from Serralunga d'Alba with steep slopes and southern exposure. Lots of undergrowth and oak on the nose with firm dark cherry on the palate. Definitely lots of life and potential.
Pio Cesare 2011 "Il Bricco" Barbaresco Feb 2016.
Certainly stereotypically lighter on the nose compared to Barolo, mainly focussed on earth and rose petals. Friendly and charming on the palate; certainly shows some charm before, again, the chalky structure envelops the flavour. From the Bricco di Treiso cru in Barbaresco, famed for its altitude and southern exposure.
Vietti 2012 "Perbacco" Nebbiolo Feb 2016.
A bit of juicy and gummy red fruit in the nose (and indeed one of the tasting notes on their website is hard candy), but also quite earth, pepper, and violet-scented. Though pretty chalky and brawny on the palate, some charming and ripe red fruit makes its way through the fence of tannin.
Vietti 2011 "Castiglione" Barolo Feb 2016.
Earthy, spicy, and dark chocolate-scented with some dried fruit, though compared to the tasting notes of others, it looks like I seemed to notice more oak. On the fuller side of most of these Barolo, not without a molten mixture of cocoa and tar. The tannic structure is quite fine, pronounced, and chalky, though it doesn't seem as ferocious as some others.
Vietti 2011 "Lazzarito" Barolo Feb 2016.
Serralunga d'Alba. Notably supercharged with dried roses and herbs: almost disjointedly so with the hints of ripe red fruit. Full and pleasurable – almost two-toned, before being taken over by firm tannic structure and earthy floral flavours. Vietti calls the Lazzarito their "most modern interpretation of Barolo".