I'll be your Zin-ner in secret
First of all, Carly Slay Jepsen's Emotion: Side B. Better than the original album? Is this reference still relevant? How long will it take my roommate to notice I'm drinking all of his gin? Should I pair these wines with a pathetic recollection of that time I actually met Carly Rae Jepsen at a Marianas Trench concert while interning for their record company? These are the questions I want answered vaguely by fortune cookies and clairvoyant wine pairings.
(Also, thanks to this post, the beginning of Run Away With Me starts playing every time I sip Zinfandel, which… honestly should help in blind tastings anyways?)
The idiotic association: Zinfandel is a chancy variety whose grape bunches ripen at different speeds, such that you might have a bunch containing all of unripe, ripe, and dried berries. Indeed, I've had Zinfandels that taste like what might be considered a regular guise of dried fruit and spice, but oddly enough, I've come across legitimately red examples – i.e. not white or rosé versions – that have tasted of peaches.
My favourite part of Zinfandel used to be the potential for its big and extracted fruit, but I really enjoy the fact that Zinfandel's history becomes a little more elucidated every decade or so, rendering the latest batch of wine books just outdated. An American grape, you say? No – it's from southern Italy as Primitivo. No, it's from Croatia as Crljenak Kaštelanski. No, just kidding: the proper 15th century Croatian name is Tribidrag. In a few years we'll find out it's probably from Thailand, and then we'll discover – layer after layer, that it was actually artificially created by Canadians in order to cause confusion to the rest of the wine world, secretly transferred through a government e-mail and planted in Nicaragua, before it was Nicaragua. Is this grape an allegory for my deep-rooted anxiety? Probably! Sup, y'all?!
Here we're in Lodi's Rous Vineyard, but with three different producers. Apparently the wines we tasted are described as being more "Rous Vineyard" than they are "Zinfandel", and I get it because I'm this beautiful vineyard full of gnarly Zinfandel vines and a large shade-providing tree, and at this point I'm more "sweltering" than I am "attractive". Literally using a wine tech sheet to dab my head: don't tell anyone.
Summary: drink these; please still date me.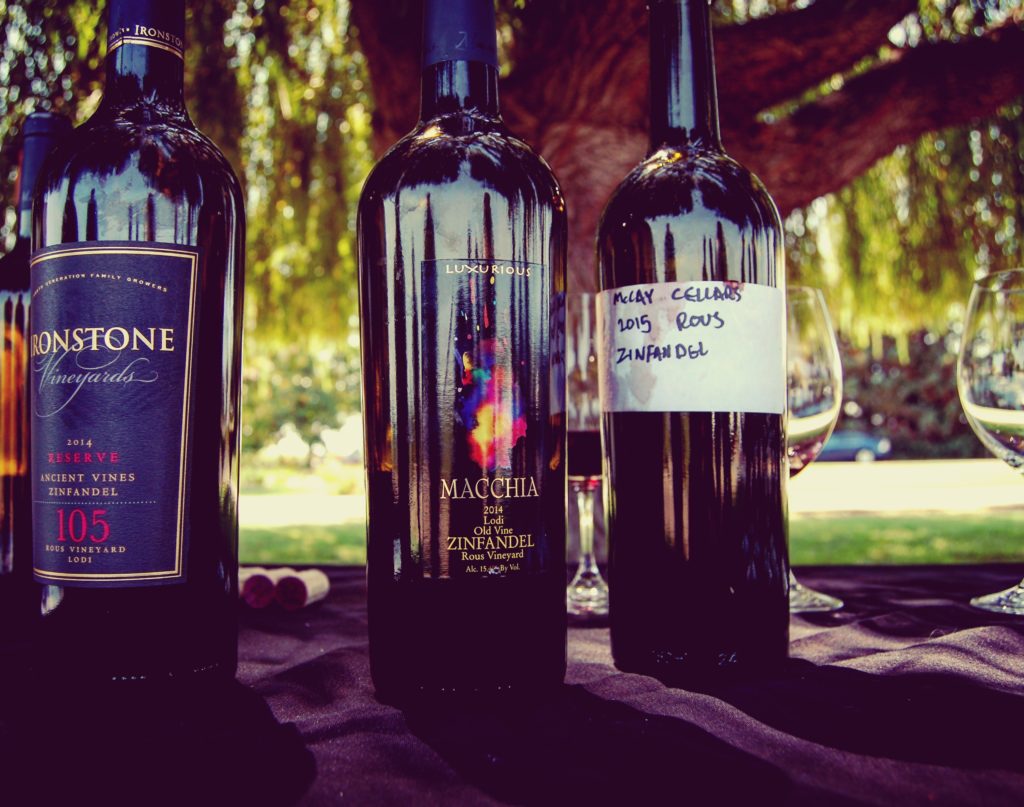 Ironstone 2014 Reserve Ancient Vines Zinfandel, Rous Vineyard (Mokelumne River, Lodi, California) Aug 2016.
The wine almost seems to create a micro-atmosphere in the glass consisting of thick and humid air scented with chocolate-covered raspberries, violets, and gingerbread. Tons of fruit and vivacious spice on the palate, and more gingerbread that slowly emerges amidst the torrents of spice and heavy dried fruit. Medium structure.
Macchia 2014 "Luxurious" Old Vine Zinfandel, Rous Vineyard (Lodi, California) Aug 2016.
Full of bramble. Much meatier than the Ironstone; more bacon, smoke, and black fruit. The palate, however, veers in the other direction and contains sweeter dark fruit, with ripe tannin to boot. Really juicy, hedonistic and saccharine, vaguely evoking a curvy and seductive Banyuls from the south of France.
McCay 2015 Zinfandel, Rous Vineyard (Lodi, California) Aug 2016.
Probably not the current release. Really estery and rough around the edges, with lots of dried banana peel and untamed fruit showing past the varietal character. Brashly unsettling on the nose: all bananas and chocolate. Full, grapey, velvety, and jam-packed with fruit and some fine tannin.
McCay 2014 Zinfandel, Rous Vineyard (Lodi, California) Aug 2016.
Holy Guac. Much more obviously focussed than the 2015. It's still potent and loud, but with flowers, black cherry, black peppercorn, and minerals, with just a wink of red fruit in the background. The tannins wrap up the round and crystallized black fruit quite nicely.