Getting Harney in Lodi
After the magic that was Acquiesce (everything's magic after ingesting wine but the wines were good), our pre-excursion group meandered to the Lizzy James vineyard, sipped some Zin, and then went to Harney Lane winery. I remember how distracted I get in vineyards, simultaneously trying to soak in all the personal stories and vineyard information while trying to find refuge for my naked round head. Sunscreen's a no-no since it fucks with everyone's nasal cavity, and so is eucalypt-scented shaving cream, where in specific cases I've made people sniff my fresh head at tastings just to make sure I've done no sin. I attempted to kneel behind someone's outrageously large clown hat.
My "I'm actually here!" montage lasted longer during my first year at the WBC, and gets cut off more brusquely every year, but thankfully our welcoming visit at Harney Lane extends the honeymoon phase and we all share some rosé, some unfermented Albariño juice, and then lovely dinner where I catch up with old friends and make some new ones. All I can really do at most points is tell people I'm working on a secret project – which I am – and in these current moments I'm thankful that Kyle Lerner distracts by hinting that some of us can ride a grape harvester.
Of course I shadily elbow myself to the front of the line and find myself surfing on this amazing heap of machinery, and I can't help but think that we're the most spoiled pieces of shit, cheering and taking photos while the hard workers sort grapes and work mechanical magic; meanwhile, I almost fall off the ladder getting off of the harvest but probably deserve it. #blessed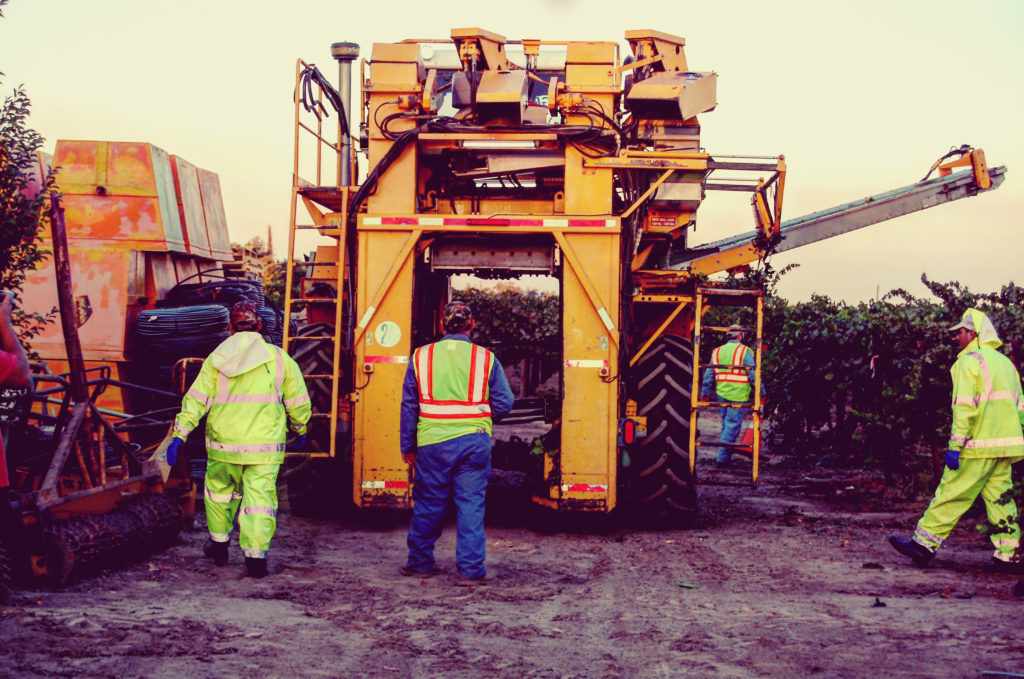 Harney Lane 2015 Dry Rosé (Lodi, California) $18
A blend of barrel-fermented Tempranillo, Petite Sirah, and Zinfandel that's been aged sur lie for a couple of hot seconds. Pears, minerals, and herbs on the nose, with scents of typical raspberry but the odd Burger King sauce. Dry but there's a teasing fruitiness with a touch of sugar to blur the edges. Weighty, expressive, and loose.
Harney Lane 2015 Albariño (Lodi, California) $20
Only an entire lime: its juice and its zest, and then peaches, cream, and minerality to fill out the rest, though apparently the wine takes time to develop in bottle. A trickle of ripe citrus on the palate. Snappy.
Harney Lane 2014 Chardonnay (Lodi, California) $25
Really cool interpretation. Lime, flowers, green banana, butterscotch, and vanilla – but definitely a marked glow of pleasant greenness. Creamy and steely on the palate, with lots of vanilla-laced fruit and a squeeze of maple.
Harney Lane 2013 Tempranillo (Lodi, California) $26
Tobacco, heady spice, dried flowers, and a bit of vanilla. Bulky and flexed on the palate with the tobacco and spice resurfacing on the finish. Definitely more unleashed than the average expressions I've had from Spain.
Harney Lane 2014 Zinfandel, Scottsdale Vineyard (Lodi, California) $34
There's some dried fruit and spice, but I think this is more elegant than the headier sibling stemming from the Lizzy James vineyard. Spicy cherry cola on the palate.
Harney Lane 2013 Old Vine Zinfandel, Lizzy James Vineyard (Lodi, California) $36
A delicious bag of many things: jellied plums, chocolate, liquorice, oak, raisins, and a dusting of spice. Cupfuls of spicy black fruit on the palate that finish more with black cherries. It's bulky yet softer than you'd expect it to be. Really good stuff.
Harney Lane 2013 Petite Sirah (Lodi, California) $26
So deep purple, you'd swear it was playing brusque guitar riffs if you put your ear to the glass. It's almost port-like in its concentration of aroma, with flavours of liquorice, prunes, tobacco, and dark chocolate. The wine isn't without its bass notes, with pronounced tannins that balance the black fruit – thank god – because this is ripe.