It must have been clove, but it's over now: Speed Wine Tasting at WBC16
I used to love the hectic clusterfuck of the two Wine Bloggers Conference speed tasting events, each involving twenty or so different tables and winery principals that rotate tables every five minutes for a total of ten sessions. Every micro-meeting involves at least a pour of a wine followed by a spiel, while we each have to: absorb as much information as we can; taste and take notes; desperately yell out questions as if the internet doesn't exist; take blurry bottle shots; and perhaps come up with a witty tweet.
I've mostly given up on giving my 110% on the whole shebang, but hey: I tried. Newcomers to the conference were all "well, this isn't so bad!" I side-eyed in tacit protest but actually mostly agreed.
I'm pretending this was an Olympic event where medals are actually winery tech sheets.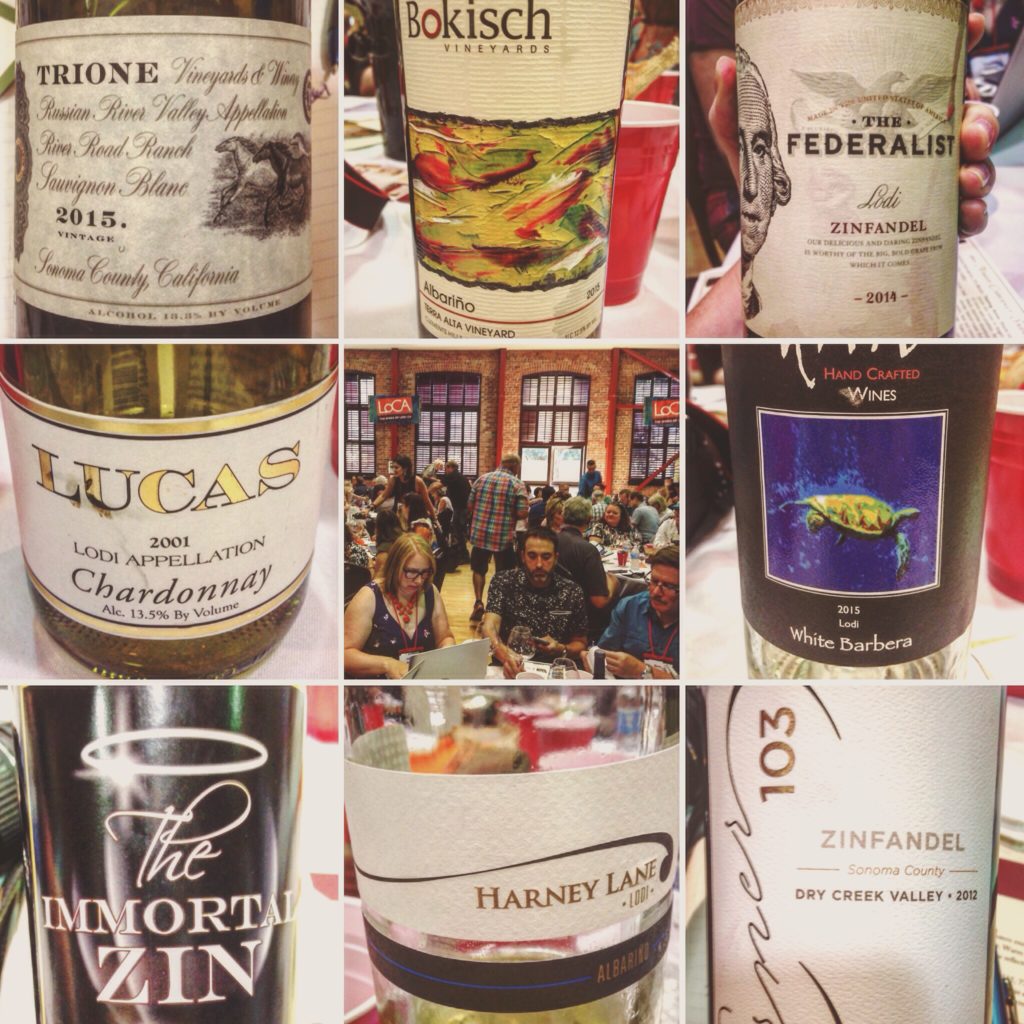 Corner 103 2015 Sauvignon Blanc (Sonoma, North Coast, California) $25
Lacking a little fruit, but there's a faint bit of grassiness. Pretty clunky. I personally prefer a gayer Sauvignon Blanc.
OZV Rosé (California)
A blend of Zinfandel and Chardonnay, if you wanted to piss off multiple subgroups of people at once. Red fruit, dried herbs, and flowers, with a touch of mint on the palate. This tastes like a fun day that slowly turned into an argument.
Peirano 2014 Chardonnay (Lodi, California)
Aged in both French and American oak; 15% new. Mildly apple-y and buttery with hints of vanilla and stone fruit. Pretty solid, delicious, and middling. If this wine were playing Mario Kart, it would choose Mario, if you know what I mean.
Lucas 2001 Chardonnay (Lodi, California)
Hold the motherfucking phone. What? At first I was like okay, we get it, you're trying to get rid of the stocks of wine that taste like the vinous equivalents of Kris Jenner, but damn this was good. Aged Chardonnay from a New World mediterranean climate, you guys. Unsurprisingly oxidative, displaying subtle almond notes at 15 years of age, but also exuding a fair amount of freshness with buttered apples, peach kernel, high acid, and a savoury ending. Bravo. What a treat. Heart emojis all around.
Harney Lane 2015 Albariño (Lodi, California)
Peaches and cream on the nose, along with hints of steely lime. Really adorable, bright, and seamlessly integrated. A portion was aged in neutral oak. I may have paired this with the cutest and tiniest piece of pizza I've ever shamelessly stuffed in my mouth.
Bokisch 2015 Albariño, Terra Alta Vineyard (Clements Hills, Lodi, California) $18
Really cool to immediately taste another Lodi Albariño with a very different personality. Almost Sauvignon Blanc-esque in disposition with lots of mineral, ripe kiwi, and key lime. Pretty refreshing shit. Aged in stainless steel compared to Harney Lane's neutral oak.
Lange Twins 2015 Sangiovese Rosé (Lodi, California)
Fun stuff. Strawberries and cream, herbs, and ripe red fruit. Almost off-dry, but not quite.
d'Art 2015 White Barbera (Mokelumne River, Lodi, California)
Okay, like what the fuck. White Barbera? I'm done. Pretty pale onion skin – I'm guessing this was a saignée side piece for the still red version. It's pretty heady with flavours that aren't fruit – something malty or minerally, something in an intersection of spice, stones, and decaying leaves. Almost something pleasantly spirit-like. Still pretty round and structured, but odd.
Michael David 2015 Sauvignon Blanc (Lodi, California)
Gooseberries and tropical fruit on the nose, then mouthwatering kiwi in the mouth. On the fuller end for a Sauvignon Blanc, but the refreshment factor is still pretty elevated.
Trione 2015 Sauvignon Blanc (Russian River Valley, Northern Sonoma, Sonoma, North Coast, California)
Yes. Refreshingly herbaceous with fruit and intense juicy citrus fruit and minerality on the palate. A South African yeast strain was used to enhance certain aromas, and half of the wine was aged for 4 months in neutral French oak barrels. I want this in a spray bottle.
OZV 2014 Red Blend (California) $11
A blend of Zinfandel, Cabernet Sauvignon, Petite Sirah, and Merlot that expresses itself with such saccharine black fruit that it may as well be a bottle of One Direction. Maybe I'm being too harsh, because my table of esteemed colleagues thought this was fantastic value.
Moss Roxx 2013 "Ancient Vine Reserve" Zinfandel (Lodi, California)
With a splash of Merlot. Full of dried fruit along with heady spice and oak. The acid is high but is still topped by the sturdy texture and concentration, kind of like a papercut on a giant.
Ehlers Estate 2013 "1886" Cabernet Sauvignon (St. Helena, Napa, North Coast, California)
Dusty cassis, beautiful earthy restraint, violets, and chocolate. All oaked in the French, and 70% new. Piercing and baritone, with lots of grip and pepper. A bit much at $110, but it's hard to get to know a wine for five minutes when it definitely needs much more time to open. Like stop swiping left on my Tinder profile.
Troon 2014 Blue Label Malbec (Rogue Valley, Southern Oregon, Oregon) $29
What the fuck? Oregonian Malbec? Bye. This feels like the equivalent of a bluegrass cover of a song by Selena (which to be fair, probably exists). Rousing, but a bit difficult to decode the fruit at first. Cigar butts accidentally dusted upon a blackberry pie that sits on an iron plate. There's a teasing ripeness on the palate balanced by cocoa along with plenty structure and an ending of tea leaves. Half of the fruit is from Southern Oregon's Rogue Valley, while the other half is from the Applegate Valley just to the south. Aged for 16 months in neutral French oak.
Naked Winery 2014 Cabernet Sauvignon (Columbia Valley, Oregon) $25
Dark fruit and juicy cassis, as Cab Sauv does, but with a vaguely intriguing stink that seems almost fitting. Maybe not completely naked with its 12 months in French and American oak, but solid grips and high acid contribute to a pretty good silhouette.
Naked Winery 2014 "Oh! Orgasmic" Tempranillo (Columbia Valley, Oregon) $80
16 months in both American and French oak; mostly neutral, with 20% new of the former. Lots of red flowers, earth, and a handful of raspberries. Spice-driven on the palate, and the tannins shield the fruit just slightly. Maybe not orgasmic, but not a disappointing blow job, either. Hold off for a couple of years?
Naked Winery 2012 "Oh! Orgasmic" Nebbiolo (Columbia Valley, Oregon) $90
Beautiful pale orange-tinged colour. Not as impeccably executed as its original Piedmontese version, though the wine sings an ode to its floral aspects with roses and something like bathroom soap. There's also dried red fruit and earthy leather, but the palate lacks a bit of tension. Baggy leather? Not at this Folsom Street Fair.
Federalist 2014 Zinfandel (Lodi, California) $17.76
Notable cigar box on the nose, with dusty dried red fruit. Framed nicely on the palate. Solid juice.
Windrun 2013 Pinot Noir (Santa Rita Hills, Santa Barbara, Central Coast, California) $30
Something slightly strange on the nose. Definitely chunky for the variety, with lots of cola, black fruit, and then something currant-y trying to claw its way back up. Quite extracted and burly. We get it, you do Crossfit.
Corner 103 2012 Dry Creek Valley Zinfandel (Dry Creek Valley, Northern Sonoma, Sonoma, North Coast, California) $50
Aromatic kirsch, cherry cola, and molten milk chocolate. It's dry, but on the palate it's almost like Neapolitan ice cream with cherries instead of strawberry, then seductive vanilla and chocolatey oak. Tannic but round and soft. Slay me. Aged 22 months in 41% new French oak.
Prie 2012 Zinfandel (Lodi, California)
Lots of cherry fruit amongst the oak. On the fuller side with some cleansing freshness, but the spicy and oak-hugged cherry is a little too ripe for my tastes, only because I have a bitter heart. Smooth (sorry) and velvety (not sorry).
Trione 2012 "Henry's Blend" (Alexander Valley, Northern Sonoma, Sonoma, North Coast, California)
Cabernet Sauvignon (35%), Merlot (34%), Petit Verdot (13%), Cabernet Franc (13%), and Malbec (5%). Apparently 2012 was one of the best recent vintages for the region, unlike the Great Ruin of 2012 involving spilled wine and fried laptops. No, but this wine has lots of well-balanced and obvious green pepper matched with subtle cassis, along with chewy and ashy black fruit on the palate. There's a fair amount of freshness to the palate. Aged 18 months in French oak; 40% new.
Peirano 2013 "The Immortal" Old Vine Zinfandel (Lodi, California)
Though the label looks like either the cover of a romance novel or the title card to a 2000s reality dating show that got cancelled after the first season (which, like, I'm totally on board with), the wine has flavours of fruitcake dotted with red fruit, topped with a light dusting of icing sugar. Not super heavy compared to the other Zins in this flight, but certainly has a little more freshness. Aged in both French and American oak; 15% new.