Gamay Noir: the Sansa Stark of Wine Grapes
(The night is dark and full of small spoilers. Tread carefully past the picture for the wines!)
I mention Beaujolais to people – in the same way that I might bring up Sansa Stark in a Game of Thrones discussion – and I watch as faces crinkle before I make my case for the dark horses.
Gamay is a red grape that hails from the Beaujolais region in France (and Sansa hails from Winterfell, but you knew that), and it's fashionable to dislike Beaujolais. The ditzy Beaujolais Nouveau variations of the 1970s and 1980s – all laden with pear drops, banana, and bubble gum flavours from carbonic maceration – once represented half of all Beaujolais sold. It's since dropped to around a third, but I find that a large fraction of consumers can't seem to shake the image of what might be the essence of season 1 Sansa. This category of Beaujolais can be an unfortunate combination of young, naive, and simple, released on the third Thursday of November following the year's harvest, and it's one of those wines where you'd have a sip and expect the bottle's tasting notes to consist of emoticons, rose-tinted slogans, and the facetious glitter of your first e-mail.
Bojo Novo makes up a substantial chunk of regular Beaujolais. Then there's Beaujolais-Villages, an area in the hillier north that's closer to the heart of the region. There's much more character and sass – much more purity and a concentrated expression of the fruity Gamay grape, generally exuding flavours of red fruit, black pepper, and earth, as well as a little more tannin than people normally expect for the One White Wine That Happens To Be Red, a prevalent sobriquet that doesn't seem too far from one of my favourite Game of Thrones characters.
These tiers are the quality stepping stones to the 10 Beaujolais crus, the collective underdog apogee of the Gamay grape, whose odd conflict of royal-yet-snubbed I was oddly drawn to at the beginning of my wine career even past the sine qua non bottles of Bordeaux and Burgundy. This is where Gamay and Beaujolais reaches its pinnacle, for me, with its naturally cheery fruit replaced with fortitude and melancholy darkness. I realize that's a convoluted description, but it's weird to meet a brooding and structured wine whose commonly described identity is virtually based on the opposite.
Serious Beaujolais can become almost unidentifiable as typically more summery Beaujolais, also being able to emulate an elaborate Burgundy with age. If they haven't already, people are certainly taking more notice. Season 6, you guys.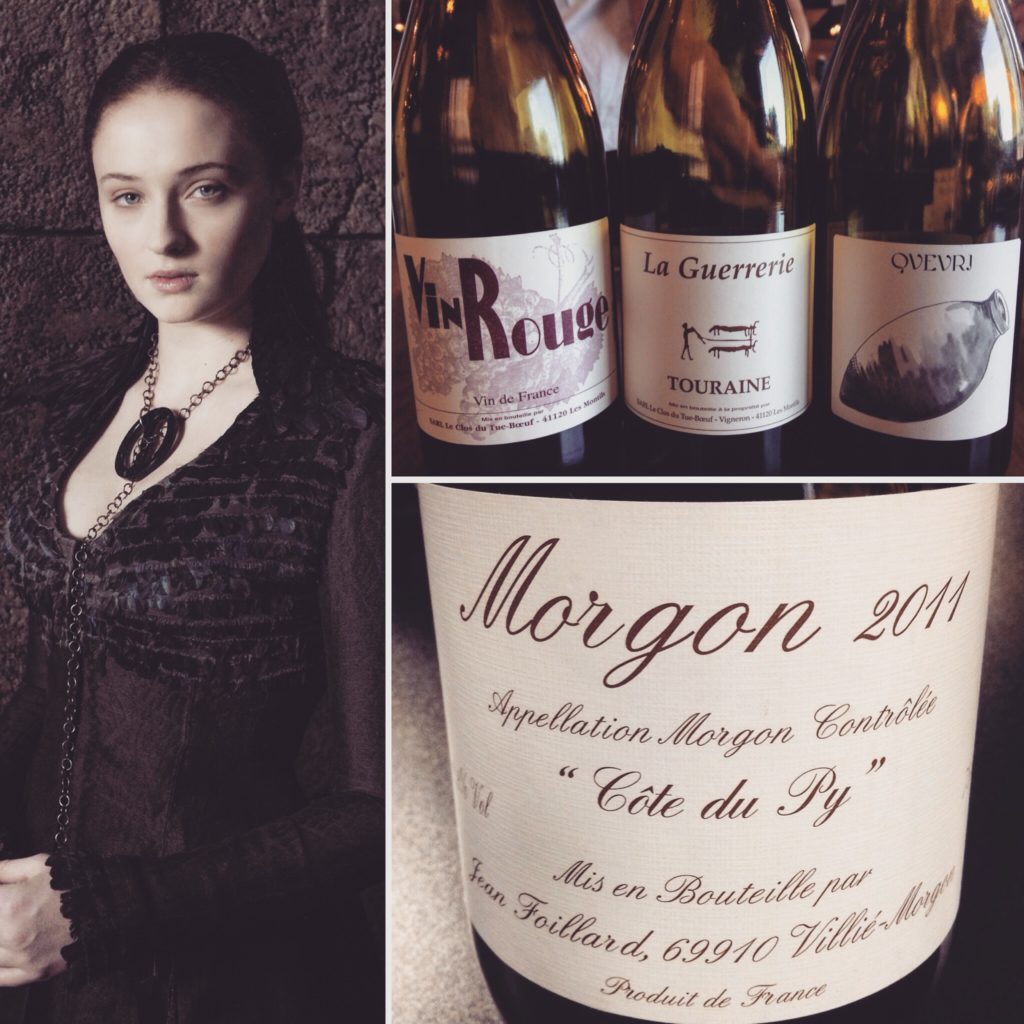 Drouhin 2013 Morgon (Beaujolais, France) Jan 2016. ~$26.50+.
Spicy cherry-pie fruit. Light-footed and juicy. On the lighter side for a cru that typically produces muscular Beaujolais. A sprinkle of chalky tannin. Could use a bit of a chill.
Louis Jadot 2011 "Château des Jacques" Moulin-à-Vent (Moulin-à-Vent, Beaujolais, France) Feb 2014.
A fair amount of brett funk among the red fruit, spice, black pepper, and leather. Structured and expressive, and light but rather confident for Beaujolais.
Louis Jadot 2011 "Clos de Rochegrès" Moulin-à-Vent (Moulin-à-Vent, Beaujolais, France) Feb 2014.
Slightly more intense than the Château des Jacques. A little more developed, with dried red fruit, raspberries, minerality, and berry skin. There's also something clay-like – maybe gasoline – but it's balanced with the riper fruit on the palate and the commanding structure. A hint of coarseness.
Louis Jadot 1999 "Clos de Rochegrès" Moulin-à-Vent (Moulin-à-Vent, Beaujolais, France) Feb 2014.
Evolved into a garnet shade. Obviously developed, with dried red fruit, and something farm-like – without veering into the depths of something excessively stained by brettanomyces – like hay or dried grass and earth. Silky, fine, and almost Pinot-esque.
Clos du Tue Boeuf 2014 Vin Rouge (Vin de France) Apr 2016. $26.50.
100% Gamay. The nose is full of ripe strawberries, sweet raspberry vinaigrette, funky earth, spice, and a bed of flowers. Dry, silky, and dichotomously ethereal and dense, revealing spice and white pepper with a fine sprinkle of tannin and a hint of berry skin bitterness on the finish.
Clos du Tue Boeuf 2014 "La Guerrerie" (Touraine, Loire, France) Apr 2016. $36.
Two-thirds Côt and one-third Gamay. Some of the sweet raspberry vinaigrette of the Vin Rouge but with a dominant accent of spice and dried black fruit. Berries on bread, and then lots of cleansing acidity on the palate. Earthy.
Clos du Tue Boeuf 2014 "QVEVRI" (Touraine, Loire, France) Apr 2016. $49.50.
Same blend as the La Guerrerie, but aged in amphora. Hella cloudy. The fruit is a little more dampened here, but there's a bit of dark berry character surrounded by lots of yeast and balsamic citrus. Lightweight but full-flavoured and broad. Lots of acid and quirk.