24 wines for turning 24
This post serves two purposes: a sincere smile-and-nod to the 23rd year of my life, and a spring cleaning wine dump of, coincidentally, a number of bottles that equals the number of anniversaries since I was pushed out of my mother. Alas. The past prime number of a year has been good to me, and I'm stoked for the next. Beyond this whole becoming-an-adult thing, I've done many things including completing the WSET Diploma (i hate to keep mentioning about it – but perhaps the youngest in BC to do so!), changing jobs, travelling to New York, travelling to France, travelling to Spain, and other things that would probably be best not to put on the internet. Heh.
And home. Oh God – connecting to your roots and family – sometimes I dig myself way too deep into wine culture and its countries that I forget where I come from. That's definitely a B I G thing. Huge.
In this past year, I also grew to hate the "breaking out your shell" phrase because it implies that there's just one layer to burst through. Let's just say I feel that I put a major dent in whatever rigid surface surrounds me.
But, like, really – can we blast Seasons of Love right now? I'm always afraid that the next year of my life will show less growth than the last – I feel like I'm talking about my life like I'm talking about a business – but even then, a substantial, terrifying, but thrilling opportunity appeared at the 12th month of being 23. I don't know how. I'm not going to be one of those people that credits the universe, though one time I did make out with someone who did, so maybe a slow virus grew in my soul. Anyway, I foresee big opportunities but also lots of hard work. Lots and lots of it. I'm stoked.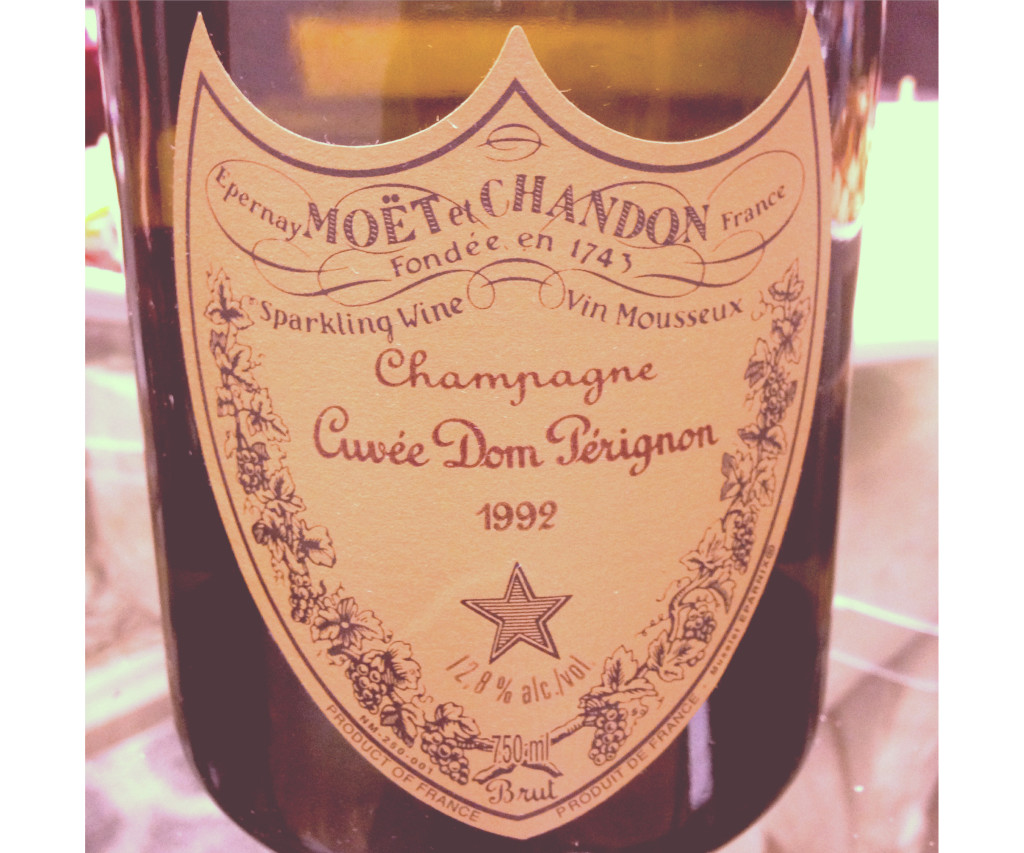 Maybe the wine gods are trying to make it up to me because I was born in a bad year for grapes. Maybe I'm just optimistic. Maybe I'm actually working hard and I'm seeing results, but I'm blind to my own abilities.
Whatever. I'm going to listen to Shakira and eat pizza.
I've sorted the 24 bottles by whites, rosés, reds, and then dessert wines. In the mix, there's a fantastic BC Pinot Blanc mentioned in The Wine Bible; a couple of different Italian wines from kegs; a sad rosé that I'm hoping was bottle variation; a 1966 Tawny Port that a famed sommelier in the city raved about at Vancouver's wine festival but that I disliked; and two Sauternes from 2006 and 1983.
Wild Goose 2014 "Mystic River" Pinot Blanc (Okanagan, British Columbia, Canada) Nov 2015. $18.
This was on my list ever since Karen MacNeil, in the new version of The Wine Bible, stated that the Pinot Blanc by Wild Goose "may be the single best New World pinot blanc [she's] ever tasted", though opting to highlight their Gewurztraminer in a list of Canadian wines. Though I'm not initially stunned by the quiet nose, the palate has a two-toned attack of sweetness and bitterness with the ripe nectarine, hints of peach and banana, and grapefruit pith, ending with a pleasant bitterness in the flavour tug-of-war, like candied orange peel. Rather medium-bodied and without too much acid. I'm afraid Karen MacNeil might be right.
Luzada 2013 Rías Baixas (Rías Baixas, Spain) Nov 2015. $18.50.
Val do Salnés subregion. Timid on the nose with just a faint breath of nectarine, flowers, and wet forest. Much more lively in the mouth, where white peach pith and bay leaf fall into a bitter, lemon zest and herb-driven finish. Creamy. A bit too ballsy for me on the scale of Albariño, though with the right food pairing this could most certainly pop.
Pierre Olivier Bonhomme 2014 Sauvignon Blanc (Touraine, Loire Valley, France) Jan 2016.
Baked grapefruit, salted green mango, and pineapple. Pleasantly round and tropical-accented without an oft-accompanying flab that these un-razored Sauvignon Blancs can often don.
Montelvini Monvin Bianco (Veneto, Italy) 30L keg. Dec 2015.
A blend of Chardonnay and Garganega. Mostly green fruit and something just slightly honied and Macadamia-kissed. Neutral and medium-bodied with a refreshing bitter end. Some of the Montelvini wines in keg are mostly (exclusively?) available at Provence and Cactus Club.
Montelvini Pinot Grigio (Veneto, Italy) 30L keg. Dec 2015.
Expresses very little until it's in the mouth, with steely lemon and lime balanced with an almost tannic bitterness. Refreshing.
Le Masciare 2013 Fiano di Avellino (Campania, Italy) Jan 2016. ~$30+.
Very aromatic on the nose, with almonds, peach, and flowers. Lemony pow on the palate. Wish I had more time to spend with this one.
Capichera Lintori 2013 Vermentino di Sardegna (Sardinia, Italy) Jan 2016. ~$36+.
I opine contrarily to the mediocre ratings this gets on the BCL website. No shortage of green apple, ginger, and pear. An impressive intensity on the palate, with a ripe and almost sweet impression. Not a boring Vermentino.
Pascal Bouchard 2013 1er Cru Beauroy Chablis (Burgundy, France) Jan 2016. ~$43+.
Some expected restraint on the nose, with pomaceous fruit, citrus, and mushroom. On the other hand, there's a loose and broad juiciness on the palate. Misses some precision and nerve, though maybe that's just a stylistic Chablis preference of mine for this age.
d'Arenberg 2014 "The Hermit Crab" (McLaren Vale, South Australia) Jan 2016. ~$21+.
74% Viognier and 26% Marsanne. Aha! An old friend. Nice amount of Froot Loops, cardamom, peach, and spice. On the palate here, Marsanne plays the violin and keeps Viognier in check with a counterpoint of gentle lemony acid. Medium-bodied, ending with tea leaves.
Zinck 2013 Pinot Blanc (Alsace, France) Jan 2016. $18.50.
Demure and anodyne, but with a hint of mushroom and green apple on the nose. Creamy and rather reliable. I like this.
Chapoutier 2014 "Bila-Haut" Côtes du Roussillon (Roussillon, Southern France) Jan 2016. $18.50.
Mainly Grenache Gris and Grenache Blanc with Macabeu. White peach on the nose; medium acid. Floral, savoury, and stony.
Chapoutier 2012 "Belleruche" Côtes du Rhone (Rhône Valley, France) Jan 2016. ~$18+.
Grenache Blanc, Clairette, and Bourboulenc. More herbaceous and mineral than the Bila-Haut. Much more gaunt and stony as well, but retains the phenolic savoury profile with dried flowers. Not a huge fan.
Fontanafredda 2013 Gavi (Gavi, Piedmont, Italy) Jan 2016. ~$22.50+.
Laser-like citric precision with a fair amount of concentration. Unapologetically one-note, but it's entertaining and good at it.
Drouhin-Vaudon 2014 Chablis 1er Cru Vaillons (Chablis, Burgundy, France) Jan 2016. ~$54+.
Mainly mushroom and ripe green apple. Quite slutty on the palate for Chablis; intense and drinking wonderfully current. Lemony mushroom cream that misses some classic tautness. Aged in stainless steel.
Les Jamelles 2013 Grenache Rosé (Pays d'Oc, France) Jan 2016. ~$13+.
Bit of nutty red fruit. I would be kind to describe it as having some form of gummy nuttiness, but this seems slightly tired and over the hill.
Bodegas Castaño 2014 "La Casona de Castaño" Monastrell (Yecla, Spain) Nov 2015. $10.50.
Black pepper, something piquantly green, black cherry, and earth. Straightforward red fruit with a nice amount of dusty texture, body, and structure.
Chateau Haut-Vigneau 2010 (Pessac-Léognan, Graves, Bordeaux, France) Sep 2015.
70% Cabernet Sauvignon, 30% Merlot; 15 to 18 months in barriques. Heady with muscled plum, blackberry, vanilla, and sweet leather. Viscous yet bright, ending with mouth-coating powdery tannin and a supercharged over-spiced and warming leathery finish.
Tarapaca 2013 Cabernet Sauvignon Gran Reserva (Maipo Valley, Chile) Dec 2015. $21.
Nice big blackberries and cassis with tar, spice, oak, and just a bare hint of stewed green pepper. Full-bodied, juicy, and dry, but there's a fair amount of sweet stewed black fruit that overrides the moderate acid and tannin. Something waxy. Oak is a tad chunky.
Montelvini Cabernet (Veneto, Italy) 30L keg. Dec 2015.
Cabernet Sauvignon, Merlot, Sangiovese, and Montepulciano; stainless steel fermentation. Juicy strawberry, black cherry, dusty pepper, and plum. A little more sour red cherries on the svelte and warming palate. Very middle of the road than approachable, and oddly (or not oddly) much more Veneto/Corvina in vibe than Cabernet-Merlot.
Gérard Bertrand 2013 Chateau l'Hospitalet La Clape La Reserve (Coteaux du Languedoc, Southern France) Jan 2016. ~$27+.
Grenache, Syrah, and Mourvèdre. Blackberry-driven fruit with dried herbs, and some sort of pillowy wine gum flavours: likely due to a duet of Grenache and carbonically macerated Syrah. Some soft tannin and moderate acidity to contain the wine.
Taylor Fladgate 1966 Very Old Single Harvest Tawny Port (Portugal) Jan 2016. ~$288+.
I question whoever wrote about this wine's flavours that are "lifted by acidity" in a Wine Enthusiast blurb and gave it wine 95 points. Quite brash and syrupy. Intense with its spiced almonds and dates, but sickly with absolutely no sense of structure or freshness. Needs food.
Tokaj Kereskedöház 2008 Tokaji Aszú 3 Puttonyos (Tokaj, Hungary) 500mL. Jan 2016. $25.
Ashy honey and burnt orange peel on the nose. Almond flakes. Medium sweet and with high acid and a tangerine-like juiciness. Medium body. A pithy and black tea ending. Pretty subtly ballsy.
Château Guiraud 2006 Sauternes (Sauternes, Bordeaux, France) Jan 2016.
Lots of rubbery boiled honeyed nuts. Botrytis, baked grapefruit, pineapple, spice, cinnamon, smoke, apricot nectar. Lots of others picking up VA. Maybe a touch of chemically formaldehyde! Orange rind. Sumptuous and fat, with a grapefruit savoury bitterness that lasts and cuts through the wave of smoky apricot honey. It's the flavours cut through the weight, here, rather than the modest acid.
Château Nairac 1983 Sauternes (Sauternes, Bordeaux, France) 375mL. Nov 2015.
Rancid honey (though I know honey can't go rancid), cheese, butterscotch, and lots of marzipan. Not very graceful at all, but with a sweet nutty clunky loveliness. We guessed that it wasn't stored very well, but it was cool to try nonetheless.