The good, the bad, and the bubbly: 9 bottles to bathe in
Okay – not literally, obviously, but I'm waiting for Gwyneth Paltrow's new beauty regime that involves using a specific wines as exfoliants and face mask ingredients. Chardonnay from Puligny-Montrachet? Fuck that, she would say, with the flick of a finger. Chassagne-Montrachet is where it's at. Or blanc de blancs Champagne, only from the 1996 vintage. And, of course, cucumber slices. Maybe an avocado.
Anyways, here's a random collection of bub. I've finally tried a legit sparkling Nebbiolo after having joked about it for so long, and then there's also a birth year bottle of Dom Pérignon, a stunningly electric sparkling British Columbian Riesling, and a collection of other cool and uncool bottles. It's become suddenly warm in Vancouver, and I broke the summer hiking seal on the last day of March. Sparklings, guys. Let's celebrate things and quench our thirsts. Let's sit outside on a restaurant patio and accidentally get way too drunk early in the day because we're way too eager.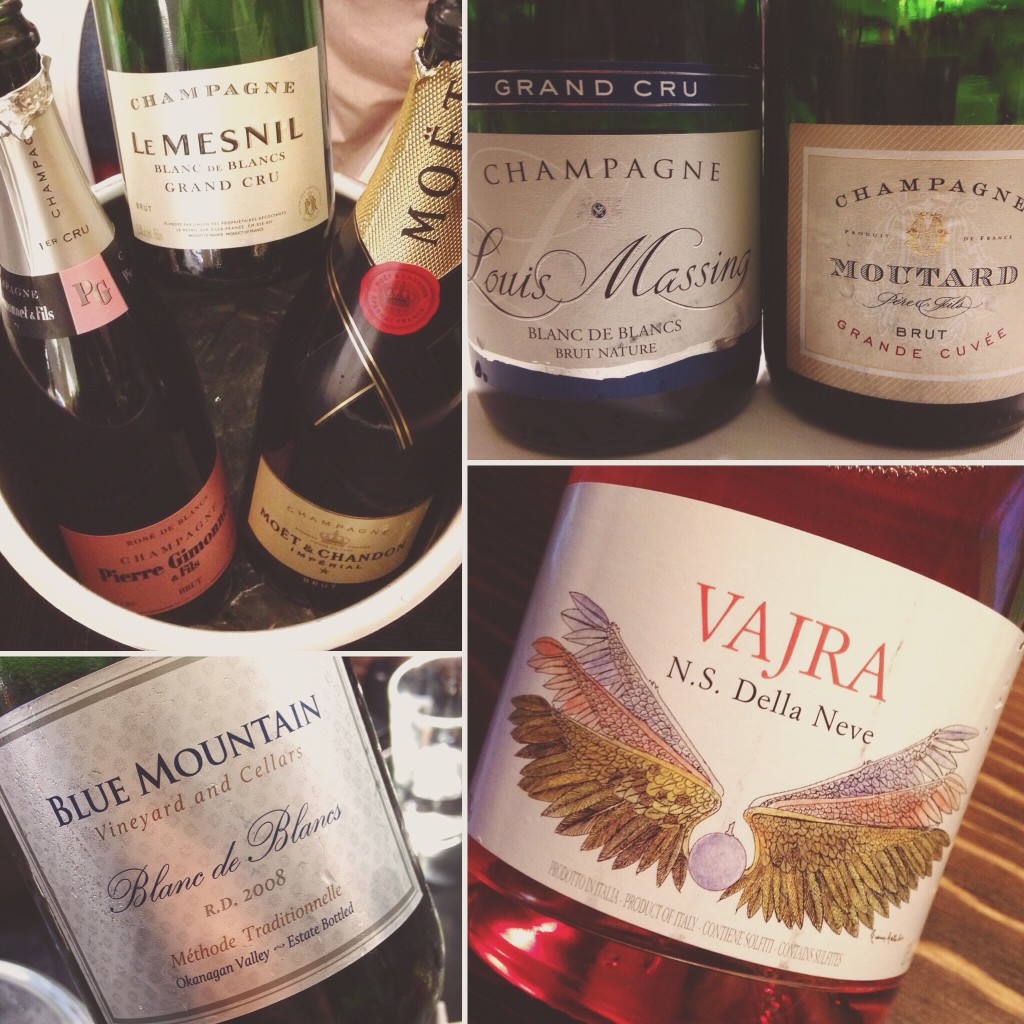 G.D. Vajra "N.S. Della Neve" Rosato Extra Brut (Piedmont, Italy) Mar 2016. $57.50
50% Nebbiolo, 50% Pinot Nero! Saignée method. Light earthy cranberry on the nose. More intense on the palate. Dry, creamy and lively mousse, and then mouth-puckering raspberries and cranberries that slowly envelop the the tongue in a leesy, savoury blanket. Quite intense. Some balanced leafiness. Intriguing!
Moët et Chandon 1992 "Cuvée Dom Pérignon" (Champagne, France) Feb 2016.
Birth year wine! Belonged to a dear friend's nonno. Aged super gracefully, in that it's devoid of any sherry-like floppiness, but unfortunately a bit corked. There's some mushrooms and nuts, though, with delicate bubbles and some savoury earth on the palate showing through the muted citrus and stone fruit. Mere memories of vanilla as well. Still very cool to try, and such an honour to let me uncork for the group.
Tantalus 2012 Old Vines Riesling Natural Brut (Okanagan, British Columbia, Canada) Jan 2016. $52.
Bought this for cellaring but of course I decided to open it that same day as a result of an unexpected get-together. Rubber, lime and green apple wine gums, white flowers. Electric and bracing on the palate with lots of balancing and cleansing lime pith. Dry as. Pronounced acid. A bit much in price if you're considering opening this now; may prove to be suitable for the long run, though the bar for aged sparkling dry Riesling has been unintentionally set by the Skillogalee. Very unique.
Marquis de la Tour Brut (Loire Valley, France) Jan 2016. $15.50.
Don't know how current this information is, but apparently this sparkling is a blend of Ugni Blanc, Chenin Blanc, and Chardonnay. Simple and rather muted with maybe some subtle dusty citrus, though the ambient perfume around me isn't doing this wine any favours. A bit more interesting on the palate, though I'm not sure I understand why this was commended at the 2015 Decanter World Wine Awards.
Casolari Trebbiano Dell'Emilia Frizzante (Emilia-Romagna, Italy) $15. Dec 2015.
Faint candied green apple tones throughout, and the faintest hint of almond. The frizzante mousse brings it to a level barely above dull.
Jaume Serra "Cristalino" Cava Reserva Brut Nature (Cava, Spain) Jan 2016. $17.50.
Green apple, dried white flowers, and an ample amount of yeastiness and dough. Medium-bodied with some butteriness, edgy citrus, and toastiness on the palate. Earthy and complete. Surprisingly long. Great amount of complexity considering the price.
La Escapada Cava Demi Sec (Cava, Spain) Jan 2016.
Dusty earth and citrus on the nose. A clunky and simple brush of sweetness and prickly sparkle on the palate, like a cup full of iridescent marbles and glitter. Balanced amount of contrasting earth.
Montelvini "Prodry" Prosecco Frizzante (Prosecco DOP, Veneto, Italy) 20L keg. Dec 2015.
Grapes both from the DOCG and DOC areas. Solid quality, and typical: steely pear skin, and a bit of sweet charm just a titch below off-dry. From a keg!
Montelvini Prosecco Treviso Spumante Extra Dry (Prosecco DOP, Veneto, Italy) Dec 2015.
Much riper green fruit than the Prodry, with a bit of white peach. A hint of cream, cinnamon, and lime joins the ripe fruit and just off-dry flavours.