8 Variations on Braida's Barbera, the Arya Stark of Wine Grapes
(Spoiler alert, sort of! Seek refuge underneath the picture below to avoid such things.)
I always saw Barbera as the Arya Stark to Sansa Stark's Gamay Noir. It's neither the king nor the queen of Italy's Piedmont, which, in effect, belongs to Nebbiolo's Barolo and Barbaresco, but it's also not the bourgeois Dolcetto. No: I see Barbera as a trick, a ninja often producing wines unfortunately crafted into expressions that are sour and thin and second or third-rate, when in fact, it can produce wines with such concentration and shrill acidity, you'd swear that your mouth was being deliciously pierced by castle-forged steel. It's a grape that brings in cash for producers while Nebbiolo unfurls itself in the cellar.
And, when it's oaked – a style that Giacomo Bologna of Braida pioneered in the 1970s with Bricco dell'Uccellone – you might lose a bit of Barbera's vibrant mouth-puckering red fruit (read: its identity), but you get more spice, mystery, and complexity. There's a whole traditional-modern-tug-of-war with the grape, then, like with Nebbiolo, but apparently, current styles have tended towards the latter. Season 6, you guys, season 6.
Braida produces wines that are so zestfully stubborn yet have the concentration and structure to match. I didn't even realize Barbera had the potential to command such elevated alcohol, but its grace and elegance often deceived me in its best examples. Braida is one of the few producers that breaks the stereotype that Barbera from Asti is lighter and more forward in its red cherry fruit compared to the fleshier, robuster, and black cherry twin from Alba. So much attitude.
There were also scandals in the 1980s involving the death of over 30 people, including some who lost their sight, due to a producer illegally adding methanol to beef up their wines. A coincidence that this video has Italian subtitles? Am I the wine equivalent of an Illuminati conspiracy theorist?! Gross.
Principal for this seminar is Dr. Norbert Reinisch, the director of exports for Braida. Hopefully a Game of Thrones fan.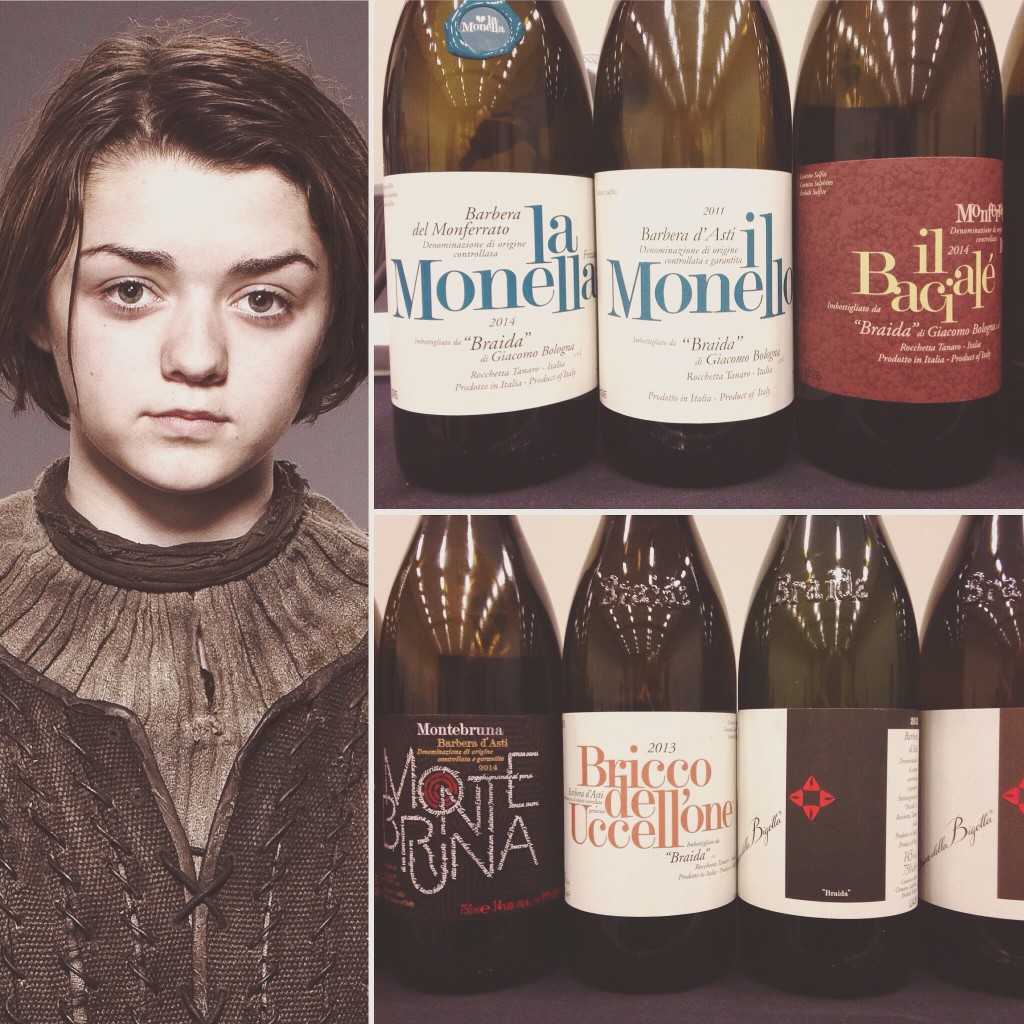 We start off with the Braida 2014 "La Monella" Barbera del Monferrato DOC which definitely exudes a slightly curious vibe, giving off a light sparkle in front of some red fruit, but there's this blanket of game, white pepper, and herbaceousness that shrouds the whole thing in a spicy atmosphere. It's fitting because "monella" means something like "cheeky girl", and the palate is fitting for the grape with mouthwatering and lightweight black cherry. Its twin, the Braida 2011 "Il Monello" Barbera d'Asti DOCG, is much more pure in its spicy black cherry fruit, though there are hints of meat and soy. The palate is certainly not as exuberant in flavours as its sister but might be a touch more piercing and grasping.
(This promotional video was the least Arya Stark thing during the seminar. It took great effort to hold in laughter.)
The Braida 2013 "Il Bacialè" Monferrato Rosso DOC is 60% Barbera, 20% Pinot Noir, 10% Cabernet Sauvignon, and 10% Merlot. It's definitely a little more floral along with bits of cola, and there's a real sort of sweetness as well – something like spiced strawberry or dried cherries. It's expectedly a touch heavier on the palate, the tannins are moderately chalky, and the acid is expectedly fresh. Take this on a first date? "Bacialè" means "matchmaker" in the local dialect. But in an arranged marriage sort of way. So actually, maybe don't.
Floral also was the Braida 2013 "Montebruna" Barbera d'Asti DOCG – hailing from the Montebruna cru in Rochetta Tanaro – along with some dried black cherry, blackberry, and a hint of chocolate. Though it's seen 8 months in 20hl, 35hl, and 55hl oak barrels, its defining feature is the searing acidity that sprints to the back of the mouth. It's slightly lighter-footed and meaner than the Braida 2013 "Bricco dell'Uccellone" Barbera d'Asti DOCG which has a similar burst of high-pitched vibrancy, but it's more concentrated and full. 14 months of ageing in French barriques contribute swathes of well-integrated vanilla and chocolate among the spicy blackberry and black cherry fruit. The palate reveals slow-forming bitterness and a fuller body for the grape; there's a bit of tannic sass and heat on the finish but the whole is quite finessed. There's 3.82 g/L RS on this one that I suppose pulls the whole thing into balance: I can't imagine how much more unforgiving this would be without any sugar. Ageing potential? Yes.
"Bricco dell'Uccellone", according to Dr. Reinisch, means "hill of the big bird", but according to him it also means "hill of the big dick" in Italian slang. Yes. Maybe I shouldn't have Googled that for confirmation, but whatever.
Onwards: we then try three vintages of the Braida "Bricco della Bigotta" Barbera d'Asti DOCG. The 2013 is the most fresh, of course, exuding more spice than previous examples, with leather, nuts, black cherry, earth, and a hint of cola. It's seen ageing for 17 months in French barrique, and it's definitively on the fuller side with tannin that borders on being pronounced and with acid that awakens. The subsequent 2009 is a blockbuster at 15.94% ABV (whAT???) with a funky nose reminiscent of coffee, roasted hazelnuts, and dabs of cherry liqueur. On the palate, the spicy and leathery flavours have developed but the structure is definitely still there. Counterintuitively, I would have guessed that the 2006 was younger than the 2009 in a blind tasting, because it's so much more fresh-tasting. It's ten years old and with still elevated alcohol (14.35% ABV) but it's much more elegant with less roasted nuts and more dark fruit and tar. The eldest of the triplets has matching structure, for the most part, but it's gentler and stretching itself out much more slowly.
Just a month until Season 6, you guys! Maybe my analogy will fall through! Valar morghulis, I guess.