"1000 Years in Tuscany": Getting Sangio-crazy with Barone Francesco Ricasoli
I was never really a history buff in high school. What I did, though, was take all of the sciences and maths unnecessarily earlier than I needed to, during, which I hate to admit, the coinciding apogee of the Big Bang Theory. I once took pride in every comparison to Leonard Hofstadter I received in university – which was purely from a fashion standpoint, of course – because I realized how dull I found quantum mechanics. Cringeworthy half-stories aside, I really mean to say that I've totally reversed: I've started to appreciate history in general as I got deeper into wine, and sometimes it's such a shame that having serious game plans to taste wines means I have to skip principals and their stories. So I'm glad for VIWF seminars like these, this one in particular led by Barone Francesco Ricasoli himself, and Anthony Gismondi.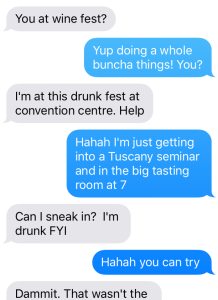 I won't bore you with the details, but Ricasoli is apparently Italy's oldest winery and the world's second oldest, the family name being connected to wine since 1141. Notably, they've been instrumental in creating the formula for Chianti in the 1800s. So here we are, and it's Francesco's 60th birthday today. How symbolic! Sangio-bolic? Coincidentally, a bit of that tomato you're throwing at me is a common flavour descriptior for Sangiovese, the main grape in Chianti. Ricasoli's statuesque wines command attention, past the falling spit cup, drunk texts, and a new Tinder match. Bye.
We started with the pale onion skin hue of the Ricasoli 2014 "Albia" Rosé Toscana IGT (~$25), serenely expressing Rainier cherry, petrichor, and some floral character on the nose. I would have shrugged and decided this was a dull start had the palate not been unexpectedly much more intense, expressing a juicy kick of green apple, more white cherry, and hints of refreshing earth. Not just a mid-season reality TV filler contestant, you guys.
The Ricasoli 2013 "Torricella" Bianco Toscano IGT (~$37.50) is four-fifths Chardonnay with some aromatics added by Sauvignon Blanc, resulting in a combination of something pineapple-like with a strong citrus bend, like sea buckthorn – and then wrapped up in a thin veil of Werther's Originals. Juicy and mineral-driven on the palate with more salted caramel; long finish. Odd, idiosyncratic, satisfying.
We move into Sangio territory here, with the Ricasoli 2013 "Brolio" Chianti Classico DOCG ($31): 80% Sangiovese (the minimum), 15% Merlot, and 5% Cabernet Sauvignon. It's reliably textbook with some black cherry, coffee, spice, tar, and tomato leaf. The palate is a bit closed but there's a layer of earth; and deceivingly powdery tannins combine with acidity to create a suit of armour for the flavours. The Ricasoli 2012 "Brolio" Riserva Chianti Classico DOCG (~$42) has the same pie chart when it comes to the grapes, but it's a little more leathery, structured, finessed, and savoury. They're honestly not super dissimilar, but I would say that the latter is a supercharged version of the former, like me versus me after my morning coffee.
It's all Sangiovese with the Ricasoli 2010 "Colledilà" Gran Selezione Chianti Classico DOCG 2010 (~$70); this one gives off more intoxicating and brooding vibes, with dried cherry fruit and undertones of mint and smoke among the sweaty leather, spice, and developing flavours of forest floor and smoke. There's a strong tone of something pungently mineral – like musk or petrol – and the liquid is quite mouth-coating and structured. There is, of course, the capacity to age it, but at the current moment this is pretty much a meal in a glass, the calcareous limestone soils producing wines with a more powerful personality.
Francesco Ricasoli described the next wine as "Merlot that has been Chianti-fied". Indeed, the Ricasoli 2010 "Casalferro" Rosso Toscana IGT (~$70) is to the brim with earthy dark fruit, austere plum, and hints of charred green pepper. The dark and heady nose is awoken by piercing acidity, the wine gently grasping at your tongue with chalky tannin, dark fruits, and a long finish – perhaps need a bit of time to unclench. Though under the same name, the Ricasoli 1997 "Casalferro" Rosso Toscana IGT is virtually all Sangiovese and instead expresses fragrant and bold scents of spice, barbecue, forest floor, mushroom, and red pepper. There's an echo of more charred mushrooms and bits of vanilla on the palate, but it's a burst of flavour more than a lasting reprise, before the flavours are left a mere glimmer through the withering structure.
Jesus Christ: the Ricasoli 2010 "Castello di Brolio" Gran Selezione Chianti Classico DOCG (~$78) opened my pores, did my taxes, and increased my fertility. This beast contains lots of super-perfumed blackberries, dried blue fruit, earth, and dark flowers – it possesses the same grape proportions as the first Sangiovese-based blends in this flight, but this superlative of a wine seems, contrarily, different from the Sangio-stereotype of bitter cherry and tomato leaf. Powerful and structured, and easily my favourite of them all – pleasantly fitting as their top cuvée constructed from different sites.
Francesco admitted that the Ricasoli 1997 "Castello di Brolio" Chianti Classico DOCG was showing some weakness. The nose of the Sangio-pure is starting to desaturate but it's still holding on with earth, leather, and hints of dried cherry and decaying leaves. The palate is a bit oxidized, but the acid is still piercing and the tannins are quite soft. For what it's worth, it's as if this has seen a gentle fade off the hill rather than a wine that's been ejected off a cliff.
History class is much more exciting when alcohol is involved.