On Dim Sum, Champagne, and not drinking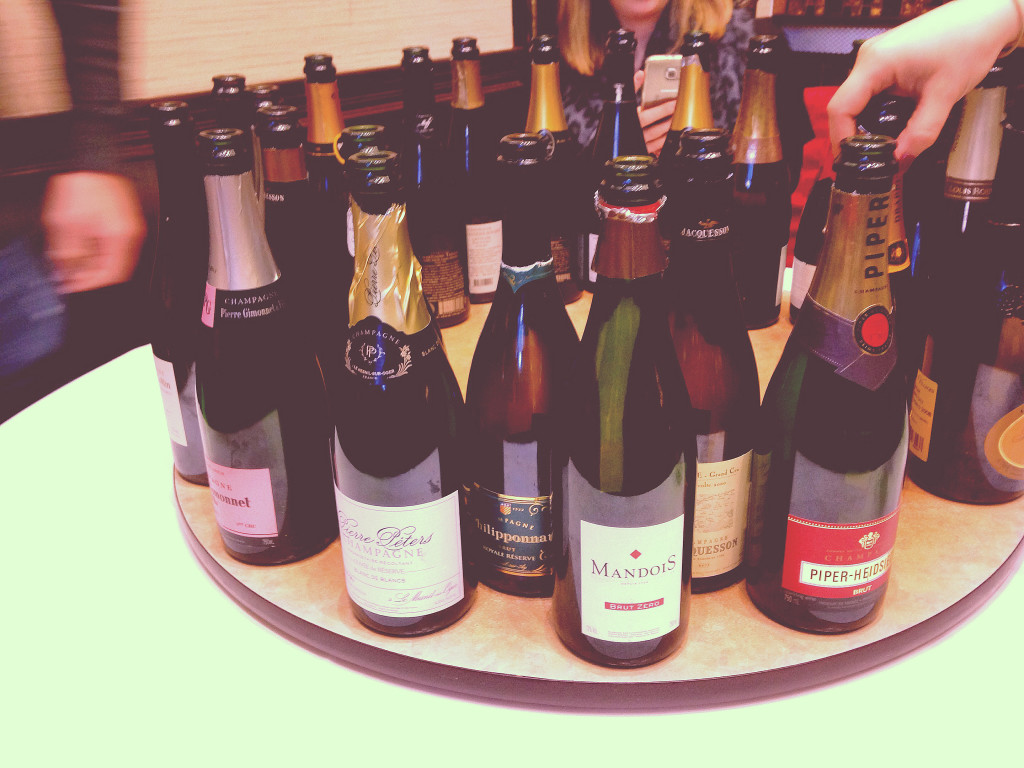 To be more specific, my shitty New Year's Resolution is to only allow myself to drink in the company of other people, having only broken this rule (before its inception) on January 1st: a seemingly un-celebratory bottle of Trebbiano d'Abruzzo. We're only a month in, and yes – it's been difficult. Of course, the temptation drifts in front of me like a horse and a carrot: I work in the industry, I've returned to work hours that demand refreshment, and I study wine frequently. But it's always the third day of no alcohol that's the worst, where a sour mood brews and where my perception of the quiet becomes even quieter. Ugh. I'm also catching up on the latter half of Breaking Bad; someone just opened a bottle of Pol Roger and I'm dying.
On the other hand, only having drinks when I'm with other humans means that I get to be more social (…I guess…), as was this Champagne & Dim Sum lunch during the first week of January, at Victoria Chinese Restaurant. #Flawless. The variety and small flavourful bites plus the versatile and delicate Champagne make for an eccentric matrimony with lots of experimenting, which is even more fitting for a first-week jamboree. Below are a handful of wines I tasted before I gave up in favour of drunkenness.
I'm no expert on Champagne. I can't afford the stuff on the regular (thusly I am endlessly thankful for invitations to such events), so the styles of the Grandes Marques aren't pieces of information that I have ready for spewing. Though seemingly #basic compared to the rest, I will say that the Piper-Heidsieck pleasantly surprised me with its immediate crushed cracker brusqueness that stood out – perhaps inelegantly, but complete and delicious nonetheless. A quick Google search on the styles of Grande Marque Champagnes reveals hilarious and vicious arguments in comments sections by absurdly opinionated people. For fuck's sake: it's Champagne. Drink it, laugh for an airbrushed stock photo, frolic in slo-mo with your costly bubbly, be glad Veuve Cliquot hasn't sued you for wearing a shirt coloured like egg yolks, and disagree like a normal human person. Good God. Shall we argue about the respective purities of our diamond-encrusted Riedel dildos, too?
AR Lenoble NV Champagne Cuvée Intense (Champagne, France) Nov 2015.
Did I hear this right: this wine, during some time in the winemaking processes, goes through something resembling the solera system? Green apple, hints of nutty brioche and white pepper amongst the mineral. The palate holds something briny and herbal – even a hint metallic, I must admit – among the delicate mouthfeel. Even breakdown between Chardonnay, Pinot Noir, and Pinot Meunier.
Nicolas Feuillatte 2000 Blanc de Noirs Grand Cru Champagne (Champagne, France) Jan 2016.
100% Pinot Noir. Nutty butterscotch, caramel, lemon curd, and a nice sassy kick of acid at the end. Leafy and spicy centre. Still characteristically striking and pin-sharp rather than soft and complete, though I would still say to drink this sooner rather than later.
Vazart-Coquart & Fils 2008 "Grand Bouquet" Blanc de Blancs Champagne Brut (Champagne, France) Jan 2016. $95.
Mainly lemon curd and dough. Light, steely, and tense, perhaps reflecting the most northerly grand cru of the cooler Côte des Blancs subregion. Lively mousse. Full malolactic. Would have been cool to try this next to their "Spécial Club", which is the same wine except aged under cork and matured for a year longer. Worth holding onto.
Pierre Péters Cuvée de Réserve Champagne Blanc de Blancs Grand Cru (Champagne, France) Jan 2016. $89.
Le Mesnil-sur-Oger in the Côte des Blancs. We had tasted two: one of a current release, which had a salted almond and lemon peel sort of profile, with creamy and balanced precision. It was slightly more closed compared to an older disgorgement (one whose exact difference of date escapes me) which was much more yeasty, intense, smoky, and ethereal.
Jacquesson Champagne Cuvée 737 Extra Brut (Champagne, France) Jan 2016.
43% Chardonnay, 27% Pinot Noir, 30% Pinot Meunier. Unfiltered and based on the 2009 vintage. Characteristic salted almond against an elegantly sawtoothed texture. Savoury.
Louis Roederer Brut Premier Champagne (Champagne, France) Jan 2016. $71.
40% Chardonnay, 40% Pinot Noir, 20% Pinot Meunier. Yeasty bits of red apple and biscuit. Much more hedonistic in texture and crowd-pleasing compared to the previous.
Drappier Carte d'Or Champagne Brut (Champagne, France) Jan 2016. $68.
85% Pinot Noir, 10% Chardonnay, 5% Pinot Meunier. Bold red apple, yeast, and a numbing liveliness. Unknit with a nice bright backbone; not too elegant nor too rich for a Champagne. Apple skin. Goldilocks?
Nicolas Maillart 1995 Champagne Cuvée Prestige Ecueil 1er Cru (Champagne, France) Jan 2016.
65% Pinot Noir, 35% Chardonnay. The definitive immobility of almond-swathed sherry with a stony underline of lemony mousse and ginger. Not as gracefully intertwined as I typically prefer for aged Champagne, but still delicious.
Bollinger Champagne Spécial Cuvée (Champagne, France) Jan 2016. $80.50.
60% Pinot Noir, 25% Chardonnay, 15% Pinot Meunier. Cream, toast, and a finely powerfully-textured palate that matches the intense baked apple, completed with a nutty mushroomy end. I love and appreciate Bollinger, but I'm learning that it might not be my favourite NV mainstay.
Varnier-Fannière Champagne Blanc de Blancs Grand Cru (Champagne, France) Jan 2016.
Avize in the Côte des Blancs. Lots of buttered pastry, cream, and savoury almond skin. Finishes with just a touch of liquorice on the backend. Apparently their wines generally have lower pressure than other wines in the Côtes des Blancs region, therefore appearing less aggressive.
Piper-Heidsieck Champagne Brut (Champagne, France) Jan 2016. $67.
55% Pinot Noir, 30% Pinot Meunier, 15% Chardonnay. An obvious outline of biscuits, even as far as crushed crackers and yeast. A surprising bit of buttered richness on the palate amongst the smooth texture.
Mandois Champagne Brut Zéro (Champagne, France) Jan 2016.
60% Pinot Noir, 20% Chardonnay, 20% Pinot Meunier. Earthy mushroom on the nose, and then something a bit herbaceous. Gently bracing, finessed, and chalky; almost a sensation of tannin.
Baron-Fuenté 2006 Champagne Grand Millésime Brut (Champagne, France) Jan 2016. $61.
40% Chardonnay, 40% Pinot Meunier, 20% Pinot Noir. Something like almonds drizzled with melted ice cream and honey, amongst the fruit. Could swear there's a bit of vanilla, but I don't think they vinify with oak. Exuberantly soft and subtle, with acidity that resurfaces at the end.
Geoffroy 2007 "Empreinte" Champagne Brut (Champagne, France) Jan 2016.
69% Pinot Noir, 19% Chardonnay 12% Pinot Meunier. Earthy, yes, but with something meaty and fleshy. Ground almonds and bright salted lemon.