Pain in Champagne
When your only clean shirt is that floral one you bought in Paris, but everyone in this city dresses in understated colours, and then for some reason your ankle is busted in the morning so your swag level dips into the negative as you hobble past some college students who stare at you. I suppose life was finally punishing me for being so seemingly masturbatory on social media despite my lack of #blessed, and I thought sucking it up and drinking a couple of pints of beer in quick succession would numb the pain. But after dinner, we had to cab home not without me drawing more attention by hopping on one foot out of the fucking restaurant, though luckily Theran ran out and bought Champagne, because he is a fucking god.
ENTER REIMS.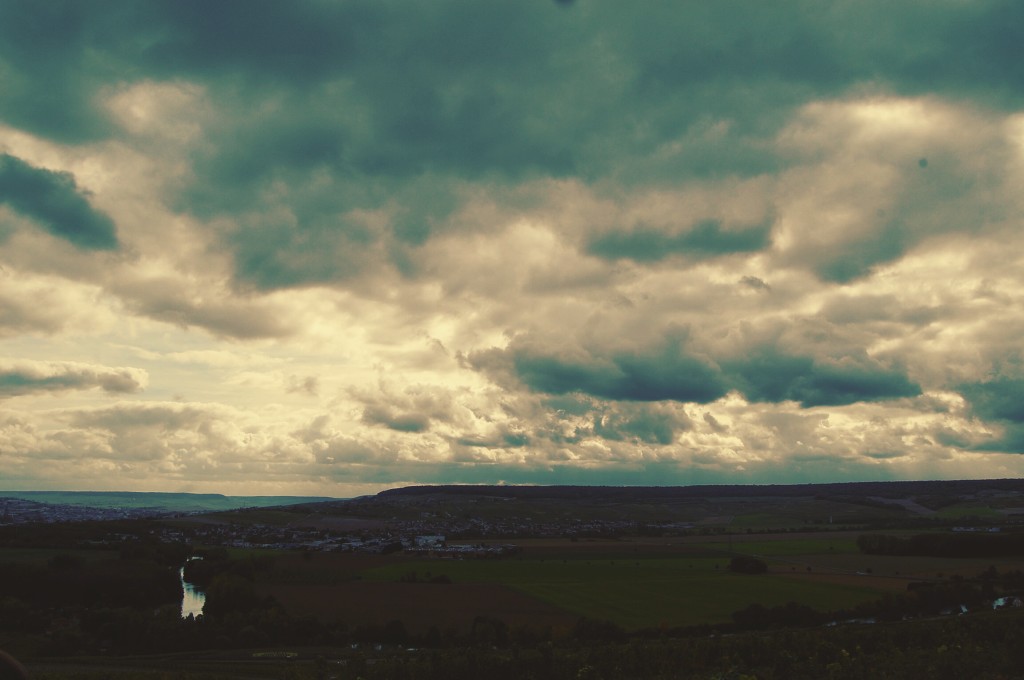 Reims ("It's pronounced RREINHSSSS" – me, just to annoy you) was legit all about the extreme lows and the highs. Yes: a fucked ankle that would get better and then later haunt me in Barcelona, but an amazing visit to some vineyards in Épernay, including those of Dom Pérignon (and his grave!), and then a moment where Erin, Theran and I wanted pictures with the chalk soils. And then we stole some, since they're such a hallmark of this region and the resulting orgasmic wines. We had a good painless night, and I remember Erin suggesting Canadian whiskies to a bar manager that he could possibly try. And cascades and cascades of Champagne. I may have eaten a salad.
I don't know: vibe-wise, Reims was much less charming than I expected, but I guess it makes sense. Being a city so driven by Champagne exports and business, it's perhaps expected that the city seemed anything but bucolic. But the gloominess is also just a snapshot of the typical climate here, anyhow. There's more prevalence of a contemporary atmosphere and a lively nightlife though, which seemed a little less present in Angers and Beaune. I made the mistake of dipping my toes right into that actuality. Or, maybe not a mistake, but an amazing decision…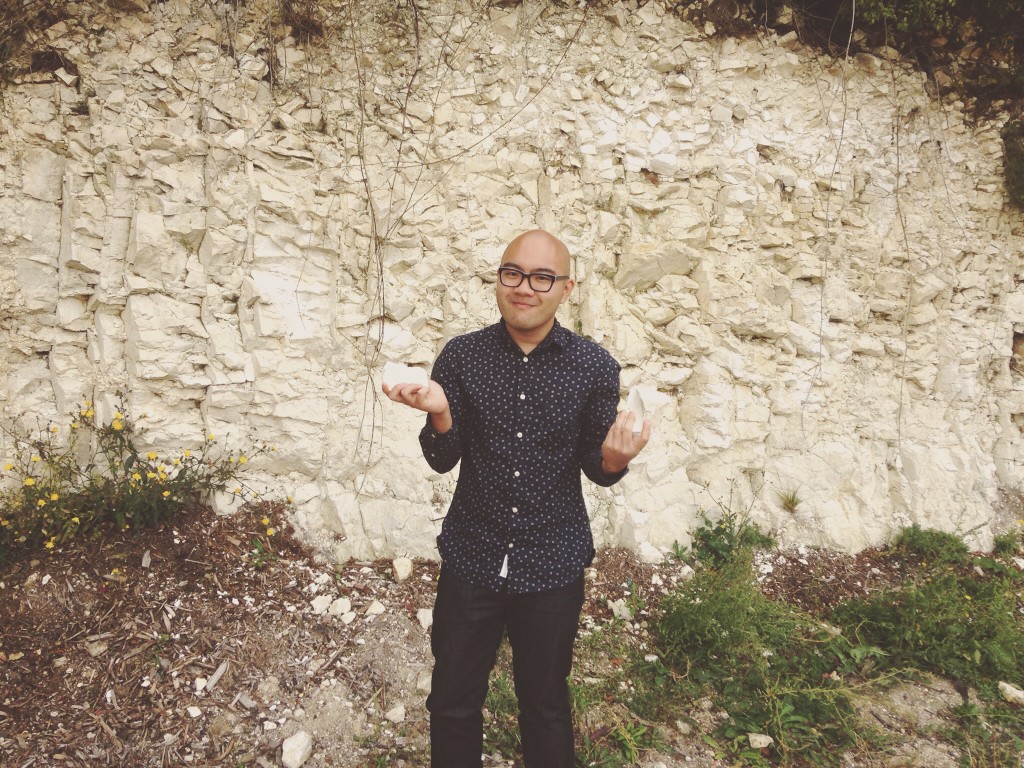 Our visit with relatively small producers was followed by one with that of Taittinger, mostly because we wanted to experience the contrast in ambience, but yes: though the massively larger house had more to show, they were much more calculated and detached in their presentation. Visit one Grande Marque in Champagne and you've essentially been to all of them. And we could've sworn our hostess was hungover, speaking each sentence as if she was preparing to vomit, and dressed in some proper Pitch Perfect outfit that they doubtlessly made her wear. She knew her shit, though, so I'll give her that. The chalk caves were cool.
Later that night, I went to a couple of bars with a guy I made friends with, and my text history is telling me we went to several bars in very quick succession, a weird club, and then 3AM Champagne in an excellent garden next to the very cool Cathedral of Notre-Dame in Reims. Blurry night. I have enough detail to write a season premiere about butterscotch vodka, cucumbers, and me trying to keep up with the most intense dancing I've ever awkwardly stood next to.
I had literally no sleep, and this was unquestionably the worst hangover I've ever had. Erin and Theran enjoyed Bollinger on the train to Paris while I stewed in my own personal horror with my hood pulled so far over my head that it looked like my sweater needed to be circumcised, almost not being able to survive the taxing lunch and then mending my soul with a nap in a park for a couple hours. This marked the end of Theran's trip, but Erin and I still had a 12-hour bus ride to Barcelona which honestly didn't even seem that bad. Reims almost persuaded me to place it above Angers and Beaune, but I decided my experience wasn't wholesome enough – but does Champagne ever lead to anything wholesome, anyways?
I desperately needed a shower.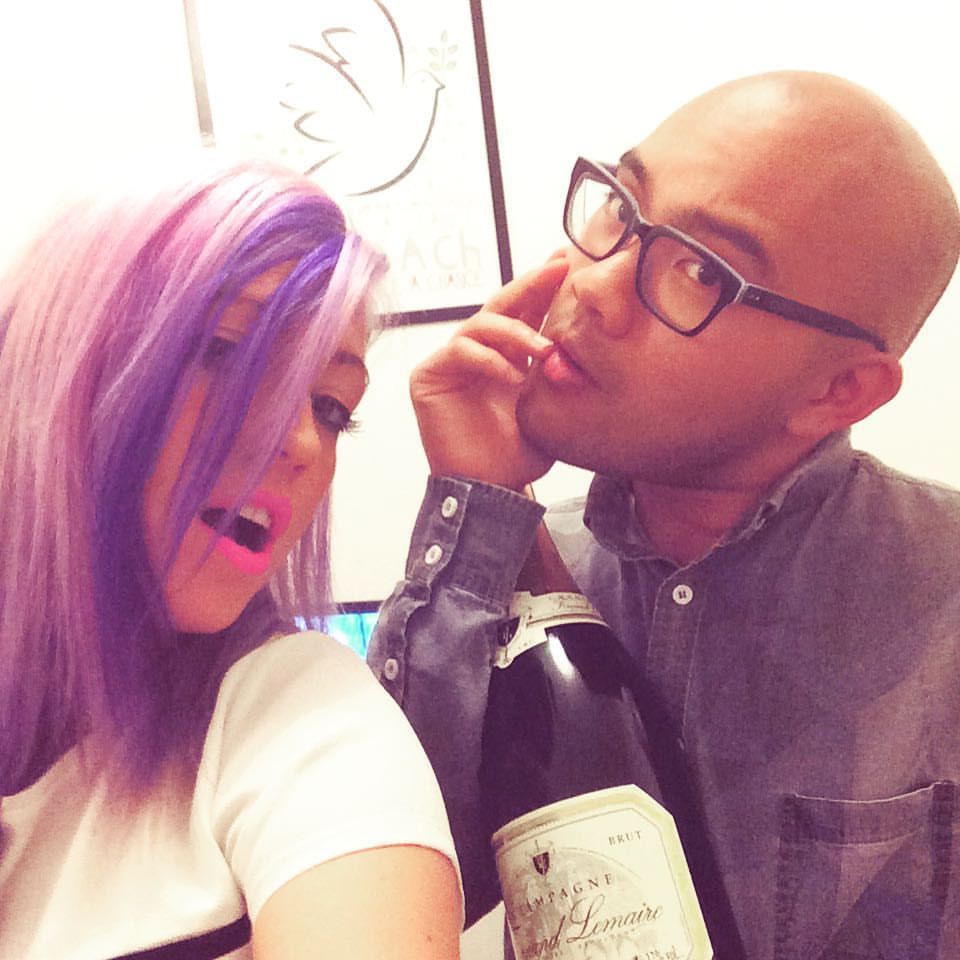 Nicolas Feuillate NV Champagne Brut (Champagne, France)
Green apples and pie crust. Forward and rather basic citrus on the palate with a hint of something cheesy on the ending. Mineral. Crisp and satisfying but maybe slightly bony.
Bougy-Moriset 2008 Blanc de Blancs Champagne Brut Nature (Champagne, France)
Baked apple, lemon tart pastries, and powdery banana candy. Showing age but still a teenager on the palate with bright slate and cutting citrus pith. Lemony acid and extroverted mouthfeel. Long.
Henriot 1998 "Cuvée des Enchanteleurs" Champagne (Champagne, France)
55% Chardonnay, 45% Pinot Noir. Butterscotch, stones, ripe-but-not-bruised apple, and caramelized pineapple. Aged but the brightness balances with the lemony and caramelized nutty entry that ends with a hug of blanched almond. Delicate and soft. Still lots of life.
Fernand Lemaire NV Champagne Brut (Champagne, France)
Roughly a third each of Chardonnay, Pinot Noir, and Pinot Meunier. Not super aromatic, but there's some baked red apple, along with yeast and petrichor. Lots of dusty mineral intensity on the palate, with precise yeasty characteristics and a savoury, relatively lengthy finish. Acid isn't too shrill.
Fernand Lemaire NV Blanc de Blancs Champagne (Champagne, France)
Much fruitier with intense apple notes amongst the yeasty flavours. Mouth-filling and volatile with some baked apple and pie crust on the palate. Not super piercing but that similar chalky texture on the palate. Savoury and long, with a citric conclusion.
Fernand Lemaire NV Rosé Champagne (Champagne, France)
Subtle red fruit and dusty stones. Fruity and subtle with lots of savoury bready flavour on the palate. Rounded acid, and of course, long.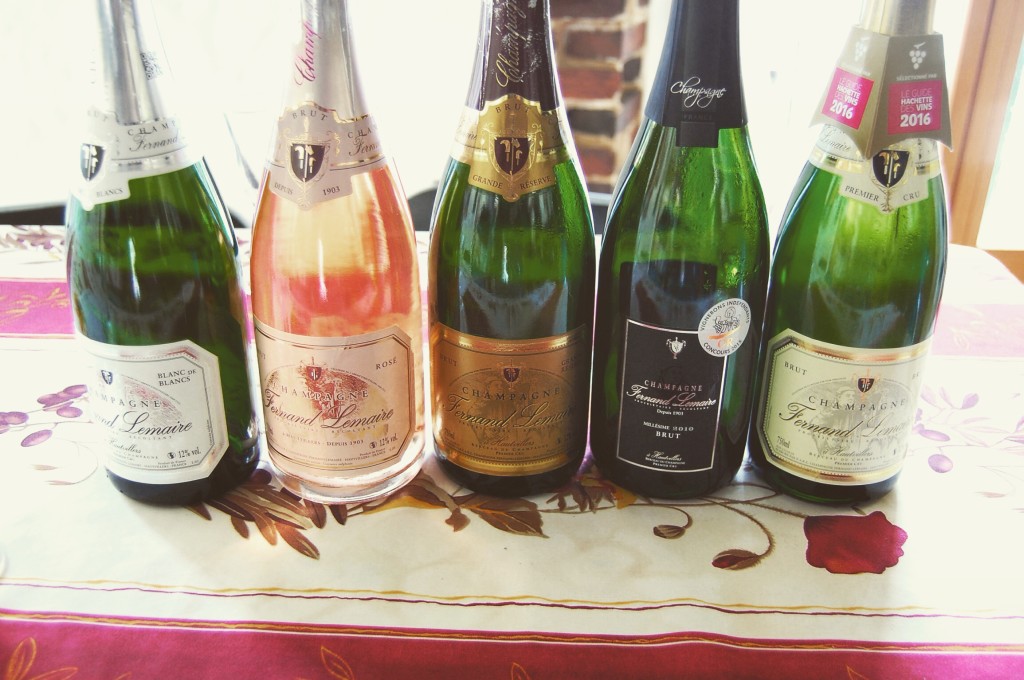 JM Gobillard NV Blanc de Noirs Champagne (Champagne, France)
Notably spicy nose with red apple and dried flowers. Bruised apple, mineral, and apple skin on the palate with soft pricks of mousse giving way to a brie-like finish. Round.
JM Gobillard NV Champagne Grand Réserve 1er Cru (Champagne, France)
Half Chardonnay, and then a quarter each of Pinot Noir and Pinot Meunier. Though not super open on the nose, there's a mouth-watering note of buttered cookies. Buttery yellow apple on the palate. Elegant and ethereal but with an intriguing atmosphere of meatiness on the palate. A bit waxy.
JM Gobillard NV "Privilège des Moines" Champagne (Champagne, France)
70% Chardonnay, 30% Pinot Noir. Hints of sourbough bread among the green apple and citrus-driven flavours. Sweaty nuts. Creamier bubbles, here, with much more smoke and nuts on the palate. Not my favourite style but undeniably round and well-balanced.
JM Gobillard 2011 Rosé Champagne Cuvée Prestige (Champagne, France)
Very pale salmon colour. Saignée method opposed to the blending of the Fernand Lemaire. Comparatively, this has similar flavours of subtle strawberry fruit and yeast, but it feels more complete throughout. Where this wine might lack in its length, it excels in more structured mousse and direct fruitiness.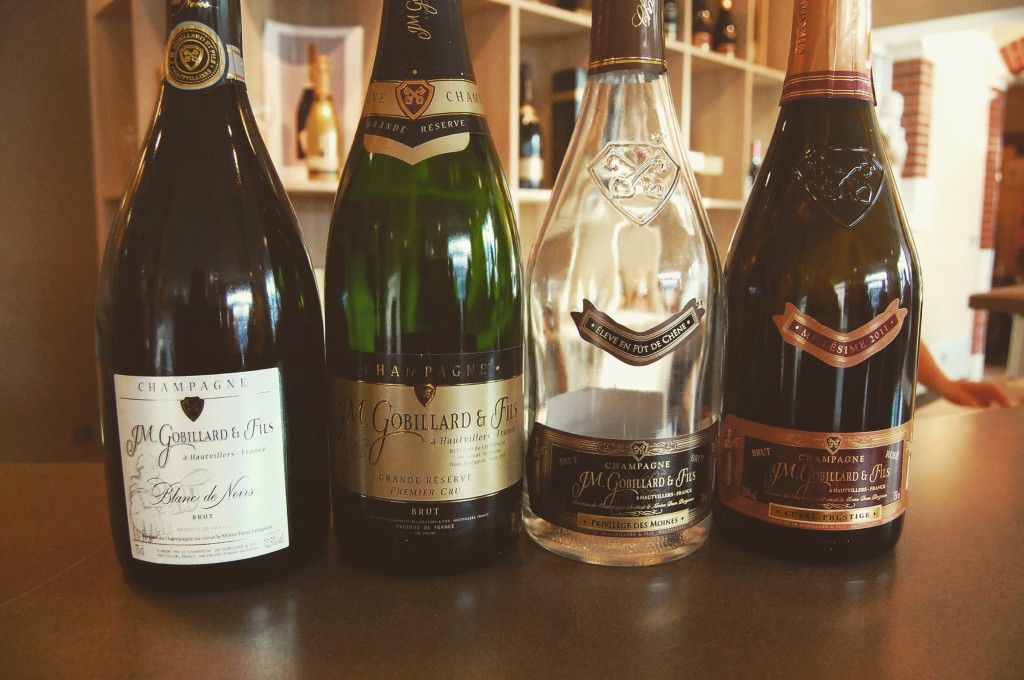 Taittinger NV Champagne Brut Réserve (Champagne, France)
60% Pinot Noir and Pinot Meunier; 40% Chardonnay. Sweet green apples on the nose. "Charming" would be the word to describe this on the palate. Soft and clean, with mouth-filling mousse and yeast. Fleshy and reliable. (I laughed.)
Taittinger 2008 Champagne Brut Millésimé (Champagne, France)
50% Chardonnay and 50% Pinot Noir. Still rather light on the nose but perhaps more biscuit and mineral. Definitely the most rich and intense of the Taittinger wines we've tried, with an interesting note of capers, cream cheese, and smoked salmon on white bread.
Taittinger NV Champagne Prestige Rosé (Champagne, France)
70% Pinot Noir and Pinot Meunier; 30% Chardonnay. A bit of dried strawberry and cherry along with hibiscus. Gentle mousse with well-woven yeastiness. The fruit on the palate grades into long and savoury flavours with hints of flowers.
Taittinger NV Grand Cru Prélude Champagne (Champagne, France)
50% Chardonnay and 50% Pinot Noir. Seemingly more gossamer than the other Taittinger wines. Hints of something herbaceous among the discernibly more mineral-driven flavours. The palate, though, is much more powerful with enthusiastic and almost clunky mousse that has more toasted bread to match.
Canard-Duchêne NV Champagne Authentic Brut (Champagne, France)
45% Pinot Noir, 35% Pinot Meunier, 20% Chardonnay. A bit muted on the nose, but there's mineral, red apple, and white peach. Apple blossoms and more suggestions to stone fruit on the palate. Slightly metallic.
GH Mumm 2006 Champagne Brut Millésimé (Champagne, France)
Mostly lemon curd and mushrooms sautéed in butter and sea salt. Full-flavoured, savoury, and hedonistic. Soft texture but bold with stony zest.
---
Although I didn't taste these last two in Reims, I sipped on them back home because of Champagne Day (plus vague celebratory reasons) and thought it would be appropriate to include them here:
Bollinger NV Champagne Spécial Cuvée (Champagne, France)
60% Pinot Noir, 25% Chardonnay, 15% Pinot Meunier. Yeast, white bread, red apple, nectarine, whispers of honey, and hints of buttered pie crust on the nose – even a subtle blanket of smoky minerality throughout. Creamy, even, and persistent, with the hints of roasted nuts and a white spray of fireworks giving way to an intense mineral backend.
Pol Roger NV Champagne Brut Réserve (Champagne, France) 375mL
A third each of Chardonnay, Pinot Noir, and Pinot Meunier. More precise and direct doughy notes on the nose joined by a hint of baking spice and seashells. Almost more green apple opposed to Bollinger's red, with chalk, white flowers, and vanilla that ends long and complete.