New York with Age; Brazil on the Page; Tuscany Backstage
There was another set of seminars: I had to choose between a study on South American wines, the range of Riesling grown in Alsace, or the aging potential of New York wines. When Brandon Seager – the Chair of the Winemaking Department at Tompkins College, Winemaker, and Finger Lakes Wine Country LGBT Ambassador (cool, I didn't even know that was a thing!) – used Brad Pitt analogies and pictures to explain the nuances of wine aging, I knew that I had chosen the right seminar. Huzzah.
The wines were what I was mostly looking forward to, especially the aged ice wine, which can be quite a divisive topic when it comes to cellaring wine. Opponents of the idea believe that ice wine is best drunk as fresh as possible, as fresh as newly-fallen snow to emphasize the bright and concentrated sweet flavours that bounce in the mouth with flashes of glitter and brightness. But our example was wonderfully delicious, with bright fruit replaced by more caramelized flavours. Perhaps I need to rethink my thoughts when it comes to cellaring Canadian ice wine. Experiments are in order, obvi.
Later that day, there was a casual tasting on the wines of the world. Brazilian wines? YES. Bring me there. And of course, I also decided to channel my energy into trying some Tuscan wines before the week's conclusion. I needed some of that Old World Sangio in my life to balance out the week on New York Riesling.
This will by my last post on the 2015 Wine Bloggers Conference, I think (phew!). I did count my tasting notes on the week and it looks like I had 190 in total, but I've cut it down to 133 due to some illegibility (duh…) among other reasons – which means, of course, that I'm skipping writing about some events. Which sucks! But it happens.
A great conference, and I can't wait for Lodi in 2016.
Hermann J. Weimer 2008 Dry Riesling (Finger Lakes, New York)
Medium lemon. Aromatics led by lime, citrus zest, and lots of a smoky chalky slaty character. That moment between dry and off-dry; there's more fruit on the palate expressed as zippy peach that dances on the tongue. Almost like hard candy. A bit shorter than I expected but still delicious.
Dr. Konstantin Frank 2008 Semi Dry Riesling (Finger Lakes, New York)
Golden hue. Jammy apricots on the nose along with chalk and a scent I can only describe as weird flowers. Medium dry and with fruit that's trying to claw its way through the refreshing acid. Honeyed at the end.
Hazlitt 1852 Vineyards 2005 Cabernet Franc (Finger Lakes, New York)
Medium garnet. Mint and green pepper, along with dark chocolate, dried raspberries, soil, and a hint of soy sauce. Dry and velvety, bordering on the fuller side of things, with lighter slightly chalky tannin. Long and suede-like.
Casa Larga 2005 Fiori Delle Stelle Vidal Ice Wine (Finger Lakes, New York)
Medium amber colour. Blast of caramelized mango and a bit of smoked fish (this combination: Philippines, is that you?). Luscious with mouth-coating tropical fruit cooked in brown sugar. Long, and the acid doesn't fail to illuminate the wine.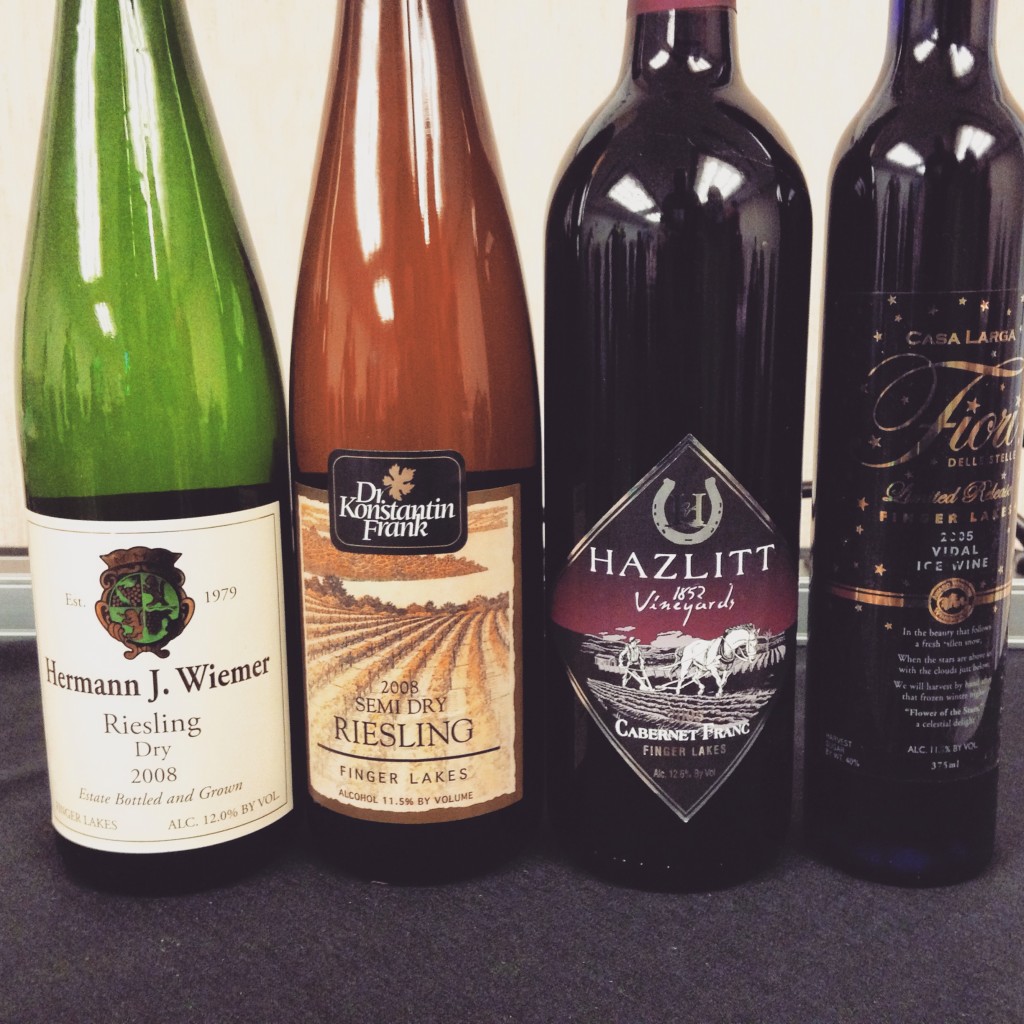 Salton Brut (Serra Gaúcha, Brazil)
Perfumed with lots of flowers and peach; off-dry and savoury with creamy mousse.
Salton 2012 "Intenso" Cabernet Franc (Campanha, Brazil)
Cherry cola with hints of herbs. A bit sticky but pleasantly soft and warm.
Salton 2012 "Intenso" Tannat (Campanha, Brazil)
Earth, dark fruit, and blackberry skin; quite ripe in fruit with slightly chalky tannins. Quite open-knit with fair amounts of glitz and glitter.
Salton 2009 "Talento" (Campanha and Serra Gaúcha, Brazil)
Cabernet Sauvignon, Merlot, and Tannat. All of plums, mint, and spice. Very ripe and open, even unashamed and naked. Savoury. A bit over the brim.
Villa Trasqua 2013 Toscana Rosso (Toscana, Italy)
Mostly Sangiovese with just a pinch of Alicante Bouschet. Though mainly consisting of dried red fruit, it's very soft, welcoming, and smiling. Almost seems un-Sangiovese-like but not without a bit of Italian scratch to the texture.
Villa Trasqua 2011 "Evoluto" Chianti Classico (Chianti Classico, Toscana, Italy)
95% Sangiovese with Colorino and Malvasia Nera. 18 months in Slavonian oak. Mostly sweaty plums, red fruit, cherry, and dried herbs. Ripe fruit contributing to the roundness, with a substantial amount of chalky structure.
Villa Trasqua 2009 "Fanatico" Chianti Classico Riserva (Chianti Classico, Toscana, Italy)
100% Sangio. More spice, smoke, and fruit that tends over to the darker side of things. At this age it seems on its way to loosening the ripe tannin, but it's still quite alive and ripe on the palate.
Villa Trasqua 2007 "Nerento" Chianti Classico Riserva Gran Selezione (Chianti Classico, Toscana, Italy)
100% Sangiovese; low yields, double guyot, and 30 months ageing. Gran Selezione: Chianti Classico's relatively new designation involving estate fruit and 30 months of ageing. Here we go. There's a concentrated purity of that sour cherry Sangiovese sass that I seek. Some spice and tomato leaf but also some nice balancing fruit sweetness on the palate. Chalky textural love. Yes.
Villa Trasqua 2008 "Trasgaia" Toscana Rosso (Toscana, Italy)
Cabernet Sauvignon, Cabernet Franc, and Sangiovese. Sweaty leather, nuts, cooked red fruit, and dried herbs. Very much open, extroverted and with a velvety texture that's balanced well with the tannic roughness. A pleasant hint of cooked veg on the palate.
Villa Trasqua 2008 "Trasolo" Toscana Rosso (Toscana, Italy)
100% Merlot. Dark fruit, smoke, and earth. Ripe black fruits on the palate with a substantial amount of tannin. Savoury. A big mouth-filling bear hug.