"The Fizzyology of Lambrusco"
There's something about Lambrusco I'm not totally drawn to, despite its joyful distinctive sparkling red incarnation (or more infrequently, rosé, and even more infrequently, white). It might be because, at face value, its red form seems like a combination of competing textures, like bubble wrap made out of velvet, or carbonated lube. I once wrote an in-class essay on how Lambrusco – and other sparkling reds, really – are going to be the next ~big thing~ after Prosecco, because something something Millennials something 80s revival something something. Like Christina Aguilera sampling a-ha. Indeed, the Lambrusco cycle is apparently rotating back to the side of popularity.
"Trust me. Just try it with food," is the everlasting Lambrusco (Lambruscan?) promise that I never trusted until this seminar, because there's something about the enigmatic wine that adds some weird dimension to the meats and cheeses we had, something that's hard to put into words. Maybe it's the synergetic chaos that livens up the pairing – tannin, bubble, acid, fruit, meat, and salt – like the moments of bliss during a turbulent rock concert, or the moments of bizarre satisfying release when an ugly jazzy diminished triad is resolved. They've clearly honed the pairings in Emilia-Romagna, the food capital of Italy.
There are something like 13 main varieties of Lambrusco, each with their own quirks. The thicker-skinned Salamino, for example, is the most aromatic and prefers soils of sand, silt, and clay; its oft-blending partner Lambrusco di Sorbara is also prized for its richness and harmony, but prefers sandy soils. And so on: Grasparossa is a fuller version whose leaves turn red; Marani adds toothy brightness and braun though it's sensitive to frost (like some people I know); Maestri is the adaptable workhorse; and Montericco is the berry-scented, supple, and increasingly rare sibling. Though Ancellotta is technically not a sub-variety of Lambrusco, it can add colour and some roundness to what might be a lighter-coloured must.
But the most important fact is that Lambrusco Salamino was named as such because its grape bunches look like small salamis. Duh.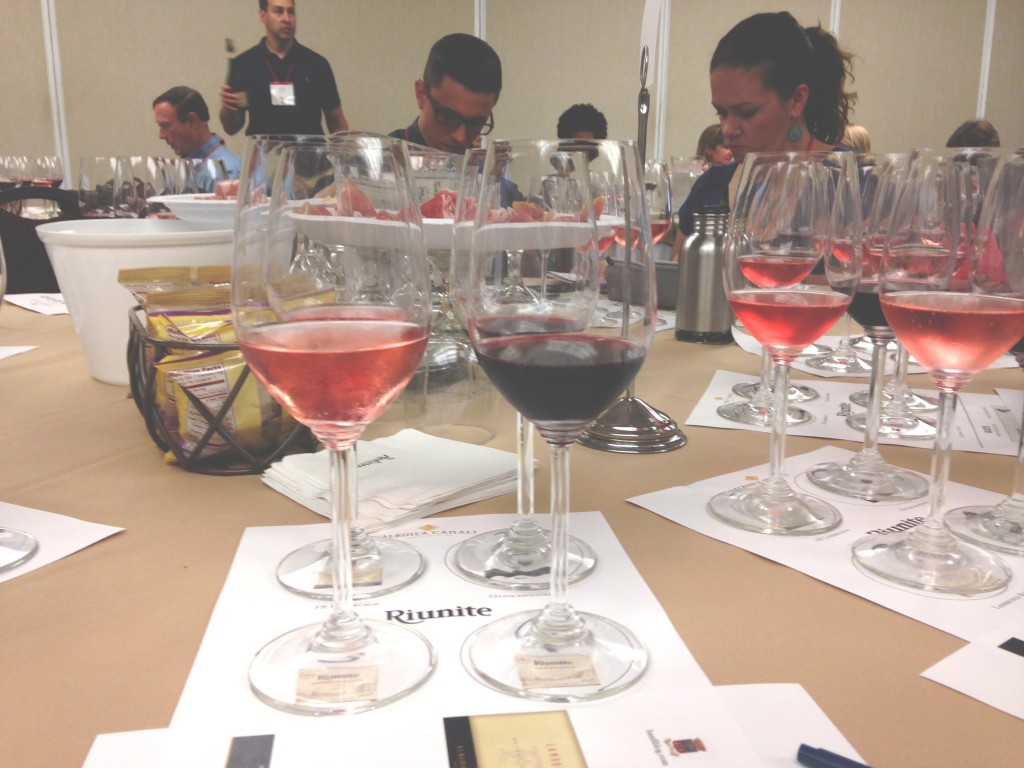 "The Fizzyology of Lambrusco" was part of the first set of wine sessions at WBC15: other simultaneous seminars involved ones on Ribera del Duero and Rueda which seemed cool but dull in my present mood, and then a seminar on New York Riesling which sounded just a hint redundant because we would have plenty of time for that anyway. So, I decided on the Lambrusco sesh (hosted by Banfi Wines), mostly because it's hard to get your hands on much of its subtle variations in BC. And because bubbles.
Albinea Canali "FB" Lambrusco Metodo Ancestrale (Emilia IGT, Emilia-Romagna, Italy)
100% Lambrusco Sorbara; ancestral method. Sweet strawberries and hints of bread crust on the nose. Dry, tart, and flinty. Small angular jabs on the palate to match the refreshing acid. Really livens up the savoury mortadella, prosciutto, and parmesean.
Albinea Canali "Ottocentonero" Lambrusco (Emilia IGT, Emilia-Romagna, Italy)
Lambrusco Salamino (50%), Lambrusco Grasparossa (40%), and Lancellotta (10%). Deep purple hue, with dusty dark berry skin on the nose to match the dried flowers on the palate.Dry with soft tannin; not as refreshing but still playful and burly.
Riunite Lambrusco Rosé (Emilia IGT, Emilia-Romagna, Italy)
Lambrusco Salamino and Lambrusco Marani. Less fruit on the nose with something slightly sickly citrusy, reminiscent of berry-flavoured Sprite. Medium dry but with a fair amount of gentle lemon-lime acid. Floral, soda-like, and worthy of thoughtless guzzling.
Riunite Lambrusco (Emilia IGT, Emilia-Romagna, Italy)
Lambrusco of Maestri, Marani, Montericco and Salamino; Lancellotta. Medium dry and a bit more stinky and reductive compared to the other examples; meaty, even. Not super aromatic but no shortage of juicy earthy dark berry fruit.
Bell'Agio Lambrusco (Emilia IGT, Emilia-Romagna, Italy)
Lambrusco Salamino and Lambrusco Grasparossa. Glass-staining deep purple. Rather quiet on the nose but there's some dried violets and dark berry skin found in previous examples but with a bit more tar, texture, and concentration.