Exams and grand slams
It's done. I've completed (or performed, rather, since we'll find out whether or not I've actually completed the thing come September) the last unit I needed to complete for the WSET Diploma! I'm tempted to prance around maniacally while getting drunk really quickly on this fantastically sunny day, but September will have to wait for even bigger celebrations, I suppose. Which calls for fancy Cava instead of Champagne, maybe?! I mean, no, of course, but I bought this already so let's.
In a couple of days I envision myself in a state of academic and mental paralysis. I will have a weird need to study, and I will give in. Someone make me watch a TV series or something!
Alta Alella "Laietà" 2011 Gran Reserva Brut Nature Cava (Cava, Spain): Fresh, lemon curd, some earth, yeast, blanched almonds, and sea spray. Slightly more expressive on the palate, with gentle bubbles giving way to earth and lemony brightness; perhaps a bit of a slightly biscuity finish. $45 before tax is more than a bit of a stretch, not gonna lie. Perhaps needs more bottle time: only disgorged on December 12, 2014. Also, the bottle. I can't fit this shit into my fridge so I guess I'm going to have to drink it all (whatever) and I feel like it needs to be poured by a metallic person from Tron.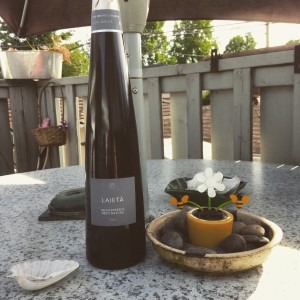 Will post like an actual post on how the test was when I'm allowed to, because apparently we're not supposed to talk about its confidential ingredients until 48 sweet hours have elapsed, or something.
Other wines from the recent past that I couldn't really post because studying etc etc:
Lock & Worth 2012 "Square One" Cabernet Franc (Okanagan, BC, Canada): bruised raspberries, cassis, flowers – petals, leaves and the garden soil it was rooted to. There's a bit more herbaceousness on the palate with plenty of earth and chalky structure. Concentrated and brooding. Meaty, even.
Cuvée Flore "Selection Prestige" Vin de France (France): by Barsalou, I think? Non-vintage. If I remember correctly, this is dominated by Carignan with the rest fleshed out by Grenache. Not a fan of the combination in theory but the price swayed me – earth, some dried plum. Feeble, with some structure wrapped around nothing. Hot alcohol on the finish for some reason, but I'm giving the wine the benefit of the doubt because maybe my body is just shocked that I'm drinking at 2PM. Maybe some carbonic on here?
Clos du Soleil 2014 Fumé Blanc (Okanagan, BC, Canada): My best friend insisted we order a bottle of something at the restaurant we were at. Not obviously oaked, but pleasing and round with mostly grapefruit and some citrus. I'm a little distracted because I'm pretty sure I see mayor Gregor Robertson at another table and I keep glancing like a total creep. Also: The Acorn on Main Street. Do it.
Domaine de Grachies 2013 Côtes de Gascogne (Côtes de Gascogne, South West France): Post-study wine (northwest Italy), but pre-Friday night wine. I'm wondering how I even thought half a bottle was a good before living a Sia pre-chorus, but I suppose 11.5% ABV is a nice gateway to lagers and shots. A little less fruity than last vintage, with more of a taut balance between grassy grapefruit and mineral. Bright but not blinding. That summer day blurry definition between afternoon and evening.
Vecchia Cantina 2013 Chianti (Chianti, Tuscany, Italy): #Basic, which isn't saying much for the sub-20 Chianti in this market (that I've discovered so far, anyway), but I'll say that it's varietally correct. Red fruit, flowers, and mineral on the nose, with a fair bit of chalky structure on the palate which adds body to something a bit light.
Nichol 2012 9 Mile Red (Okanagan, BC, Canada): Blend of St. Laurent and Pinot Noir. Black cherries, potpourri, and ash, giving way to slightly riper fruit on the palate with fine tannin and juicy cranberry acidity. An example of a concentrated and ballsy red that's still intrinsically lithe.
Two Oceans 2013 Cabernet Sauvignon Merlot (South Africa): Ashy cassis and some cooked plums and mint. Fair amount of intensity and low acid warmth if not lacking a bit of concentration, structure, or finish. Good value.
d'Arenberg 2013 Money Spider Roussanne (McLaren Vale, South Australia): Idk It's been a long day. Aromatic nose of something sweet and leafy and dusty and tropical and nutty. Ripe palate borders on off-dry with moderate structure and a really pleasant savoury bitterness that balances out the sunshine.