Pre-Vancouver International Wine Fest 2015
Days are leading up to the wine fest. Not that it's daunting or anything – if that's how I'm making it seem – but I'm purposefully not training my palate for the Shiraz-fest to come in favour of gracing my mouth with more refreshing whites. I'm sort of mirroring the sunny weather we've been having in the form of alcohol, and I find that it also helps to have some inspiring wine when you feel anything but. Yesterday's Martin Códax "Burgáns" 2010 Rías Baixas ($25) was just that – perhaps not as fresh as it should be at that age, but bringing an unintentional spotlight to its funky hint of brine, along with something that seemed a bit nutty and yeasty amongst its peachy fruit. It was fantastic but it was one of those nights that just was PBR-ish? And so I quit midway through the bottle to have one because I was "going light on the drinking".
I'm studying Germany as hardcore as I can, and Rías Baixas just didn't feel right – sometimes you read about how fantastic German wines are and your mouth just waters all night? Plus, I'm hoping the bit of residual sugar in this Riesling will break this vicious cycle of sleeping unnecessarily late and waking up to Iggy Azalea in the morning, with the bit of sugar rush it'll ephemerally give me. The Bischöflische Weingüter Trier 2011 Scharzhofberger Riesling Kabinett ($35) is mitigating my thirst for German Riesling quite well, with honeyed petrichor (lol), citrus rind, and hints of tropical fruit on the nose leading to more extroverted and intense fresh peach, hints of pith, and a narrow bit of oiliness on the palate. The acid isn't super nervy but the whole thing is super concentrated and poised. SO into it. I'm sipping this as I play Guess Who with Taylor on Skype, because we're amazing, and studying long German place names at midnight gets a bit dreary and gross.
Sometimes wine is all about the company you're with and the friends – or family! – to which they lead you, admittedly. I was at a friend's place a couple of nights ago. I'm working on numerous blog posts about our drunken recaps, but because they're fantastic humans, I'll post this here: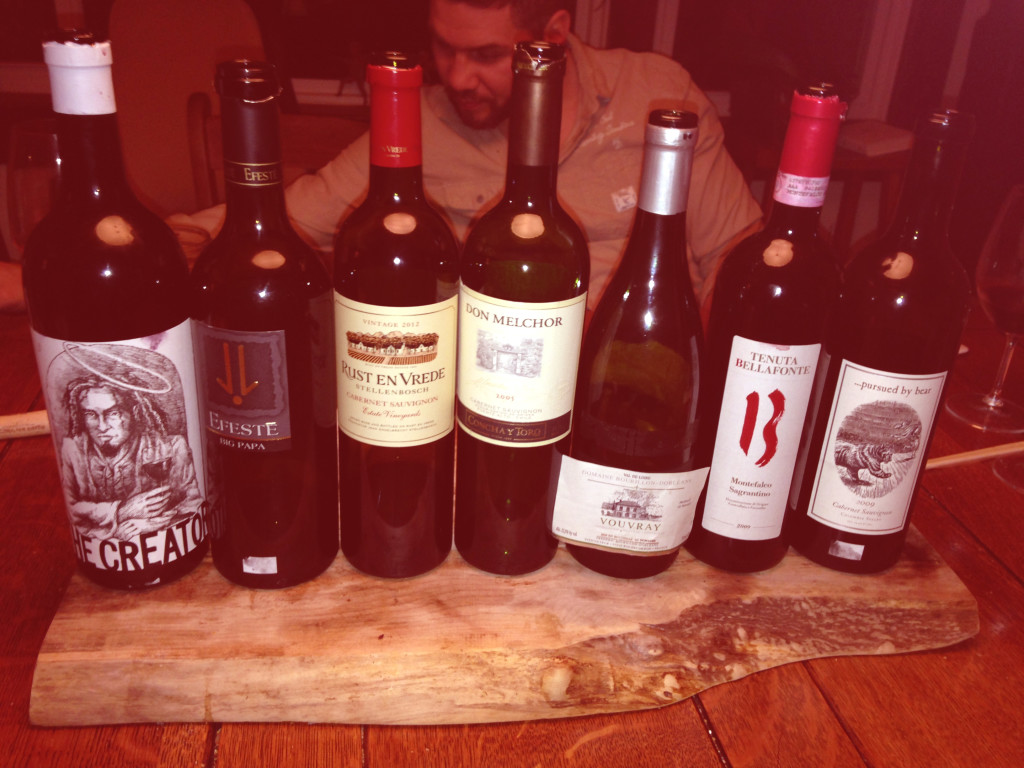 The story of how Chris and I met is a good one. I'll leave that for later.
Fantastic home cooking always complements the thematic wines we choose. And though our New World night was refreshed by a 1989 Vouvray and a spicy Sagrantino di Montefalco (and an over-the-hill 1980 Riesling, unfortunately), our flight turned out to be happily varied within our full-bodied spectrum. The K Vinters 2011 "The Creator" by Charles Smith is a 70-30 blend of Cabernet Sauvignon and Syrah: distinctly more finessed in texture and body than I expected, but black pepper and dark fruits seem correct. I almost feel dirty saying that the hedonistic and fuller Efeste 2010 "Big Papa" Cabernet Sauvignon, in the moment, matches my taste a little more, with lots of fresh cassis, bits of herbs, some pleasant smoked cabbage, dried flowers, and a healthy dose of oak that feels like it shouldn't please me at all in theory, but it's making my head spin. Outstanding structure that frames the volume. Sort of like a good pair of headphones.
I'm remembering delicious truffle honey. Which I may have made a mess of. Oops.
My bottle is next, and it's a blind wine that I'm meek about serving right after two big beasts, but I do it anyway: in terms of weight it's somewhere in the middle of the first two but has its own set of wheels, with a bit more of a subdued oaky frame and a bit more of an ashier finish. I'm into it, and there are mostly guesses of Australian Shiraz. Rust en Vrede 2012 "Estate Vineyards" Cabernet Sauvignon!
Now, Ivan's bottles: we attempt to open the 1980 Riesling from the Rheinpfalz but it's muddy and brown and lifeless, confirmed by a taste and grimace. It's unfortunate, but the clean cork of the Domaine Bourillon-Dorléans 1989 Vouvray puts a smile on my face. It's all honey, almonds, and bruised apples on the nose, with a pillowy medium sweetness swimming through the aged acid. Intense. Marmalade. Ugh.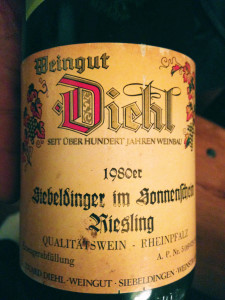 Jeff brings out a blind bottle, but alcohol breaks locks and we're able to squeeze some hints out of him (South America!). Pronounced black fruit on the nose, and a weird smoky character that somehow reminds me of peaty scotch. It's inky and earthy. Fuller body and moderate acid, but generally pretty brawny. Malbec, I guessed, from Argentina, but it was the Concha y Toro 2005 "Don Melchior" Cabernet Sauvignon, definitely showing signs of age but surprisingly displaying a lot of life.
At this point my notes are getting shorter and shorter as synapses in my brain are beginning to fire less often, and all I can tell from my inebriated scribble is that I quite enjoyed Lu's Tenuta Bellafonte 2009 Sagrantino Montefalco. Spicy, red fruit, earthy surface, but with some acid and lift to its body. Refreshing. Glad to see something relatively obscure!
We end with the Pursued by Bear 2009 Cabernet Sauvignon which decidedly has the best label but has a bit of a sad story behind it. I'm enjoying it throughly and it's what I stick to for the rest of the night (besides periodic refreshments of Vouvray) as we exchange stories about how screwed up the world is. But we're in here, safe, drinking fantastic wine, so it's calming. I remember having two helpings of ice cream, and from there, it's a pleasant and happy blur.