"Hot & Bothered" – Oh Land: Jean Foillard 2011 "Côte du Py" Morgon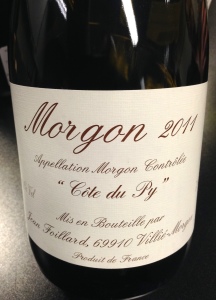 [Tasted during WSET Diploma – Unit 3 – Week 8: Burgundy]
There's something really funky and weird about this wine, in an awesome way (though what isn't funky and weird in Racine's portfolio?). It's strange for it to be introduced in class as our benchmark example of Beaujolais, with this eccentric combination of raspberry lambic beer, garden soil, a mouthful of red fruit, and a hint of spice and dirty socks. Not typical or traditional, in my opinion, but really cool, and I most certainly hope that something funky and sort of new age, for Beaujolais, strikes the fancy of more consumers. A pipe dream, perhaps, because I've heard this described as a wine that would get hipsters in New York hot and heavy. I'm not sure if that's a positive thing but I'm into it.
This style of Beaujolais is obviously deeper in colour and more concentrated than its younger brothers and sisters at the Villages level and lower. There's a bit more grit here than you would expect (though Gamay usually ends up being a bit more tannic than people think), and there are similar flavours on the palate, the texture being quite lush and velvety.
Also had this at the Blind Tasting Seminar led by the Guild of Sommeliers just a couple of weeks ago. It was discussed as a style of Beaujolais that wasn't super typical – and half the room wasn't really into it, but I loved it.
Tasting Note:
Eyes: clear, med+ ruby, legs
Nose: clean, youthful, pronounced intensity, red fruit, yeast, sour cherry, earth, black pepper, funky, floral, spice, game, dried red fruit, hint of dirty socks
Mouth: dry, med- to med body, med+ intensity, med+ acid, med+ chalky tannin, red fruit, black cherry, raspberry, hint candied red fruit, med alcohol, med+ length
All in all: Very good quality: although perhaps too funky for some, the complex Cru Beaujolais had great balance between fruit and structure, and the velvety mouthfeel showed intensity and concentration. Good length. Drink now: not suitable for ageing or further ageing.
Producer: Jean Foillard
Designation: "Côte du Py"
Region: France
Sub-Region: Morgon AOP, Beaujolais
Variety: Gamay
ABV: 13%
Vintage: 2011
Tasted: December 8, 2014
Price: $42