Staff paper: Louis Latour 2012 Bourgogne Chardonnay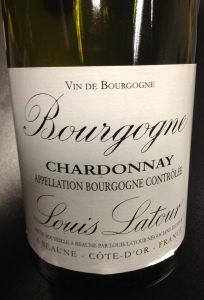 [Tasted during WSET Diploma – Unit 3 – Week 8: Burgundy]
We kick off our Burgundy sesh with two basic, well, Burgundies, in order to prime our mouths and ideas as to what Burgundy is and what the basic examples taste like compared to more premium examples.
Neutral, but irritatingly so. We kept samples of this wine when we tasted other whites, and it seemed like this wine had just a bit more of a sulphited character (matchsticks et al) in comparison – though perhaps it was just the lack of concentration on the nose that made it more evident.
I'm bad at picking up oak, but apparently there were bits of it on the nose, along with mineral, vague hints of green fruit, green apple, pear, and citrus. A bit of creaminess on the palate adds something fun but that's about it, and we get the same monotony on the palate. I mean, at least it's definitively Chardonnay – I'll give it that much. $25 is a stretch for something basic.
Tasting Note:
Eyes: clear, pale lemon, legs
Nose: clean, youthful, med- intensity, mineral, green fruit, green apple, citrus, pear, hint oak, hint malo
Mouth: dry, med body, med intensity, med acid, med alcohol, mineral, citrus, apple, green fruit, med length, hint savoury, hint butter, hint oak
All in all: Good quality: the wine is distinctively Chardonnay with an muted aromatics and creamy texture, the latter which adds complexity, along with its hint of savouriness. Though textured, the wine isn't very characterful otherwise, nor is the length quite persistent. Drink now: not suitable for ageing or further ageing.

Producer: Louis Latour
Designation: N/A
Region: France
Sub-Region: Burgundy
Variety: Chardonnay
ABV: 13%
Vintage: 2012
Tasted: December 8, 2014
Price: $25