Eucalyptus meets leather: Wynns 2005 "John Riddoch" Cabernet Sauvignon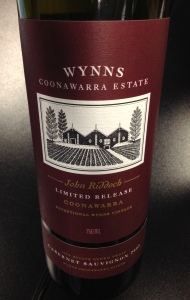 [Tasted during WSET Diploma – Unit 3 – Week 7: Australia]
For me, it's hard to find aged examples of these big wines (in our market, anyways) that seem like they're more appealing when they're big and fresh and loud, but it's always interesting to see what happens to the volume over time. In this case, the deep garnet wine gave notes of big black fruit, cola, mint, and eucalyptus, but there were also evolved notes of soy, leather, and coffee. Full-bodied and viscous, and surprisingly still fresh on the palate with distinct acidity and pronounced but fine tannins. The finish was slightly clunky, where there was a hint of a funky metallic thing going on, but overall I was quite pleased.
One of my most memorable moments with Coonawarra Cabernet Sauvignon (well, my only perhaps) was during a weekly tasting as part of the FNH 330 (Wine Appreciation) course at UBC, years ago, where the professor had the TAs pour us a Cabernet Sauvignon. It was from Chile, purportedly, but I sent out some e-mails and found out that the professor had blended a Chilean Cab ("too oaky and lacking some fruit") with a Coonawarra Cab ("too fruity and lacking some oak"). Barely forgivable, in my opinion, especially after another student said he smelt eucalyptus in his wine, and then was shot down by the TA, followed by light mocking from other students: but anyone who's familiar with Coonawarra Cab knows that eucalyptus is a benchmark aroma. I understand that the prof wanted to find a pure expression of Cab, but I think that was a contrived and ridiculous method of doing it, especially for a product that's so based in its origins. And damn, that one student had a pretty good nose.
Ha. I'm not sure what the point of that story was, besides to point out a story that included Coonawarra Cab and maybe an excuse to complain about random things, but I did lead a guest lecture at UBC on wine in this past week, so I've done my counter-duty to get students excited about wine. Huzzah!
Wynns also makes a regular Cabernet Sauvignon that recently switched over from the 2008 vintage to the 2012 vintage. The 2008 was fantastic at the low 30-dollar price point and I would definitely suggest snatching up whatever bottles you can find.
Tasting Note:
Eyes: clear, deep garnet, legs
Nose: clean, med+ intensity, developing, black fruit, earth, leather, hint soy, cola, cassis, blackberry, spice, black pepper, mint, hint coffee, oak
Mouth: dry, full-bodied, med+ intensity, spice, leather, med+ acidity, med+ alcohol, spice, hint green pepper, baked blackberry, pronounced fine tannin, oak, med+ length, licorice, hint tangy/metallic finish
All in all: Very good quality: a burly wine stomps through with intense and concentrated fruit while retaining structure and balance. The wine is complex, but has a slightly clunky yet relatively long finish. Drink now: not suitable for ageing or further ageing.
Identity Guess: Premium-priced Cabernet Sauvignon from Barossa Valley, Southern Australia; 8 years old.
Is really: Premium-priced Cabernet Sauvignon from Barossa Valley, Southern Australia; 9 years old.
Producer: Wynns
Designation: "John Riddoch"
Region: Australia
Sub-Region: Barossa, Southern Australia
Variety: Cabernet Sauvignon
ABV: 14.5%
Vintage: 2005
Tasted: December 1, 2014
Price: ~$75