Cancelled plans: Brunel 2012 "La Gardine" Côtes du Rhône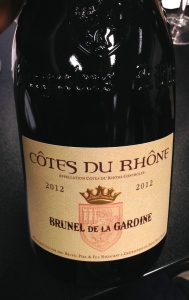 [Tasted during WSET Diploma – Unit 3 – Week 6: Rhône]
In our flight of a rosé (obviously Tavel, being in a Rhône-themed class) and four reds, this was the penultimate wine of our tasting. Everyone in the room had the middle three muddled up because they were the most similar. Perhaps three levels of Côtes du Rhone blends, we all thought.
I surmised that this was the lowest quality out of the three middle wines we tasted. In the wine's defence, it probably tasted washed out because of the two bulkier blends before it. I thought it was less than ordinary at only the acceptable level: though it had peppery fruit on the nose, the palate just seemed less vibrant and rather light despite the high alcohol, like someone decided to go to a party and then cancel right when it started.
Some classmates agreed, but the instructor said that this was actually rather good for a Côtes du Rhone. Maybe I'm just not a Côtes du Rhone kinda guy, but then again, their grape proportions and styles can vary widely depending on the producer.
Tasting Note:
Eyes: clear, deep ruby, legs
Nose: clean, med+ intensity, youthful, dried herbs, earth, black fruit, dried fruit, blackberry, black pepper, hint perfume
Mouth: dry, med body, med- intensity, med chalky tannin, med alcohol, black fruit, earth, med- length, (forgot to note down acid)
All in all: (Acceptable to) Good quality: the nose has expressive aromas and some level of flavour on the palate, but the finish is relatively short, and the wine misses some intensity and complexity. Drink now: not suitable for ageing or further ageing.
Identity Guess: Mid-priced Côtes du Rhône from Rhône Valley, France; 2 years old.
Is really: Mid-priced Côtes du Rhône from Rhône Valley, France; 2 years old.
Producer: Brunel
Designation: "La Gardine"
Region: France
Sub-Region: Côtes du Rhône AOP, Rhône Valley
Variety: Grenache (65%) Mourvèdre (25%), Syrah (15%)
ABV: 14.5%
Vintage: 2012
Tasted: November 24, 2014
Price: $20