Tonight's vote-watch wine: La Monacesca 2012 Verdicchio di Matelica
Today (Nov. 15) was the municipal election in Vancouver. I had to work in the morning, so I had the option of heading to the polling station either before or after work. I decided that the former option was better, so I arrived shortly after the nearby polling station was open. Though I spotted a roll of "I voted!" stickers, I was for some reason not offered one, and then I remembered that it was 8AM on a Saturday morning and I probably looked like a troll who was able to make high heel shoe-esque sounds with ratty sneakers that boomed throughout the solemn elementary school gym. I was given shifty looks, as if the workers were definitely sure I was going to write "penis" 300 times all over the ballot. I didn't, by the way.
Is anybody else sitting at home with a glass of wine on a Saturday night just refreshing results pages or nah #cityvotes2014 #vanpoli

— Joshua Decolongon (@joshlikeswine) November 16, 2014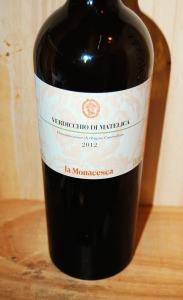 I haven't had wine in the past few days. So I'm going to drink this and pretend that it's representative of the election or something. I'm currently refreshing a results page and watching this one particular Twitter page like a hawk. Is this what listening to hockey on the radio feels like?
The wine is distinctly floral and full of savoury minerality, like a cross between a young Loire Chenin Blanc and an old world Viognier. The slightly weighty palate has exuberant peaches and slices of citrus that are blanketed by stones and flowers, evolving into a walnut pastry sort of finish. Lees ageing adds just a bit of girth and makes the palate glow with some fleshiness, which was much more evident and enjoyable closer to room temperature, where I found the savouriness toned down to balance with the fruit. Here's the spec sheet, and here's the chef's pairing suggestion. Jesus – you know I can't resist a deliciously blurry maccheroncini.
Verdicchio isn't a grape you hear of regularly, and it often gets lost in the barrage of the underdog multisyllables of Italy, like Vermentino, Catarratto, Falanghina, Grechetto, and Erbaluce. Verdicchio's home is in the Marche region of Italy, where two DOCs reign supreme: the saintly-sounding Verdicchio dei Castelli di Jesi, and the satanic-sounding ("but it's not, mom, I swear") Verdicchio di Matelica. La Monacesca is highlighted in Jancis Robinson's Wine Grapes as a producer for the appellation (and more specifically for the Mirum label), and it's something I have yet to try, along with the DOCG Riserva versions of the stated appellations. It's hardly what everyone votes for, I suppose. Verdicchio for mayor!
Tasting Note:
Eyes: clear, pale lemon, legs
Nose: clean, med+ intensity, youthful, mineral, hint mushroom, floral, citrus, stone fruit, peach, honeysuckle, lees
Mouth: dry, med+ body, med acid, med+ alcohol, med+ intensity, mineral, savoury, wet wool, floral, stones, citrus, stone fruit, peach, nectarine, honeysuckle, citrus rind, walnuts, pastry, wax, med+ length
Producer: la Monacesca
Designation: N/A
Region: Italy
Sub-Region: Verdicchio di Matelica DOC, Marche
Variety: Verdicchio
ABV: 13.5%
Vintage: 2012
Tasted: November 15, 2014
Price: $30