Château le Puy 2009 "Expression Originale du Terroir"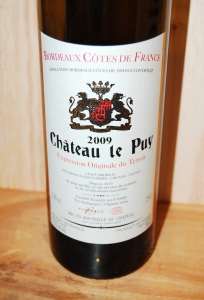 I've finally finished doing the Bordeaux portion for the WSET diploma, but that's just mostly note-taking and reading. I still need time to dedicate the thick pages to memory, but I thought I'd hold a mini-celebration and open a bottle of Bordeaux, anyways. It's just an excuse to drink, really. Tomorrow I'm sure I'll find a dirty quarter on the ground, and it'll be an excuse to open a beer.
I bought this guy months and months ago while needlessly going on a wine shopping spree at some other store. It was the last bottle they had of it (I'm always a sucker for things like that), and it was somehow mentioned in Drops of God, which is a wine-themed manga I have yet to read. I've had this particular wine described to me as "liquid clay", and I imagined this really cool fluid earthiness that would smell like crushed Gastown bricks on fresh Commercial Drive garden soil, coming together to make some sort of bottled East Van (though Parallel 49 has pretty much covered that in visual form) – the wine obviously has more fruit than I skeptically imagined.
The back of the bottle claims that the wine was bottled on a waning moon. Part of me wants to not care, but I really do, and I'm not sure if I should hate myself in some way for falling for that kind of marketing. It's kinda romantic.
The wine is a little light than I expected for an opulent year, or perhaps my expectations were simply in the wrong ballpark. But if I were to compare it to a wine I've had recently, it slightly resembles an aged Pomerol. The colour is starting to develop from the five years of age; the body is medium at most, and perhaps slightly below that. It's also showing hints of development, with bits of leather showing against the mostly baked and dried plum-driven fruit. Subtle oak, though the back claims two years. I really like the intensity, here, and structure is also rather subtle. It's definitely an early-maturing style: can't develop a better kingdom if you don't have the walls, so cash it in.
Not sure what the blend is, but it's most certainly Merlot-dominated, and the wine is produced from organically-grown grapes.
Bottled on a waning moon, though.
Tasting Note:
Eyes: mostly clear with slight haze, med+ ruby, garnet rim, legs
Nose: clean, pronounced intensity, developing, earth, mineral, red fruit, baked plum, dried plum, black cherry, plum, hints of leather, graceful oak, spice, hint chocolate, violets
Mouth: dry, med body, med+ acid, med chalky tannin, med+ to pronounced intensity, med alcohol, red fruit, mineral, earth, cherry, plum, black cherry, baked plum, med to med+ length
Producer: Château le Puy
Designation: "Expression Originale du Terroir"
Region: France
Sub-Region: Cotes de Bordeaux "Francs" AOP
Variety: Merlot?-dominated
ABV: 12.5%
Vintage: 2009
Tasted: November 10, 2014
Price: $48