Back to its sparkling Portuguese glory: Caves São Joao 2013 Bruto Reserva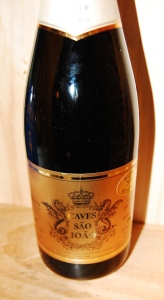 This wine serves as a mini-celebration after a long-ass week and even more Bordeaux studying. My current tasting notes are consistent with those from the big portfolio tasting exactly a week beforehand. I was a big fan of the 2011 vintage, but I didn't exactly favour the 2012 version of the same wine from what I remember was a bit of disjointed acid. I was pleasantly surprised when the new vintage wriggled its way into my life, swimming past my doubt and into the pleasure portions of my brain, so I definitely had to buy a bottle. But mostly because I had nothing to drink yesterday and I have to make up for that, like now.
The wine returns to its glory this vintage, with soft pear, lime, and white flowers gliding from the glass, providing a little more intensity on the palate. There's only a minor suggestion at autolysis as the wine warms up, unfortunately, but the wine's strength lies in its balance and fruit, providing just enough acidity and lift to let the ripe fruit show through.
To me, it's somewhere in between the power of a Cava and the fruit of a Prosecco but somehow finding a home in neither, especially with the unique character of lime and white flowers showing against the unwound acid.
Tasting Note:
Eyes: clear, pale lemon, bubbles
Nose: clean, med intensity, youthful, green fruit, green apple, pear, white flowers, mineral, citrus rind, lime, white peach
Mouth: dry, creamy mousse, med body, med acid, med alcohol, med+ length, med+ flavour intensity, green fruit, green apple, pear, lime, mineral

Producer: Caves São Joao
Designation: Bruto; Espumante; Reserva
Region: Portugal
Sub-Region: Bairrada
Variety: ??? – can't find the exact wine (Bical, Chardonnay, Maria Gomes, Arinto)
ABV: 12.5%
Vintage: 2013
Tasted: November 5, 2014
Price: $20